Tennessee quarterback Hendon Hooker adds new deal to NIL portfolio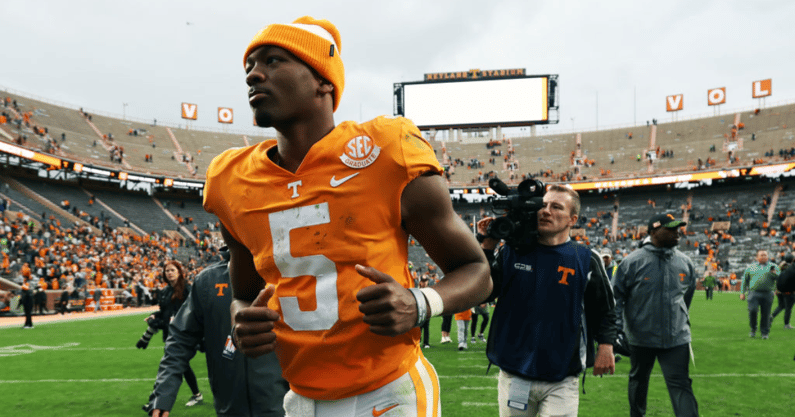 The on-field success continues to transition over to NIL for Hendon Hooker.
The Tennessee quarterback has added yet another endorsement deal to his growing catalog, announcing on Instagram a partnership with Gopher Inc.
A company based out of Raleigh, North Carolina, the Gopher app provides a community marketplace for services. Users can request any tasks to be fulfilled — such as mowing the lawn — and set the price for the action item. Gopher currently services the Raleigh, Durham, Cary and Chapel Hill areas. But the company obviously has its sights set on Knoxville with this latest agreement.
Hooker is just the latest NIL roster addition for Gopher. It previously signed NC State quarterback Devin Leary, among other players.
"After a long week of school and ball, I'm not really sure what I'll need on my day off, but whatever it is, I know I can get it with Gopher," Hooker wrote on Instagram.
Heisman campaign leading to NIL dollars
The one-time Virginia Tech quarterback has Vols fans feeling like it is the late 1990s. And he's turned on-field success into NIL dollars. Hooker was set up with a substantial NIL package when he signed with Spyre Sports Group back in February.
And in just the past few weeks alone, the opportunties have been rolling in. He inked a partnership with Mercedes-Benz of Knoxville earlier this month. As part of the deal, he signed a lease for a Mercedes-Benz GLE 53, sources told On3.
He's promoted a new partnership with Mark Wahlberg's brand, MUNICIPAL, which calls itself a sport utility company. He also was featured in an endorsement for AT&T Fiber last month next to Lady Vol basketball players Tamari Key, Sara Puckett and Jordan Walker. 
And right before the showdown at Georgia, he signed with French's Mustard. As part of that deal, French's commissioned a pair of mustard-inspired Nike Air Force 1s.
Hooker and Ohio State quarterback C.J. Stroud are still going head-to-head the Heisman. Tennessee is now sitting at No. 5 in the College Football Playoff and will not be playing in the SEC title game. But there's still a shot the Vols earn a playoff berth depending on the next three weeks.
Hendon Hooker's massive On3 NIL Valuation
The Tennessee quarterback currently has an On3 NIL Valuation of $1.1 million. His social media following has seen a major uptick this season, now sitting north of 146,000 total followers. He was at 126,000 entering the Georgia matchup.
The On3 NIL Valuation is the industry's leading index that sets the standard market NIL value for high school and college athletes. A proprietary algorithm, the On3 NIL Valuation calculates an athlete's NIL value using dynamic data points targeting three primary categories: performance, influence and exposure.
While the algorithm includes deal data, it does not act as a tracker of the value of NIL deals athletes have completed to date, nor does it set an athlete's NIL valuation for their entire career. The On3 NIL Valuation calculates the optimized NIL opportunity for athletes relative to the overall NIL market and projects out to as long as 12 months into the future.
Hendon Hooker's On3 NIL Valuation ranks No. 20 in the On3 NIL 100, which is the first of its kind and defacto NIL ranking of the top 100 high school and college athletes ranked by their On3 NIL Valuation. The valuation also ranks No. 12 in college football.