Here are the benefits of the Horizon League's NIL marketplace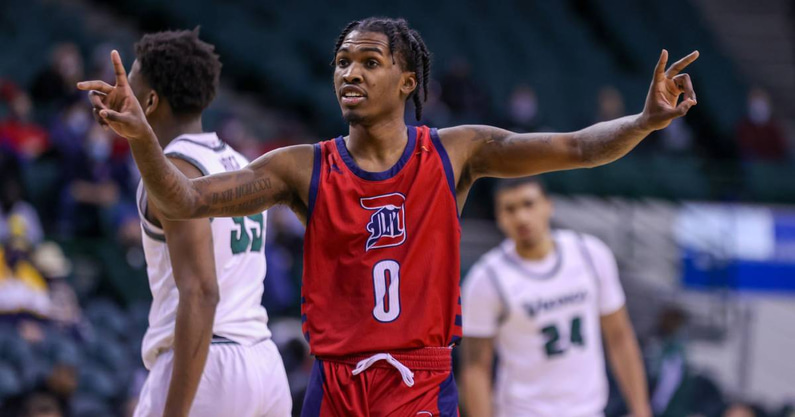 Horizon League commissioner Julie Roe Lach laughed after clarifying her use of the word "collective." Early in the second fiscal year of the NCAA's NIL era, NIL collectives can be a potential third-rail issue. However, when describing in mid-July the Horizon League's first-of-its-kind, conference-wide NIL marketplace that will help pair the league's athletes with brands, Roe Lach used the word based on its denotation, not its NIL connotation.
"We really just previewed, 'What are some opportunities relative to what's happening on our campuses?' But more importantly, can we do something league-wide to leverage the collective, so to speak?" she said, before laughing. "And I don't mean to use 'the collective' as a pun there, but to leverage the collective force of bringing us all together."
The Horizon League partnered with the NIL technology provider Opendorse to provide a league-wide NIL marketplace for its athletes that is open to brands, fans, sponsors and donors. Third parties can browse a database of Horizon League athletes, each of whom has a profile that can include a biography and links to their social media profiles, among other personalized elements. With a few clicks, third parties can offer an athlete an NIL deal through the marketplace or they can work with Opendorse' campaigns team.
Through the agreement, Horizon League schools also receive access to Opendorse products and its educational content, plus a school-specific NIL marketplace for each school.
Markets similar to those in the Power 5
Given the Horizon League's relatively compact geographical footprint and with member institutions located in Cleveland, Detroit, Indianapolis, Milwaukee and Pittsburgh, Horizon League stakeholders see value in the league's members uniting in their NIL efforts.
Cincinnati isn't far from the campus of Northern Kentucky, either.
"I think the demographics of our league is very comparable to some of the Power 5 [conferences]," said Youngstown State men's basketball coach Jerrod Calhoun. "We're in the major markets."
Roe Lach cited the benefits of the Horizon League's six-state footprint in the Midwest, which is home to both the headquarters of major companies as well as their consumers.
"Rather than the one-off institutional approach, can we bring them all together in this marketplace that Opendorse is creating for some schools?" Roe Lach asked rhetorically, when describing the thought process in the league. "It makes sense for some individual schools I think at the Power 5 level to do it. At our level, we thought, 'Let's bring us all together to the extent we can.' Frankly, I think that's more attractive to potential companies looking for a broad base of student-athletes, but then also, hopefully our student-athletes can benefit from it."
As schools and conferences have faced a variety of economic hardships related to the pandemic, past attendance restrictions and increases in gas prices, there has been value in compact conference footprints or creative scheduling arrangements.
In the NIL landscape, a non-FBS conference, whose individual schools may not seek a school-specific NIL marketplace, could also potentially benefit from a tight geographical footprint if businesses in the region are interested in NIL deals with athletes from multiple schools through a conference-wide marketplace.
"I think our league is really conducive for that," Calhoun said.
Horizon League formed NIL Advisory Group
In order to evaluate the NIL landscape, the Horizon League formed an NIL Advisory Group. It includes Calhoun, a couple of athletic directors and an athlete, in addition to other administrators. Roe Lach said the goal was to create a diverse group with different perspectives on the opportunities and potential issues that arise in the NIL era.
"I think some schools and some leagues made some decisions early on in the process," Roe Lach said. "We really wanted to try to let the landscape settle a bit and figure out what are the real opportunities so we formed an NIL Advisory Group."
The Horizon League's staff in Indianapolis wouldn't unilaterally roll out an initiative such as a conference-wide NIL marketplace.
The league's council of ADs, its compliance directors and the Horizon League Student-Athlete Advisory Committee each previewed the partnership. Twenty-two athletes — two from each school — received a presentation from Opendorse.
The athletes left the meeting feeling "pretty pumped," Roe Lach said. Both Roe Lach and Calhoun expressed excited about the educational and financial resources that are part of the partnership with Opendorse.
"If student-athletes capitalize on this and make some money, we want to make sure they know how to manage it," Roe Lach said. "But no matter what, financial literacy is a good skill for all of us. I like the Opendorse content with regard to the financial literacy piece."
Not a 'truly capitalistic, competitive marketplace'
A concern about NIL, albeit one that wasn't always argued in good faith and that could sometimes feel like a potential straw man argument, was that granting athletes their NIL rights could divide a locker room. However, there's little evidence, at least publicly, that those concerns have materialized.
In conversations with athletes from across the country, On3 has continued to hear that NIL has not torn apart locker rooms. If anything, some athletes say they try to include their teammates in their NIL activities, or at least treat them to a meal with their earnings. As one example, Michigan defensive back DJ Turner told On3, "There'll be certain deals that I might get and then I'll say, 'Can I bring two of my teammates?'"
Roe Lach affirmed the idea that athletes collaborate with their respective NIL activities and experiences.
"They want to learn and they want to share best practices and opportunities, too," she said. "I don't think they view it as this truly capitalistic, competitive marketplace. I think they see that all ships rise with the rising tide. I think that, to me, is pretty special about what we can do here."
Detroit Mercy men's basketball guard Antoine Davis, the reigning Horizon League Player of the Year who finished third nationally in scoring last season at 23.9 points per game, could be a high-profile beneficiary of the league's new NIL marketplace. Davis has already signed an NIL deal that's potentially worth six figures with the Chinese basketball manufacturer GlowBalls.
Calhoun said he embraced his role on the Horizon League's NIL Advisory Group. He said he talked to coaches, athletic directors and representatives from collectives.
"Really what I'm finding, I wouldn't say it's the 'Wild, Wild West,'" he said, downplaying a popular metaphor in the industry. "At the mid-major level, I think it's not that. But I do think there's some universities and some cities that are really jumping in on NIL. I think it's a great thing. It's really educating these kids on how to get out and communicate with business owners.
"Forget the dollars. Yeah, it's great to make the money and I think they are maximizing that but just to make different connections when basketball's over, to me, at our level, is what's been really neat for the student-athletes."