How Jalin Hyatt's NIL partnership with Hyatt Hotels produced $3 million in ad value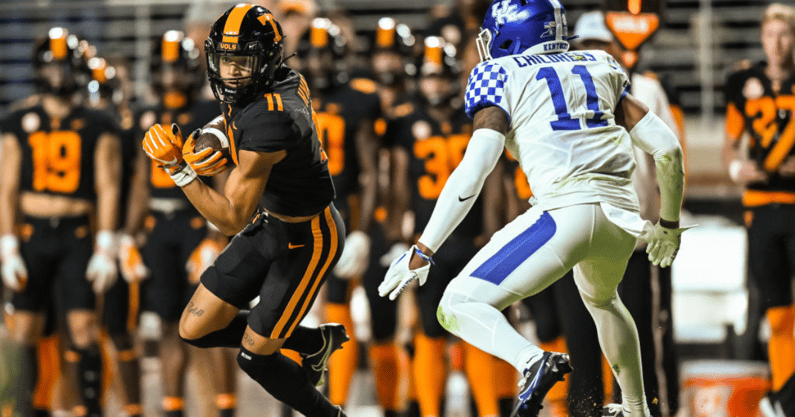 Jalin Hyatt's breakthrough this past season has been well documented.
The former Tennessee wide receiver pulled in six catches for 207 yards and five touchdown catches against Alabama on the Third Saturday in October. He became the first player since DeVonta Smith in 2019 to have 200 receiving yards and five receiving touchdowns in a game.
From there, Hyatt's national profile only rose. He finished with year with more than 1,200 receiving yards and 15 touchdowns. He became the first player in Tennessee history to win the Biletnikoff Award, given to the top receiver in college football.
Thanks to name, image and likeness, he was able to turn that on-field success into brand dollars off of it. He signed with BreakingT, Keller Williams Sports + Entertainment and Bose soon after the Alabama performance.
But ahead of Tennessee's Orange Bowl appearance, Hyatt signed one of the most eye-catching NIL deals of the college football season. Working with Everett Sports Marketing, the receiver struck an agreement with Hyatt Hotels, gifting his teammates with a generous hotel credit, similar to their stay at the Orange Bowl in Miami.
"This Hyatt-Hyatt collaboration is more than a natural fit and it brings us all together when it really matters," Jalin Hyatt said in a statement to On3 at the time. "The World of Hyatt team gave me the ability to create a deal that benefited my teammates and our families. That's real, as those are the people I care about the most. Knowing my teammates' families will all have help to be at the game, and that they are being cared for on the road is amazing."
Hyatt deal has generated 1.2 billion media impressions
Since the announcement back in early December, the video post from Hyatt Hotels on Instagram has garnered more than 10,000 views. According to Everett Sports Marketing (ESM), which brokered the agreement, the NIL deal has produced 1.2 billion media impressions.
Taking it a step further, Hyatt's endorsement deal has generated $3 million in ad value, according to ESM. In a statement to On3, the sports marketing agency explained how this data was calculated.
"As part of ESMiQ – our proprietary suite of data and analytics platforms – we're able to put a dollar amount to a partnership based on the reach and unique viewers of our partnerships in owned and earned media outlets," Jeff Hoffman, who serves as Hyatt's primary agent, said. "Advertising value equivalency is a PR industry metric used to assign estimated ad value, which is the amount you'd need to spend to achieve the same results.
"We utilize a formula that is formatted for online ad value that takes the number of unique views or reach and multiplies it by 2.5% and then again by the CPM for that industry."
Speaking with other agencies in the NIL space, sources told On3 more and more firms are bringing data platforms in-house to generate their own numbers.
Jalin Hyatt has since announced his plans to enter the NFL Draft, where Everett Sports Marketing will represent him in endorsement deals. It remains to be seen if the relationship with Hyatt Hotels makes the jump to the professional ranks.