How Small School Athletes Can Make Money Through NIL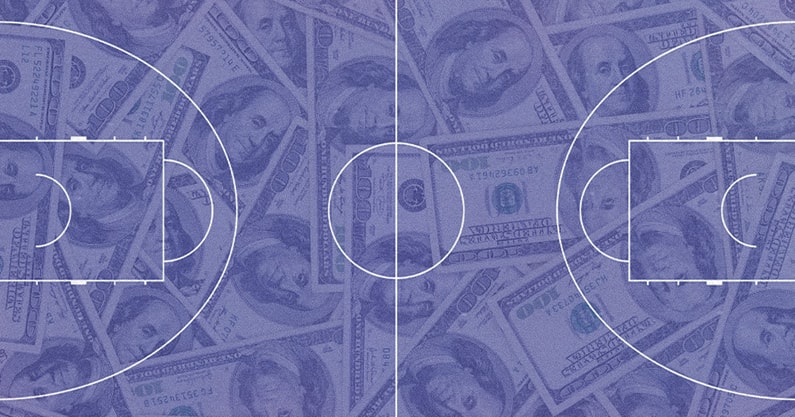 The right to use your name, image, and likeness, or NIL, has been a major shift in the power structure of college athletics. In essence, players can now earn money for things like advertisements, autographs, and appearances. This gives athletes an income while they're in college and likely wouldn't have been able to before. The great thing about it is that NIL is extensive too, with increased opportunities for women and Olympic Sport athletes. However, small school athletes have unique challenges in capitalizing on NIL.
Defining a small school is important. These are schools with relatively small enrollments as an institution, combined with a lack of influence in sports. Most people would agree that Harvard is an elite school, but in the world of sports, it chooses not to have a lot of influence, making it a small school. Typically, a good way to judge small schools is any school in the Group of Five or lower in football or who would be referred to as a mid-major in basketball.
The Problem With NIL For Lesser Known Athletes
By virtue of playing at a smaller school, athletes will have less attention on them. This lack of attention means that there will be fewer NIL opportunities available to them. So, while everyone does love a Cinderella story, most people aren't actually watching. College basketball is a great example of this. Most fans didn't know what St. Peter's basketball was before the 2021-22 NCAA Tournament. Once the games started, though, everyone became a diehard fan during their Elite Eight run.
The reality is that, across sports, small school athletes get less attention. They have smaller student bodies and, therefore, they have smaller alumni bases. In turn, they have smaller fan bases, with fewer people watching. This makes them less profitable, leaving them on smaller networks if their games are broadcast at all. In a very cyclical way, this keeps new potential fans from watching their games. Instead, big and popular schools are what is shown on major networks, helping to build those already large fanbases.
Unfortunately for small school athletes, this means your NIL value is going to be lower than the average big school athlete. This often gets compounded with the fact that small school athletes are less likely to move on to a professional career in their sport. This means that they don't have a financial future in it, leaving their time in school as their last opportunity to profit from their sport.
Looking to move on like this can tend to hurt the small schools, themselves. Adrienne Larmett of Baker Tilly's risk advisory practice focusing on higher education has warned, "The prospects might be looking to attend institutions that have the infrastructure and support systems to help them maximize their NIL potential. Existing student athletes might look to transfer to institutions where those schools have infrastructures to help them."
Some Small School Athletes Have Found NIL Opportunities
While it is more challenging for small school athletes to take advantage of NIL opportunities, it's not impossible either. Players who make a name for themselves, one way or another, can take advantage of NIL deals, just like big school players do.
There are a few worth knowing:
Doug Edert, St. Peter's men's basketball
Haley and Hanna Cavinder, Fresno State women's basketball
Kennedy Mullins, Trevecca women's soccer
Will Ulmer, Marshall football

NIL gave Will Ulmer the opportunity to pursue his other passion, music. Before NIL was allowed, Ulmer couldn't have shows because the NCAA would have said the only reason people are there to see him is his status as a football player. Now, he can put on shows again.
How Athletes at Smaller Schools Can Brand Themselves
There are a lot of ways that small school athletes can overcome the stature of their schools and brand themselves for NIL purposes.
Social Media

Having a strong social media platform is a great way to be prepared for NIL opportunities. That's because things like Instagram and Twitter are great ways to judge a player's popularity. How many people follow them and how strong is their engagement? So, building a strong platform can help.

A Cinderella Run

One great way to draw attention to yourself is by going on a Cinderella run with your team. Coastal Carolina football going 22-3 over the last two seasons drew tons of attention to the program. This allowed the team's key players to get attention from fans and media. The same can be said for teams who make NCAA Tournament runs, like St. Peter's, which became the first 15 seed to reach the Elite Eight.

Personal Connections

One great way to get a good NIL deal, regardless of where you go to school, is your personal connections. If you have a family friend or know someone through an internship who can help you get a deal, then you're going to have more opportunities.

Impossible to Ignore Talent

In recruiting, there are times when talent gets overlooked and a player ends up going to a small school. If that player can go out and dominate in games, people will take notice. Over time, people will seek out that player and look to watch them more, building their NIL value.
How Success Dictates an Athletes Future
By now, all the key players from the beloved St. Peter's team are in the transfer portal. Their head coach has taken the Seton Hall job. St. Peter's tournament run brought them fame and NIL opportunities. Their tournament run brought players fame and something no NCAA darling of the past could enjoy: NIL opportunities.
St. Peter's, the school, got an estimated $70 million in marketing off their social media engagement from the run. Players and coaches were able to rapidly increase their social media following, establishing brands for themselves.
St. Peter's is just the most recent example of a small school to make a name for itself. This isn't an easy thing to do. However, when schools are able to do this, they increase both their profile and the profile of their student athletes. For those athletes, this isn't the only way to establish a brand at a small school, but it is one that leaves a lasting impression.