H&R Block signs NIL deals with 50 women through 'A Fair Shot' campaign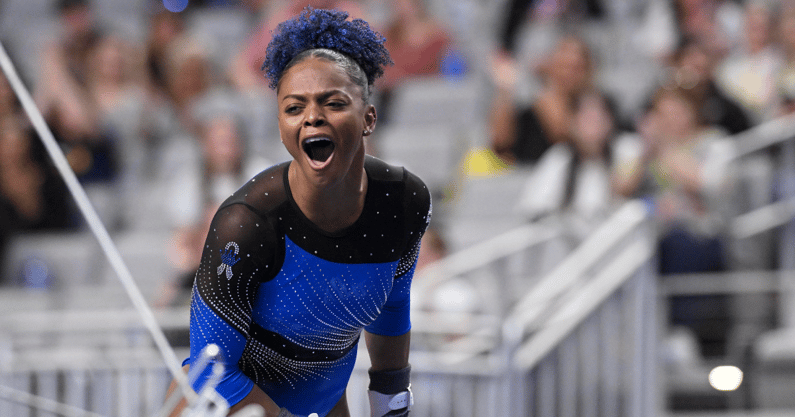 H&R Block announced Wednesday it has partnered with 50 female athletes through name, image and likeness agreements in the second year of its NIL campaign titled "A Fair Shot." The women represent Division I, II and III institutions, historically Black colleges and universities, and 13 different sports.
H&R Block partnered with nine of the athletes in the inaugural campaign last year. They include Duke runner Emily Cole, Florida gymnast Trinity Thomas, Georgia softball player Jaiden Fields, Kansas State basketball player Ayoka Lee, Nebraska volleyball player Lexi Rodriguez, South Carolina basketball player Zia Cooke, UCLA gymnast Jordan Chiles and USC volleyball players Audrey Nourse and Nicole Nourse.
The full list of athletes involved in the campaign include Clark Atlanta tennis player Shani Idlette and hurdler Kaylin Strahan, Fisk University gymnast Jordynn Cromartie, Florida A&M distance runner Aniya Hoggatt and softball player Amaya Gainer, Morgan State softball player Mia Ewell, Norfolk State's Breana Cook and Southern tennis player Paris Washington.
"I actually was lucky enough to have this partnership with H&R Block, partnering with a tax professional, and that's kind of their whole deal is that they wanted to spread awareness about student-athletes paying taxes and help provide this resource," Cole said in a previous interview.
The 2023 class of athletes who are participating in "A Fair Shot" compete in basketball, field hockey, golf, gymnastics, ice hockey, lacrosse, rowing, soccer, swimming and diving, tennis, track and field, and volleyball.
Through the athletes' NIL agreements with H&R Block, they will have the opportunity to receive tax preparation assistance and guidance. Additionally, the women will participate in a social media campaign to spread awareness about the disparity in NIL deals for female athletes, according to the news release. H&R Block has partnered with Fabletics and Jambys in an effort to spread awareness.
H&R Block athletes discuss 'A Fair Shot' campaign
At the inaugural NIL Summit in June 2022, Cole and Thomas discussed their experiences taking part in the first-ever "A Fair Shot" campaign. Cole said someone told her she hadn't earned enough to owe taxes last year. However, an H&R Block tax advisor told her otherwise.
"'No, actually, you have self-employment tax. You do have to pay taxes,'" Cole said, recalling the conversation. "So that was news to me and something that I'm really grateful I had them to help me navigate. It's obviously a life lesson that they're going to be able to be with me the rest of my life now, helping me out with that. But I think being able to have a professional navigate your taxes with you is something that you should definitely do."
This story has been updated with additional athletes with whom H&R Block announced it partnered.