Hunter Dickinson on return of big men: 'I think NIL played a factor'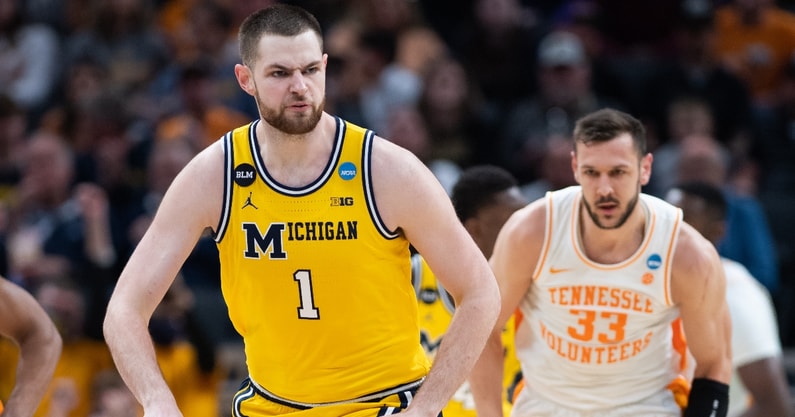 ATLANTA — Mingling amongst other big names in college athletics at the inaugural NIL Summit, held at the College Football Hall of Fame, Michigan center Hunter Dickinson's presence stood out, and not only because of his 7-foot-1, 260-pound frame. That's because in April, the two-time All-Big Ten selection announced his return for his junior season, following a sophomore campaign in which he averaged 18.6 points and 8.6 rebounds per game, while leading Michigan to the Sweet 16 as a No. 11 seed in the 2022 NCAA Tournament.
It was a decision, one made roughly 10 months into the NIL era, that could prove to be a future trend.
Kentucky's Oscar Tshiebwe, the reigning Naismith Men's College Player of the Year, will spend another season in Lexington, becoming the first winner of the award to return to school since North Carolina's Tyler Hansbrough returned to Chapel Hill for the 2009 season. Gonzaga's Drew Timme, a consensus second-team All-American, will spend his senior season in Spokane, as will North Carolina's Armando Bacot in Chapel Hill and Indiana's Trayce Jackson-Davis in Bloomington.
Hunter Dickinson said playing college basketball, not worrying about money 'was the best of both worlds'
"I've been talking to those guys," Dickinson told On3, when asked about the wave of elite forwards and centers who are returning for the 2022-23 season, including Jackson-Davis, Bacot and Tshiebwe. "I think NIL played a factor with all of us. Being able to not have to worry about money but also being able to play college basketball, I think, was the best of both worlds for a lot of us."
After talking with some of the other best returning big men in men's basketball, Dickinson said his biggest takeaway is the importance of making connections with alumni of the university.
Last week, a group of Michigan boosters launched a collective called Champions Circle and Dickinson's reaction was one of optimism. "I think it's something that's super interesting and I'm excited to see how that works out," he said.
The communications major said his goal is to make connections with alumni who work in a variety of industries, which he can then use to his benefit after his playing career is over. Those connections might lead to more than NIL compensation next season, too.
"Shoot, maybe a job," he said.
Hunter Dickinson: 'I do have a goal in mind' for NIL compensation
Dickinson said he has a deal in the works with a marketing agent, amid a feeling-out process he described as "hard, definitely, but just going with people that you trust who are referring you to agencies."
Who referred him to his likely soon-to-be agent?
"Somebody close to me," he said slyly, after a pause.
Dickinson has a compensation goal in mind, one that he hopes to reach with the help of a marketing team. "[NIL compensation is] not really guaranteed because the coaches really can't reach out on your behalf, so you're not really guaranteed a number," he said, when asked about comparing his potential NIL earnings to a potential professional contract.
Hunter Dickinson's On3 NIL Valuation
Dickinson's On3 NIL Valuation is $62,000, which ranked 47th among men's basketball players last season. Bacot ranked 13th, Tshiebwe ranked 18th and Timme ranked 26th.
The On3 NIL Valuation is an index that looks to set the standard market value for both high school and college-level athletes. The NIL valuation does not act as a tracker of the value of NIL deals an athlete has completed to date. It rather signifies an athlete's value at a certain moment in time.
The On3 NIL 100 is the first of its kind and the defacto NIL ranking of the top 100 high school and college athletes ranked by market valuation.