INFLCR, On3 announce partnership to provide student-athletes market valuation tools, educational resources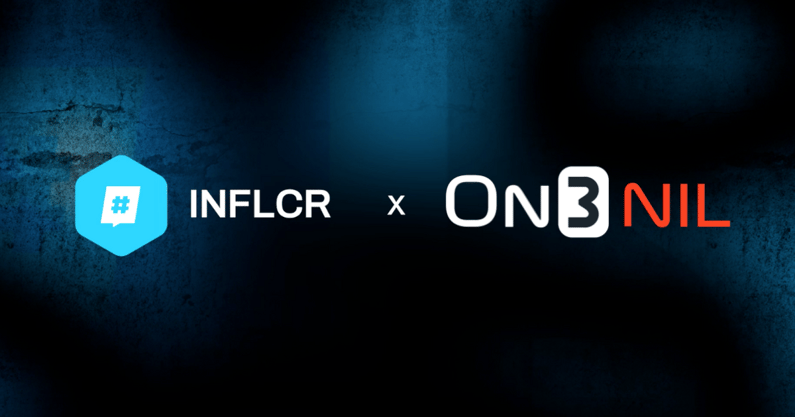 On3, the preeminent source for college sports coverage and recruiting news, announced a partnership Monday with INFLCR, the leading brand-building Name, Image, and Likeness business management app for elite athletics.
"Our partnership with INFLCR is a tremendous validation of the work On3 has done in the NIL space in such a short period of time," On3 Founder and CEO Shannon Terry said. "INFLCR is the leading content and compliance software in the space, reaching thousands of student-athletes from more than 200 Division I schools."
The new partnership will focus on providing the On3 NIL Valuation, as well as educational resources to all student-athletes at INFLCR partnered schools. The tools, resources, and content designed and built by On3 will have a significant impact on the ongoing goal to help athletes navigate the NIL era both safely and successfully.
"In year one of NIL, there were many instances when student-athletes undersold their value, due to lack of education and resources, so this partnership comes at a crucial time as we step into year two," INFLCR CEO Jim Cavale said. "On3's education and the On3 NIL Valuation being placed directly into the INFLCR app will help student-athletes maximize their NIL activity and provide them with the necessary tools to become more sophisticated in understanding their value enough to use it in NIL deal negotiations."
The On3 NIL Valuation is the industry's leading index setting the standard market NIL value for high school and college-level athletes. The On3 NIL Valuation does not act as a tracker of the value of NIL deals an athlete has completed to date. It rather signifies an athlete's value at a specific moment in time.
The On3 NIL Valuation is calculated on three primary categories:
Social media following and engagement
Athlete data, achievements, performance, and media sentiment
Endorsement deals, opportunities, and Collectives
"Our team of engineers and data scientists has invested significantly in the creation and development of the On3 NIL Valuation, which has become the gold-standard valuation for high school and college athletes," Terry said. "Our proprietary algorithm – which takes into account millions of data points around performance, influence, and exposure – is guiding athletes as they enter this new marketplace."
The need for high-level, student-athlete-centered education has never been more important. Terry said On3 is excited to provide educational resources both in the INFLCR app, and jointly deliver in-person strategy sessions at INFLCR partner schools. Centered around financial literacy, personal branding, and leadership strategy, the opportunity to educate student-athletes with substantive education has never been better.
"We could not be more excited to partner with Jim Cavale and INFLCR to continue leading in the NIL space," said Grant Frerking, President of NIL U at On3 and current Tennessee Volunteer wide receiver. "With the massive reach that INFLCR has across the collegiate space, and this month being the one-year anniversary of NIL being enacted, this partnership could not come at a better time. As a current student-athlete, the On3 NIL Valuation and the educational resources we are providing will be such an incredible asset to fellow athletes across the country as NIL continues to evolve."