Inside Angel Reese's decision to file for 'Bayou Barbie' trademark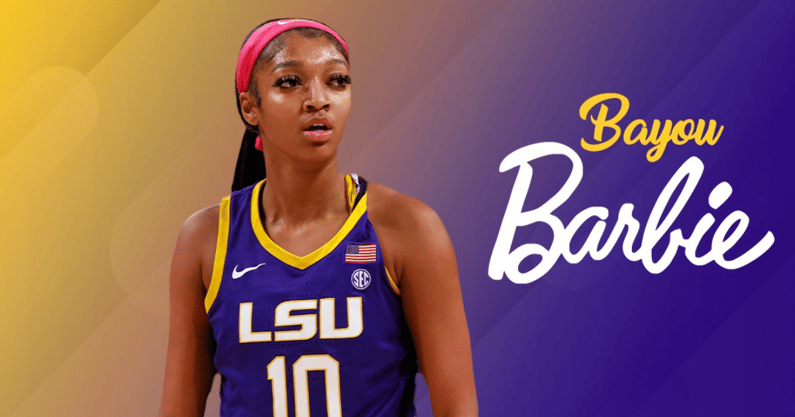 Angel Reese has developed her own brand of basketball.
Reese, a transfer from Maryland in her first season at LSU, has become the face of the program in Year 2 under Kim Mulkey. Her on-court demeanor has become well-known: The sophomore has no problem talking trash to an opponent or unleashing a yell at practice.
All of it has earned Reese the moniker "Bayou Barbie." Part of it is based on her style of play and that she is at LSU. Another part: Reese favors eyelash extensions and long pink nails.
"Obviously she's playing in Baton Rouge," Reese's agent, Jeanine Ogbonnaya, recently told On3. "Yeah, she is the most fabulous, amazing woman ever. She loves the color pink. She's always getting her hair and nails done for games. So that definitely plays a big part into it."
Reese , a Baltimore native, has fully embraced the personality that comes with "Bayou Barbie." She posted a photo on Instagram in January with the caption only including the nickname.
Reese and her team made the decision to trademark the the nickname, with the hope she can set up a website and sell merchandise. IP attorney Darren Heitner filed the application in early February and expects to hear back next year. The trademark process these days typically can take roughly 12 months, he said.
Because the Mattel toy company owns the trademark for "Barbie," there have been questions about whether Reese's request will receive pushback. Heitner said the filing is still on track.
"Whenever a person or company seeks to develop a brand, it is important to go through the trademark registration process, as the receipt of a registration brings with it various benefits including but not limited to a legal presumption of ownership of the trademark and the right to bring a lawsuit in federal court concerning the trademark's use by others," he told On3.
'Bayou Barbie' not only a basketball star
Reese made the decision to leave Maryland after her freshman season because she wanted a fresh start. Playing for Mulkey and moving to the SEC has gone nearly perfect. Earlier this week, Reese was named to the AP All-America team.
She's averaging 23.4 points and 15.5 rebounds per game. Her arrival in the Bayou has helped the program, too. LSU is 28-2 entering Friday afternoon's first-round NCAA tournament game against Hawaii.
The "Bayou Barbie" nickname has come to define her NIL deals, too. She is one of the only known college athletes to sign with the luxury bag company Coach. As part of the agreement, Reese gifted each of her teammates a tote from the brand.
The NIL opportunities haven't stopped there. She has an endorsement deal with Gordon McKernan Injury Attorneys, which is selective in which LSU athletes it partners with. And "Bayou Barbie" has built a notable social media following of nearly 1 million.
Ogbonnaya has been working with Reese since she was at Maryland, and said most of the credit goes to the player.
"This is all her, and like I said, she gets this," Ogbonnaya said. "She's a social media wizard. I often say she's not just an athlete, she is a true influencer. This was all her, you know. She came up with the whole thing herself and came to me, said she wanted to trademark it."
Playing professionally is part of the plan. The No. 2 recruit in the 2020 class, it's only a matter of when Reese opts to head to the WNBA.
Reese's focus now is making a run in the NCAA tournament. The Tigers were undefeated until a loss at South Carolina in February. A No. 3 seed in the Big Dance, the last time LSU made the Final Four was in 2008.
"Bayou Barbie" is hoping to change that this year.
"Especially as a woman, you see what some of the men are doing out there," Ogbonnaya said. "And I think, you know, to follow in those footsteps, and hopefully even set her own path, is truly important to her. I always say, Angel truly gets it, which is amazing. Off the court, really building her brand. She's obviously an amazing player on the court, but she's just as dedicated to what she has going on off the court as well."