Inside Florida Rep. Gus Bilirakis' fight to 'save the integrity of college sports'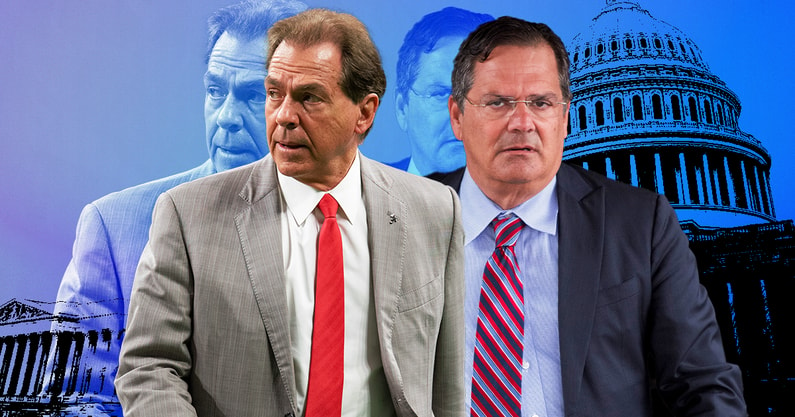 WASHINGTON – Chatting over the phone Thursday morning, Gus Bilirakis seemed to get a kick out of the processions of college athletics leaders who had made the trip to see him. 
The representative from Florida was awaiting an appearance from Nick Saban in his office. A day before, he had met with new NCAA president Charlie Baker. Florida athletic director Scott Stricklin and a contingent of athletes stopped by, too. 
"Yesterday was kind of NIL day, and it was very interesting," he said with a laugh. 
As the chair of a subcommittee of the House Committee on Energy and Commerce, the Congressman has quickly become one of the most vital figures in the fight for NIL reform. Bilirakis played a pivotal role in organizing March's legislative hearing on college athletics. Working closely with Washington Rep. Cathy McMorris Rodgers, a cast of stakeholders and current and former athletes testified in front of his subcommittee for nearly three hours. 
From the hearing and other conversations, the Republican produced a working discussion draft which he released last month. Titled the Fairness Accountability and Integrity in Representation of College Sports Act, the piece of legislation would ban pay-for-play by prohibiting boosters and collectives from inducements. A U.S. Intercollegiate Athletics Commission would be established to oversee the NIL process.
Bilirakis is not done tweaking his draft, though. A narrow piece of legislation is probably the only path for a bill to make its way through the House and Senate. He would like to hear some more insight from athletes before the bill is put up for debate on the floor. 
The Congressman plans to have a second hearing before August, which would possibly set the stage for a historical fall in D.C. 
"I'd like to see a second legislative hearing before August, and move the ball forward," he said. "I'm open to it. But again, more than likely, the priorities are to talk to the athletes. Current athletes."
" … We'll have at least two to three more student-athletes on the committee."
Antitrust provisions, athlete rights not out of question
Bilirakis was confident he had a productive conversation with Baker during their meeting on Wednesday. Speaking to a group of administrators and media on Thursday, the NCAA president delivered a concise message about what he is looking for in a Congressional bill: a registry of NIL deals, a certification process for agents and a uniform NIL standard.
The two plan to have a few follow-up meetings in the coming weeks. While coaches and administrators feel the pressure to push legislation, Baker appears fine waiting out Congress. It could be the safest option for the NCAA, which does not have subpoena power. 
"I just gave him a rundown on what the discussion draft said," Bilirakis said. "He seemed to agree. He didn't have all the details of the draft. We had a very productive meeting – I thought so anyway. He's a good guy."
For years, the NCAA has been lobbying Congress for antitrust exemption. That push has come around again in the last two years. With a patchwork of state laws in place across the country addressing, the governing body believes the only way to enforce its policies is with the power to supersede NIL laws. 
Antitrust wording is not in Bilirakis' discussion draft, but he does believe preemption is necessary. If any antitrust provisions are inserted into the bill, it would come from Rep. Jim Jordan of Ohio, who also met with Saban on Thursday. Jordan is the chairman of the House Committee on the Judiciary. 
"That's up to judiciary, I'm focusing on my committee," said Bilirakis, who is currently serving his seventh term in the House of Representatives. "We'll see. But I'm going to go full speed ahead. Because I think we need the preemption. We have to have a level playing field. It's necessary; it's overdue."
Among the NCAA's wishlist is inserting language in a bill ensuring athletes are not as employees. It may not seem like the most pressing matter. But Baker and his NCAA presidents are holding off an impending crisis. 
The NLRB Region 31 issued a complaint last month against USC, the Pac-12 Conference and the NCAA as joint employers of Trojans football and men's and women's basketball players. A hearing with an NLRB judge is set for November in Los Angeles.
That is coupled with the Johnson v. NCAA, where multiple former athletes are asking to be deemed employees subject to the Fair Labor Standards Act.
The House is just trying to get back in session – the representative body called off votes for the rest of the week caused by a revolt from conservative members. Yet the NCAA is trying to throw a Hail Mary well after the clock hit zero. 
"I'm not against making that decision," Bilirakis said when asked about making sure athletes are not classified as employees. "I've turned to labor and energy and talked to [Rep.] Virginia Foxx about it. I want them to come up with some language that – the overall thing is I want to protect the student-athletes."
Narrow NIL bill is must for Bilirakis
Through his meetings with stakeholders, it's clear how NIL and college athletics is being portrayed to the lawmaker.
Name, image and likeness is one of the worst things to happen to college athletics in decades.
Collectives and agents are only out to harm athletes.
And the transfer portal is only making it worse – creating a "Wild West."
"We want to protect them from bad actors," the representative from Florida's 12th district said. "The key is for them to receive it [payment] and not have to worry about it. Because they've got enough responsibilities with their schoolwork, and of course athletic competition."
Bilirakis intends to sit down and have a conversation with U.S. Senators Joe Manchin (D-WV) and Tommy Tuberville (R-AL), who have been circulating the text of a draft targeting college athletics. In his recent meeting with SEC commissioner Greg Sankey, the Florida representative said they discussed the bill that could be produced from the Senate. 
Pushing through a narrow bill makes sense. Trying to piece together an expansive bill tackling more than NIL could be shredded up on the House floor. If the judiciary committee sees fit to add an antitrust exemption, however, it would be included in Bilirakis' bill. 
With more than a decade spent in D.C., the Florida representative isn't naive. He's seen efforts aimed at reshaping college athletics fall apart. Not a single bill related to NIL in the past four years has even gone to a vote. 
Democrats have pushed for athlete protections in the past. Bilirakis has no plans of flinching if he has to fight to keep the bill slim.  
"They've tried it for four years – it's not working," he said. "I'm alright with a skinny bill."
When could NIL bill come to a vote?
The SEC's reception on The Hill on Wednesday night was a who's who of the conference's list of decorated coaches. Bruce Pearl and John Calipari held court for a few minutes among the onslaught of legislative assistants hoping to grab a photo. 
Majority Leader Steve Scalise showed face, trying to chat with Saban for a few minutes. Sankey milled around, talking with various SEC athletic directors. The new norm of college athletics is not meshing with the Southeastern Conference and the rest of the Power 5. 
Bilirakis has picked up on that over the last 20-something months. There are plenty of other issues facing lawmakers and the nation. The 2024 election is inching closer. 
But the Florida Congressman believes there is a real chance his bill can get off the ground. 
"I think that – I really do believe there's so much interest in this particular bill and making these corrections to make it easier for student-athletes," he said. "To cut out the bad actors and make sure that they register their collectives. Make sure these guys are doing their jobs and protecting the athletes at the same time. Creating a marketplace for the opportunities of student-athletes. They need these opportunities.
"… You know how government works. You gotta build consensus. I work on both sides of the aisle and have a reputation of getting things done. I want to make this a priority to save the integrity of college sports."