Inside plans for Trayveon Williams' NIL class at Texas A&M law school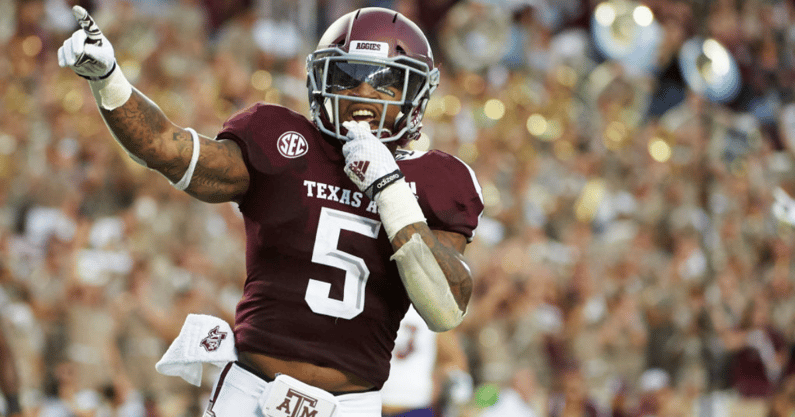 The plan was never for Alex Sinatra and Trayveon Williams to partner up. The sports attorney and Texas A&M star turned NFL running back didn't even know each other a few months ago.
That all changed in a hurry.
When Texas A&M law school dean Bobby Ahdieh sent a tweet in early April welcoming Williams as the newest faculty recruit, it turned quite a few heads. Williams even quote tweeted it with a simple rebuttal, "Am I missing something?" Turns out that Ahdieh was referring to an article from the legal website Above the Law that mentioned Williams in a metaphor.
But that didn't stop Sinatra from thinking about the possibilities of partnering with the former Aggie star. She quickly reaching out to the Texas A&M law school dean and pitched the idea of teaching an NIL class with Williams. A simple direct message on Twitter led to the formation of this class, which will be taught next spring in College Station.
"Tray even reached out to his agent asking, 'Did you sign me up for something?'" Sinatra told On3 over the phone Monday afternoon. "And so Tray's really interested in working with me and doing something like this because it'd be extremely valuable. I pitched it to the dean, I pitched it to the dean of curriculum as well. They both said if Tray's on board, and you're on board, let's do it."
What will Texas A&M's NIL class curriculum look like?
The spring 2023 class will only be available to law students, but Sinatra is expecting former student-athletes to sign up for the course. Since the law school and Williams are on board, the duo have started discussions on what the curriculum could look like.
Both Williams and Sinatra are adamant the course will be structured around experiential learning. And while the sports attorney brings plenty of knowledge to the discussion, the hope is the NFL running back can have some serious conversations on athlete advocacy with up-and-coming lawyers.
"With the direction NIL is going, and obviously now that athletes can capitalize off their name, image and likeness…it has to be someone who represents them, it has to be someone who understands the ins and outs when it comes down to constructing contracts and doing all the little minute details," Williams recently said on Sinatra's Your Potential for Everything podcast.
Working as a sports attorney, Sinatra has a firm grasp on the ever-changing world of NIL. If new NIL state laws are enacted during the class or if Congress is considering federal legislation, those topics will be discussed. The plan, Sinatra said, is for the course to be a "living, breathing class."
She's also aware of the black-market world that's infiltrated college sports in the NIL era. While many NIL deals are disclosed through marketplaces, there are also high-profile examples such as the unnamed five-star quarterback prospect in the class of 2023 who signed a contract with a school's collective that could reportedly pay him more than $8 million by his junior year of college. 
"It's difficult to see the people who don't have the athletes' best interests at heart, whether or not they're attorneys," Sinatra told On3. "There are so many people around the athletes both at the college and pro level, who, number one, don't see them as humans, [but] as a commodity, and number two, don't have their best interests at heart because they really just want to make a profit and move on."
Williams has had similar experiences in his time playing football. That's a major reason why he signed on for the class. The Cincinnati Bengals running back can share what he looks for in an advocate, but also what he expects to be told from his attorney through contract negotiations and endorsement deals.
Educating current Texas A&M student-athletes
Sinatra is a Texas A&M undergrad and law school grad. She has kept a good relationship with the school, too. Last academic year she was an instructor in Texas A&M's AmplifyU program, which serves as a business bootcamp for Aggies athletes.
In the courses she taught, she said they discussed navigating NIL, from contracts to hiring representatives. But other conversations included mental health and football coach Jimbo Fisher.
Sinatra and Williams are starting with baby steps, the first being this NIL and athlete advocacy class. Yet they both want to help current student-athletes. Developing a course for Texas A&M athletes could be a realistic opportunity in the future.
"The current athletes in college are going to be so much better off," Sinatra said when discussing why Williams wants to give back. "They're going to have so much more education on building a brand, negotiating, contract reviews, what to look for in an advocate, what to look for in an agent, what to look for in a marketing rep then he had when he entered into the pro space.
"They're going to be already better prepared because they're going to have had this education. Whether or not they profit off of name, image and likeness while they're in school, they're going to be better off."