Shedeur Sanders, PLB Sports launch No. 2 BBQ Sauce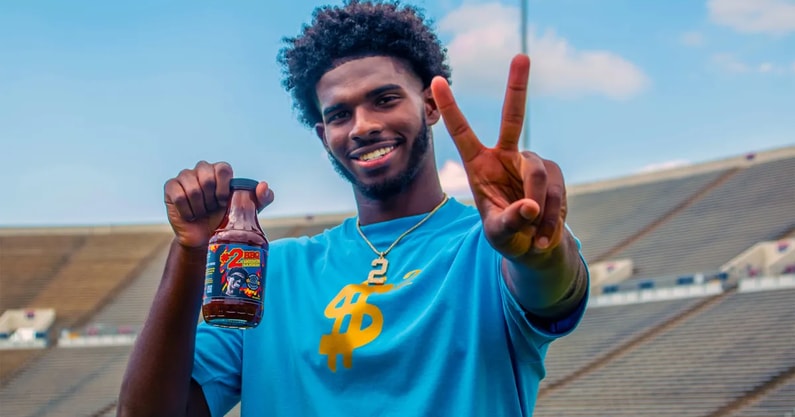 Shedeur Sanders does not consider him much of a sauce guy. But when he does, he turns towards barbecue sauce.
The Jackson State quarterback announced Tuesday the formation of "#2 BBQ Sauce," his first retail product. The sauce was launched with PLB Sports & Entertainment, which creates food products with athletes. PLB has created products such as Doug Flutie's Flutie Flakes and Stefon Diggs Hot Sauce
The "#2 BBQ Sauce" will go on sale at the Jackson State Bookstore and Kroger grocery stores in the area. It can also be purchased online and comes with an apron. Sanders' sauce is a thick, tomato-based, molasses-style sauce. It also includes a vinegar and a smoky touch.
Off to a 4-0 start to the season, the Jackson State quarterback played a role in the taste testing phase of the product.
"When my workforce approached me about creating my very own barbecue sauce, I mentioned, 'that is all I eat, that is excellent!'" Sanders said in a press release. "It's extremely genuine and by no means pressured. We tasted a couple of totally different choices. I gave my opinion on what I appreciated and what I did not like. And we obtained collectively and made the proper sauce."
Sanders has a 75.5% completion percentage and has thrown for 14 touchdown passes through four games. Deion Sanders even said in his Monday press conference that Shedeur needs to be considered in the Heisman race.
A portion of the proceeds will also be put towards the Thurgood Marshall Fund. A non-profit organization, the fund supports and represents nearly 300,000 students attending its 47 member-schools including include public historically black colleges and universities.
"We just had to give back to our own people, and it was the only right thing to do," Sanders said in a statement. "And I felt like the Thurgood Marshall Fund was the best place for the money to go."
Shedeur Sanders' massive NIL brand
With nearly 1 million followers across his social media accounts, Shedeur Sanders is one of the most valuable names in the NIL space. His father's notoriety partnered with his performance on the field has only helped. The quarterback has previously signed deals with Beats by Dre and Gatorade. He also was one of 10 athletes to sign with Tom Brady's brand when it launched this past winter.
Sanders currently holds an On3 NIL evaluation of $1.2 million. He ranks No. 11 in the NIL 100 and seventh in the top 10 college football valuations. He has a per post value of $7,900. His valuation has seen a major uptick since the start of the season, up $374k in the past 14 weeks.
The On3 NIL Valuation is the industry's leading index that sets the standard market NIL value for high school and college athletes. A proprietary algorithm, the On3 NIL Valuation calculates an athlete's NIL value using dynamic data points targeting three primary categories: performance, influence and exposure
While the algorithm includes deal data, it does not act as a tracker of the value of NIL deals athletes have completed to date, nor does it set an athlete's NIL valuation for their entire career. The On3 NIL Valuation calculates the optimized NIL opportunity for athletes relative to the overall NIL market and projects out to as long as 12 months into the future.