Travis Hunter, Shedeur and Shilo Sanders sign with Actively Black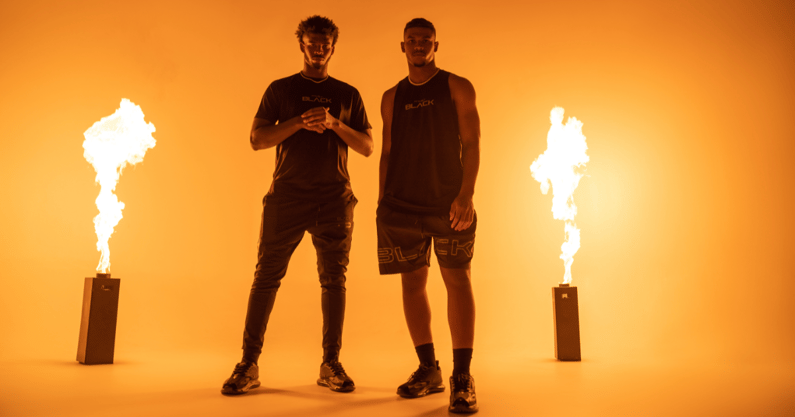 Actively Black has expanded its NIL footprint to the college football ranks.
The sportswear company has signed three Jackson State football players: Travis Hunter and brothers Shedeur and Shilo Sanders. Each of the three athletes will be included in marketing campaigns from the brand celebrating Black style and culture.
Founded by former Houston star and NBA player Lanny Smith, Actively Black is an athleisure company that donates and invests a portion of its proceeds to address healthier food options in Black communities, physical training and exercise, mental health, social justice initiatives and HBCU athletes.
Signing the Sanders brothers and Hunter marks the first NIL move by the company with Historically Black College & University athletes. It also lives up to the brand's commitment to give back to HBCU student-athletes.
While terms of the agreements were not provided, each have signed a "long-term deal" with Actively Black. This is not the first NIL agreement the company has signed, though. North Carolina women's basketball star Deja Kelly became the first collegiate ambassador for the brand earlier this year.
"My goal in coming to JSU was really to inspire the next generation and shine a light on undeniable talent at HBCUs and within our own communities," Shedeur Sanders said in a statement. "That's why this partnership with Actively Black is so important, it just reinforces my purpose. I couldn't be happier about working with Lanny and the Actively Black crew. It's going to be amazing."
A former five-star plus recruit, Hunter shocked the college football world when he flipped his commitment to Jackson State last December. The freshman had two passes defended in his debut against Florida A&M in the Orange Bowl Classic last month. He has yet to play in a game since then, dealing with an injury.
Shedeur Sanders has Jackson State at 5-0 on the season and has thrown for 22 touchdowns and just four interceptions. His brother, Shilo, plays at safety for the Tigers.
"Mainstream brands have long reaped the benefits from Black talent, culture and style without recirculating dollars back into the communities they profited from," Smith said. "At Actively Black, we are forging new pathways to serve as a blueprint for Black communities to thrive. Travis, Shedeur and Shilo made history with their decision to disrupt the status quo and bring their exceptional talents to Jackson State University."
Hunter, Sanders brothers growing NIL brand
Hunter and the Sanders brothers have not struggled to find NIL success in the first 16 months of college athletics' new era.
Since enrolling at Jackson State, Hunter has agreed to deals with the Michael Strahan Brand and the digital banking platform Greenwood. With more than 1.1 million social media followers, the defensive back and wide receiver holds an On3 NIL Valuation of $615,000 which ranks 52nd in the NIL 100.
Shedeur Sanders has pieced together the most impressive NIL portfolio of the three. Just in the past month, he has launched his own barbecue sauce, dubbed the "#2 BBQ Sauce" in honor of his number. Although he signed with the company back in December, the quarterback has been tapped to become a long-term ambassador for Tom Brady's BRADY brand.
The Jackson State star also touts a massive On3 NIL Valuation of $1.3 million. The evaluation is the seventh-highest in college football and No. 12 in the NIL 100. With more than 1.1 million social media followers, he has emerged as an influencer. He's also built a reputation on the field, too, as one of the top quarterbacks in the country.
Former three-star recruit and South Carolina transfer Shilo Sanders has also built a strong social following that currently sits north of 630,000. He has an On3 NIL Valuation of $503,000, too. Shilo announced back in August he had signed a Porsche of Jackson.