Tennessee WR Jalin Hyatt uses NIL for BreakingT's 'Gimme 5' apparel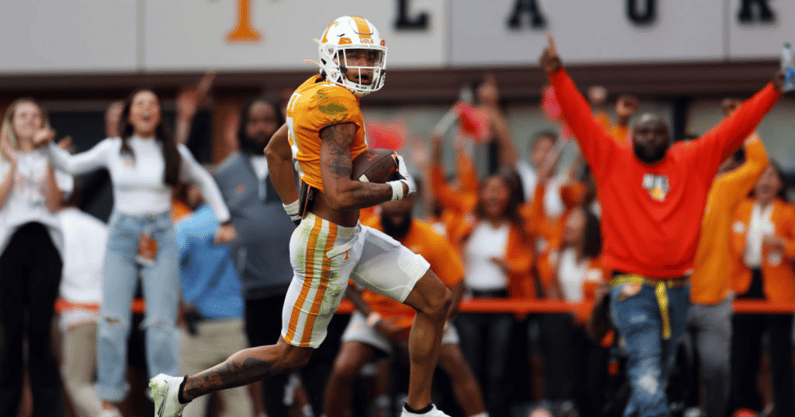 In Tennessee's Week 7 win over Alabama, Tennessee wide receiver Jalin Hyatt became the first FBS player to catch five touchdown passes in a game since 2019, and he capitalized on the moment through a NIL deal. Hyatt is involved in a co-licensed line of apparel that says "GIMME 5" through the apparel company BreakingT.
Hyatt is the first FBS player with five touchdown receptions since former Alabama wide receiver DeVonta Smith had five against Mississippi State in 2019, one year before he won the Heisman Trophy. Only 13 players have accomplished the five-touchdown feat since 2000.
Hyatt needed just six receptions to accomplish the feat, too.
The shirts and hoodies feature Hyatt's name, a picture of him catching a pass and the Tennessee logo, which means the university approved the use of school marks for the NIL deal.
The youth T-shirts are available for $30, adult shirts cost $34 and hoodies are $57. The distribution of the apparel to area retailers started less than 72 hours after Tennessee's win on Saturday. The apparel will be available at Dick's Sporting Goods locations in the Tennessee area.
The name of the game is speed, especially after such a historic win in the rivalry and with Tennessee's next game just days away. Relationships with universities and group licensing partners expedite the process.
"In terms of getting the product to market, that's really like a digital, intangible process," BreakingT President Jamie Mottram told On3. "So it's like, the thing happens. He scores his fifth touchdown against the best team in the country, or what so many thought might've been the best team in the country. Fifth touchdown happens, we start drawing. Like we have artists that are ready to rock, ready to celebrate this stuff. So we start putting the graphic design together and that might take, you know, a couple of hours.
"Once you have the concept in mind and the source material in mind, the actual artwork is an hour's process."
Approval for licensed apparel typically happens within 24 hours of a moment or game, if not on the same day, Mottram said.
"Our whole thing is moment to market in less than 24 hours," he said.
Football players turn on-field success into NIL success
Hyatt is the latest example of a college football player who has turned on-field success into a quick-turnaround NIL opportunity. Florida quarterback Anthony Richardson signed a NIL deal with Fanatics, which was negotiated shortly after the Gators' Week 1 win over Utah.
"We set off on a strategy saying, 'Look, this may take some time and you're going to have to prove yourself but if and when that happens, you're going to be able to capitalize on it,'" sports and IP attorney Darren Heitner, who represents Richardson, previously told On3. "'And don't be like so many of the other athletes out there jumping at every single opportunity. Focus on quality over quantity.'"
Similar to Hyatt, Washington quarterback Michael Penix Jr. partnered with the apparel company Simple Seattle for his own line of t-shirts days after Washington's 3-0 start.
"With the nature of these things, you gotta strike while the iron's hot," Simply Seattle Marketing and Communications Director Joe Munson told On3 at the time.
Mottram said it's fair to expect that hundreds of Tennessee fans will buy the BreakingT shirts that says "Gimme 5." Even better, Mottram said, is that Hyatt will earn what some who work in the industry refer to as "mailbox money."
The NIL opportunity — passive income through group licensing — required little of Hyatt other than his performance on the field.
"The hope is that you've kind of done the moment justice or the moment kind of grows in importance and it turns into thousands," Mottram said. "You know, thousands of units sold, which you start doing the math on what that looks like in terms of top-line revenue, and you kind of work your way down to what that means for the schools and the athletes and everything. But you know, thousands of dollars for the player.
"I think that's pretty meaningful, too, because they didn't have to show up at a car dealership or make some radio appearance or what have you. This is passive income that's really enabling their work on the field to work for them off the field."
Jalin Hyatt's spiking On3 NIL Valuation
Following Tennessee's 52-49 win over Alabama, where Jalin Hyatt caught every touchdown pass that Tennessee quarterback Hendon Hooker threw, Hyatt added roughly 45,000 Instagram followers, which can be profitable for his NIL opportunities.
The wide receiver's On3 NIL Valuation has since seen a 221% change as it climbed from $276,000 to $611,000. You can read more about Hyatt's increase in fame and marketability here.
Mottram said the revenue schools and athletes earn from licensed apparel is all royalty based.
"I'll just say because we do pro and college — we work with all the NFL players through the NFLPA, the MLB players, etcetera — what Jalin and other student-athletes are earning on these sales is very comparable to what Patrick Mahomes is earning," he said. "Let's say you buy a Patrick Mahomes t-shirt, the piece that he's getting is very similar to what a Jalin Hyatt is getting for fan apparel that is produced through a group license."
The On3 NIL Valuation is the industry's leading index that sets the standard NIL market value for high school and college athletes. The On3 NIL Valuation utilizes a proprietary algorithm that calculates an athlete's NIL market value using dynamic data points targeting three primary categories, including an athlete's performance, influence and exposure.
Hyatt now ranks No. 53 in the On3 NIL 100, which is the first of its kind and defacto NIL ranking of the top 100 high school and college athletes ranked by their On3 NIL Valuation. He ranks No. 31 among college football players.