Jay Bilas: College athletics needs to adapt to NIL norms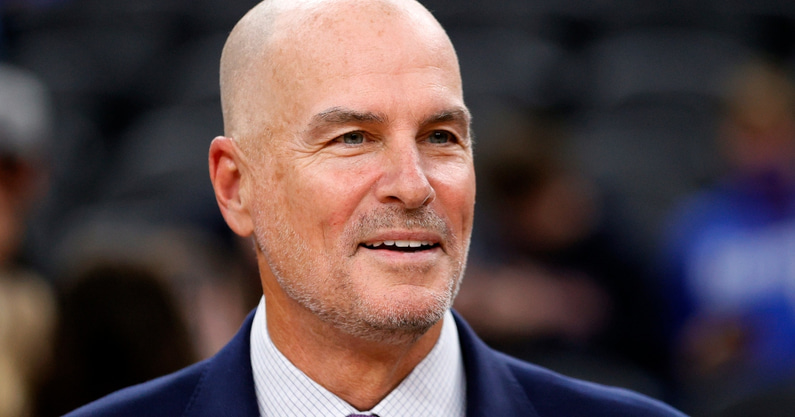 Jay Bilas believes it's time for college athletics to adapt to the new norms that NIL is creating. In an appearance on The Rich Eisen Show on Tuesday, Bilas explained what he believes the impediment is to creating some kind of uniformity to level the playing field.
"First of all, the reason they're not doing it because they don't want to," started Bilas. "They know that the players are worth more than they are. So, asset allocation and money toward procuring talent is going to be funneled differently than it is now. Right now, it's funneled to coaches and administrators for facilities, and all these other things. They know that model is going to change. Talent procurement is going to take even more money, and it's going to take money away from other things. The NCAA structure — they look at that as their money. Like, that's our money. They don't look at it as the athlete's money.
"Where it should be, and where I think it's ultimately headed when everybody wraps their head around it is just simply signing players to contracts. It's ludicrous to believe that these institutions and the coaches and all that — they know exactly whom to recruit, and exactly whom to put in the game when they want to win, but they don't know how much the players are worth to them. They know exactly what they're worth.
"They make decisions on what to pay employees every day at these schools. And they have tens of thousands of employees at each one of these institutions. They're not sitting up at night going what do we do, what do we pay the president versus the head of food service, because both of them work very hard. In-fact, the food service head works harder than the president. Sweating over those hot pots and pans, and that's unfair."
Evidently, Bilas believes there's some simple fixes to the uneven playing field NIL has created. Still, he doesn't expect the NCAA to make the correct decisions.
Continuing, the ESPN analyst explained why he thinks there's other ways the NCAA could level the playing field, as well.
"If the NCAA was really worried about a level playing field — we don't have one now, by the way — if they were really worried about that, there'd be spending caps on facilities, and there'd be revenue sharing," stated Bilas. "There's none of that.
"All of these institutions are market competitors against one another. They're market competitors for talent, whether players or coaches or administrators. They're market competitors for media rights dollars, and they're certainly market competitors when they play against one another. All trying to win the most, make the most money and advance their institutions through the use of athletics. They're all trying to do that."
If other parts of the college athletics world aren't even, like the topics Bilas mentioned, he believes it's hypocritical to say it needs to be even in regard to NIL and athletes, and not everything else.
"So, how is it that we can say well, it needs to be fair with regard to athletes only," questioned Bilas. "That's the only area of this business we're going to have a spending control. Everything else, free market, do whatever you want. It's an absurd notion. The supreme court finally said so. It took the legal system awhile to catch up to the fiction that the NCAA put out all these years, but now they're having to deal with it.
"Look, do I think that this thing by the board of directors is going to work? No. You're not going to stop the flow of money in this. It's not going to happen. People can say hey, we shouldn't be building these facilities. We shouldn't be flying private, we shouldn't be playing nine o'clock games in the middle of the week, every game shouldn't be on television. They can all say that, but they're all doing it."
Jay Bilas believes there needs to be some changes to college athletics in the near future. However, the ESPN analyst doesn't just think NIL needs to be adjusted, but there needs to be updates all across the board.