Jay Bilas sounds off on coaches complaining about NIL: 'Sadly, you actually have to pay your employees'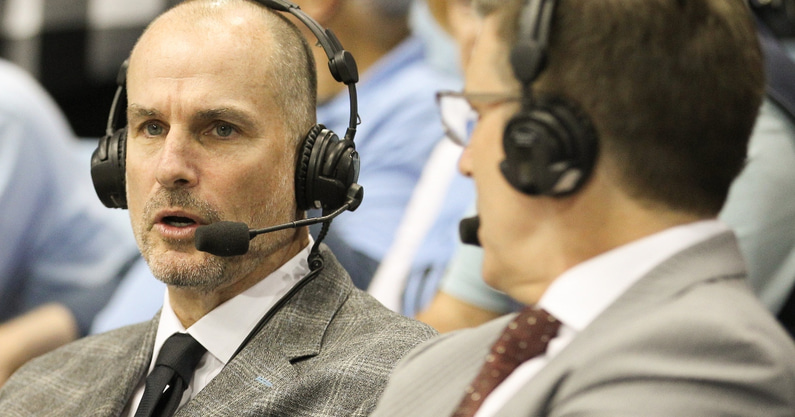 Jay Bilas is vocalizing his opinions on coaches complaining about NIL. In an appearance on The Rich Eisen Show on Tuesday, the ESPN analyst sounded off on coaches who have a problem with the way NIL has affected college sports.
"Well, absent agreement with the players collectively, whether through a trade association, or some sort of collective bargaining with the union, what rules can you put in that aren't going to run afoul of federal anti-trust law? Like, do any of these coaches feel similarly when an assistant comes in and says, hey look, I got an offer from another school for more money, and if you can match it, great. If not, I'm going to take this offer," began Bilas. "They call that business. When a player does it, you know the coaches aren't used to it. They've ruled with an iron fist for all this time, and they've basically had a free ride with regard to players. They don't have that anymore.
"You never saw these coaches say, wait a minute, wait a minute. Put the breaks on. We can't build these facilities here at our place because that's going to give us an advantage over some of these other schools. Or, I'm not sure we should be flying private when some of these other schools have to bus to games. And I don't think I should make this much money, because other coaches aren't being paid this month. It's ridiculous.
"The whole thing's kind of laughable when you look at it in the broader business context. I get it. If I didn't have to pay my employees, I'd be pretty happy with things. But sadly, you actually have to pay your employees. That's the way the world works."
Indisputably, Bilas has some salient points when it comes to the way coaches want things to remain. Continuing, the College GameDay analyst added that while he has coaches he's good friends with, they certainly differ in opinion when it comes to the topic.
"For all the coaches that say now, and look, I love these guys. I mean, I'm friends with them. We just happen to differ on this issue. But when they say, this isn't what it's supposed to be about. It's supposed to be about education and mentoring young people, and making them into better adults. All that stuff. Okay, if that's what you think it's about, you know the doors to Division II and Division III are wide open," stated Bilas. "Coaching in high school, wide open. There's nothing that's stopping anyone from doing that if that's what you think it's really about."
Furthermore, Bilas harkened back to the time when colleges sued the NCAA regarding their television rights, and stated his belief the upheaval NIL has caused is similar.
"People say that this is a transformational time, that we've never had this much upheaval. That's simply not true," explained Bilas. "In 1984, all the schools sued the NCAA when the NCAA was telling them how often they could be on television, they couldn't cut their own media rights deals — things like that. They went to the supreme court, and the schools won. Now, they could bundle all their TV rights with their conference, and Notre Dame could sell them individually. The money went through the roof. Coaches were paid millions. Strength coaches are paid $750,000 and higher, and nobody said wait a minute, this isn't what it's supposed to be about.
"It's a multi-billion dollar entertainment industry that's run off college campuses. The idea that we can do this, and the essential workers being the players are going to remain unpaid is laughable.
"The supreme court laughed the hardest in the Austin case, when Justice Kavanaugh on a concurring opinion said in any other business, the way the NCAA restricts athletes would be per se, illegal. They're not going to get away with it anymore. What that was really saying is don't blame these lame arguments out here next time, because you're going to lose again. Lower courts are going to see that, and they've read it.
"I don't think the NCAA is going to fair very well in future anti-trust cases, when they're trying to restrict athlete compensation."
Evidently, Jay Bilas has one message for the NCAA on NIL — the future is here, and the future is paying college athletes. It's time to accept it and adapt, and that goes for all Division I programs.