Jayden Daniels inks noteworthy NIL deal with Gordon McKernan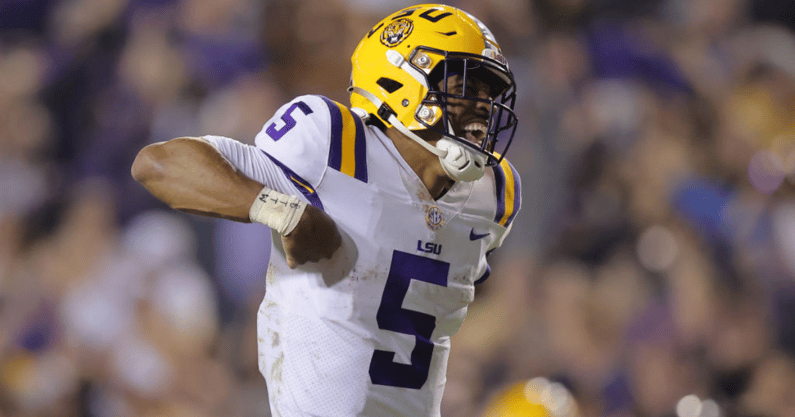 Jayden Daniels has signed his first NIL partnership.
The LSU quarterback has kept quiet in the space, outside of an agreement with The Athletic Collection to create an augmented reality poster. Now he's officially entered it, signing an endorsement deal with Gordon McKernan Injury Attorneys.
If there was already a deal coming from McKernan, Daniels' performance against Alabama on Saturday night sealed it. The former Arizona State transfer was 22 of 32 for 182 yards, throwing two touchdowns. He caused problems on the ground, too, carrying the ball 18 times for 95 yards and adding another score.
He also delivered the win for LSU. Daniels rolled to his right and found an open Mason Taylor, who fell into the end zone for the game-winning, two-point conversion.
"Did you see that play?" McKernan said in a statement. "My jaw was on the floor. I look forward to learning more about Jayden. I just know he'll fit right in. Jayden for Heisman, anyone?"
LSU is suddenly in the College Football Playoff picture, thanks in part to Daniels' progression this season. He has turned into a threat through the air and ground. And no matter where the Tigers fall in the College Football Playoff rankings on Tuesday night, the quarterback has placed himself in the Heisman conversation.
Through nine games, he has a 69.8 percent completion rate on 268 attempts. He's thrown just one interception. And he's averaging 4.7 yards per carry and 10 touchdowns in the rushing game.
The deal with McKernan may also just be a start to a growing NIL portfolio for Daniels. While he will have a decision to make about the NFL at the end of the season, a return for another season in Baton Rouge could see a flood of NIL dollars head his way.
Gordon McKernan's growing NIL roster
Gordon McKernan has been one of the most active figures in NIL. He hasn't generated as much national attention as Miami mega-booster John Ruiz and LifeWallet. But McKernan and his firm have struck significant NIL deals with top student-athletes at all of the top college programs in Louisiana.
He is also a supporter of LSU, and many NIL insiders believe he's helped the Tigers massively support roster maintenance in Baton Rouge. Daniels now joins an NIL roster that includes Kayshon Boutte, Harold Perkins, Maason Smith and John Emery Jr. 
McKernan previously told Sports Illustrated the price tag for elite players is often at least $100,000. He said he will pay $500,000 in NIL deals this year.
Jayden Daniels' massive On3 NIL Valuation
The LSU quarterback currently holds a $516,000 On3 NIL Valuation. His evaluation spike $59,000 following the upset of the Tide. Daniels also has a growing social media following that currently totals more than 74,000. He has a per-post projection of $1,200.
The On3 NIL Valuation is the industry's leading index that sets the standard market NIL value for high school and college athletes. A proprietary algorithm, the On3 NIL Valuation calculates an athlete's NIL value using dynamic data points targeting three primary categories: performance, influence and exposure.
While the algorithm includes deal data, it does not act as a tracker of the value of NIL deals athletes have completed to date, nor does it set an athlete's NIL valuation for their entire career.
The On3 NIL Valuation calculates the optimized NIL opportunity for athletes relative to the overall NIL market and projects out to as long as 12 months into the future.
Jayden Daniels sits at No. 92 in the the NIL 100, which is the first of its kind and defacto NIL ranking of the top 100 high school and college athletes ranked by their On3 NIL Valuation. He also ranks No. 52 among college football players.