Miami freshmen Jayden Wayne, Nathaniel Joseph sign NIL deals with LifeWallet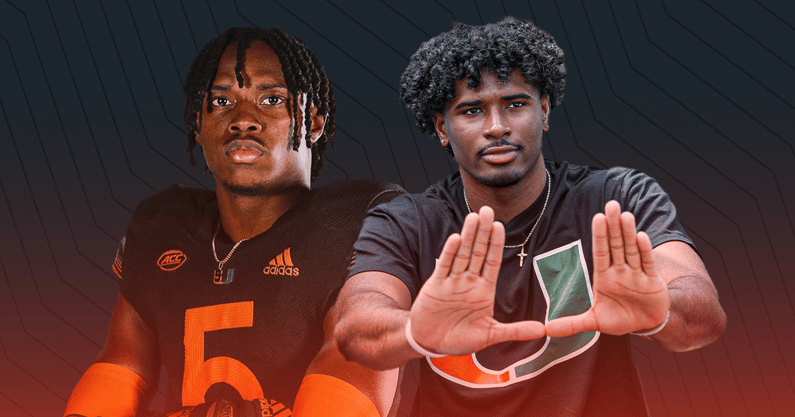 John Ruiz is making sure Miami's early enrollees see their NIL potential quickly.
On Tuesday night, he officially welcomed Jayden Wayne and Nathaniel Joseph to the LifeWallet family. The owner of LifeWallet and Cigarette Racing announced the signing of the duo on Twitter.
"It's all about the U," Ruiz tweeted, with Wayne and his parents pictured next to Ruiz.
Ruiz has not been shy about using name, image and likeness deals to help promote his companies. He allocated $10 million to spend on compensating student-athletes in Year 1 and plans to grow his investment.
It has paid off on the recruiting trail for the Hurricanes, too. Wayne and Joseph are part of Miami's fourth-ranked class in the On3 Consensus 2023 Team Rankings. A Tacoma, Washington, native, the former four-star EDGE played his final year of high school football at IMG Academy. On3 scouts have compared him to former Clemson star Clelin Ferrell.
Joseph is from Miami and was a top-30 wide receiver in the 2023 class.
It would be naive to think Ruiz's commitment to NIL is not at least playing a factor in some recruitments, especially given how open he has been about the cash invested.
When former Kansas State star Nijel Pack transferred to Miami last spring, Ruiz announced the two parties had agreed on a two-year deal valued at $800,000 plus a car. Last month, LifeWallet re-upped contracts with Miami quarterback Tyler Van Dyke, safety Kamren Kinchens and cornerback Te'Cory Couch.
Ruiz has added another layer to LifeWallet deals in 2023, too. Any athlete who signs with the brand will be required to have a little brother or little sister as a charitable component of their deal.
John Ruiz's return on investment
Since the advent of NIL, Ruiz has worked to sign more than 110 active Miami athletes from football to women's basketball to baseball.
And while the Hurricanes finished just 5-7 in Mario Cristobal's first season back in Coral Gables, Ruiz is not judging his return on investment by an on-field product. Because of NIL, the national profile of LifeWallet, Cigarette Racing and Ruiz have all been on the rise.
"I don't look at the results on the field," Ruiz said back in November. "Do I want them to be better? Absolutely. Nobody is going to deny that. Do I want the University of Miami to win? Absolutely. Who is going to deny we want the University of Miami to win? I'd want them to win even if I wasn't putting up a dime for NIL. But my business strategy is completely different than anybody else's.
"…We're super happy with our return on investment. We're super happy with where we are in terms of the branding we've done."
Jayden Wayne, Nathaniel Joseph's On3 NIL Valuation
Jayden Wayne has a $144,000 On3 NIL Valuation. The valuation ranks in the top 75 in high school football. He has built up a solid social media following through his recruitment. He currently has roughly 30,000 followers.
Nathaniel Joseph is not far behind, with a $119,000 On3 NIL Valuation. He has 35,000 social media followers.
The On3 NIL Valuation is the industry's leading index that sets the standard market NIL value for high school and college athletes. A proprietary algorithm, the On3 NIL Valuation calculates an athlete's NIL value using dynamic data points targeting three primary categories: performance, influence and exposure.
About On3 NIL Valuation, Brand Value, Roster Value
While the algorithm includes deal data, it does not act as a tracker of the value of NIL deals athletes have completed to date, nor does it set an athlete's NIL valuation for their entire career. The On3 NIL Valuation calculates the optimized NIL opportunity for athletes relative to the overall NIL market and projects out to as long as 12 months into the future.
The On3 NIL Valuation accounts for an athlete's roster value and brand value. Roster value is the value an athlete has by being a member of his or her team at his or her school, which factors into the role of NIL collectives. Brand value factors in an athlete's personal brand and the value it could bring to regional and national brands outside of the scope of NIL collectives.
The On3 NIL Valuation is publicly available. Performance, Influence, and Exposure ratings along with the athlete's personal Brand Value Index and Roster Value Index are available only to the athlete in the "Athlete Verified" private dashboard on the On3 Athlete Network.