Jim Harbaugh sells Michigan's ability to boost NIL value in offer letter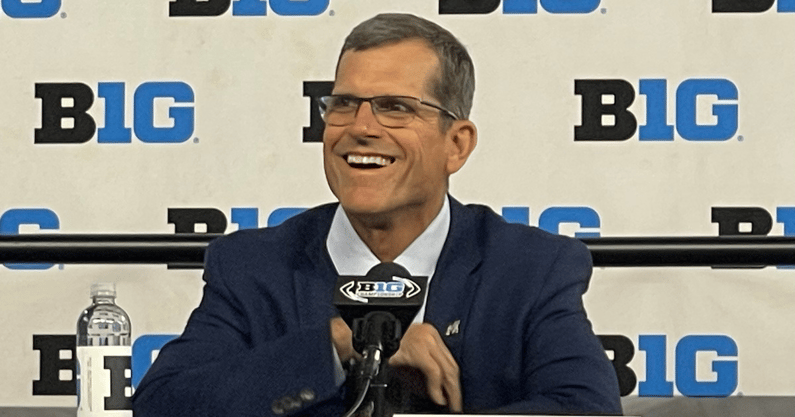 In Michigan's official scholarship offers to Class of 2023 recruits, coach Jim Harbaugh is touting the Wolverines' ability to strengthen the NIL value of its prospects.
On Monday, Michigan commit Collins Acheampong — a four-star EDGE out of Santa Margarita (Calif.) Catholic High School — shared on Twitter a graphic that showed he received an official scholarship offer from the Wolverines. The letter to Acheampong cited NIL as one benefit of playing for Michigan, along with the school's all-time record, history of producing NFL players, location and educational reputation.
The letter featured Harbaugh's picture and signature.
"Wearing the winged helmet provides you with the opportunity to play in front of college football's largest home crowd and be part of the most-watched team on television on any given Saturday," the letter stated. "You can enjoy life in America's most livable city while attending classes at the #1 Public School in the country. Altogether, your name, image and likeness will mean more backed by the largest living alumni base."
Acheampong, who's listed at 6-8 and 254 pounds, committed to Michigan on July 8. His On3 NIL Valuation is $15,800. That ranks No. 70 among high school football players.
The On3 NIL Valuation is the industry's leading index that sets the market standard for high school and college athletes. The On3 NIL Valuation uses an athlete's performance on the court or field, social media influence and their exposure, based upon their school and position they play.
Jim Harbaugh: 'I think we can do more' than $13M
Harbaugh has been outspoken about Michigan's approach to NIL. It's one that he has described as "transformational," not "transactional."
When On3 asked 11 Big Ten head coaches about their reactions to Ohio State coach Ryan Day telling members of that Columbus, Ohio, business community that Ohio State's players would need $13 million in NIL compensation in order for the Buckeyes to keep their roster together, Harbaugh doubled down on Day's statement.
Literally.
"My thoughts were, 'I think we can do more.' I think maybe we can even double that eventually," Harbaugh said. "I think that's possible and I think it's going in a terrific direction that way. You know me, I've always been for NIL. I believe players should have a share in the revenues and I think that's something that's really possible at Michigan."
Harbaugh then said players should receive a share of the revenue they generate. He suggested conferences could pay their players directly through NIL deals.
"Yeah, I mean the Big Ten, even," he said. "I mean, they use their name, image and likeness on the TV broadcast. They're the ones signing the mega TV deals and a new one's coming in 2024. Why can't that be a NIL deal right from the Big Ten? That's who's negotiating the TV deals and that's where the big money is."
Three NIL collectives or agencies support Michigan
Michigan has three NIL collectives or marketing agencies that are designed to support the university's athletes through NIL: Champions Circle, MGoDAO and Stadium & Main.
Former Michigan football player Jared Wangler and former Michigan men's hockey player Niko Porikos founded Valiant Management Group, a full-service NIL management group. Valiant Management Group then partnered with other Michigan alumni to create Champions Circle.
Valiant Management Group recently facilitated NIL deals between the Michigan Army National Guard and 120 Michigan athletes.
MGoDAO recently launched Season 1 of its NFT collection. Fans can pay $100 in order to receive year-long access to in-person events and giveaways. It has also partnered with men's basketball center Tarris Reed.