How did college football get here? Joel Klatt on NIL, NCAA, transfer portal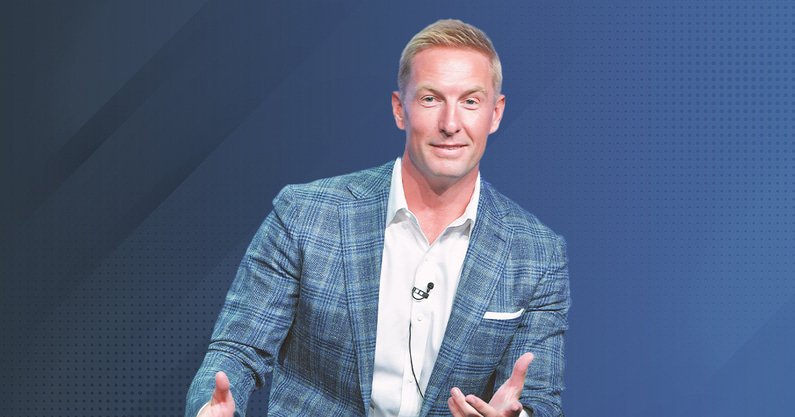 INDIANAPOLIS — Sitting off of radio row inside Lucas Oil Stadium, Joel Klatt takes a deep breath and looks off into the distance. It's Big Ten Media Days. His favorite time of the year is within reach.
He's thinking, though. Not about who will win the College Football Playoff, nor about what last year's coaching carousel will mean for the upcoming season. He's thinking about how NIL has altered his favorite game.
For years, the FOX Sports personality and former Colorado quarterback knew just about everything he needed to. Sure, there may be some anomalies. But for most of his lifetime, there were always five regional conferences. The thought of making a buck off the field was sacrosanct. Recruiting classes could transcend programs. Traveling across the country with Gus Johnson, Klatt has seen some of the best college football games played in the last decade.
But for the first time in the sport, Saturdays could be decided because of the cash exchanged in the offseason. OK, yes, there are plenty of stories about money in McDonald's Bags. But the cash that has switched hands in the last 12 months is unprecedented thanks to the combination of the Transfer Portal and NIL.
Joel Klatt has to make sense of it all — and then deliver it to the millions of viewers watching the game.
"The frustrating part about college football is — like any really good parents shield their kids from the chaos of life, so the kids can just be kids and concentrate on going growing up," he said last week. "And unfortunately, like, I feel the leaders within college football have done a poor job. And so the chaos of college football has fallen on everybody, fans and players alike."
NIL is not a foreign concept to the color commentator of FOX's Big Noon Kickoff game. His college teammate, Jeremy Bloom, went head-to-head with the NCAA over securing endorsement deals to fund his skiing career outside of football season.
In August 2004, just two weeks before Colorado's season opener, the NCAA came down on Klatt's wide receiver. Bloom's career was cut short. The Buffaloes were down a game-changing receiver — Bloom went 75 yards for a touchdown on a punt return in his first ever collegiate game.
Klatt played minor league baseball for two seasons before walking-on to the Colorado football team in the summer of 2002. He still remembers the first time he had to sign his Name, Image and Likeness away.
"Ridiculous," he recalled. "We had to sign a form that relinquished our rights to our Name, Image and Likeness. I've been a proponent of NIL. Unfortunately, when you allow NIL to come to fruition, without guardrails, this is what you get.
"It's their own fault."
The path to reform is Capitol Hill
These past few months have been the summer of griping. Better yet, the season of pointing fingers. Commissioner after commissioner has placed blame on Capitol Hill for the lack of oversight. SEC commissioner Greg Sankey threatened to create league-wide rules. Kevin Warren hammered lawmakers in his opening statement at Big Ten media days. Forget about innovation.
"I roll my eyes every time they do that," Klatt said. "And at the same time, because of the situation we're in, that is the only thing that's going to help."
The list of items on the agenda in Washington, D.C., is long enough. Earlier this week, former Auburn coach turned U.S. Senator Tommy Tuberville announced he will be leading the drive to regulate NIL on a federal level. Still, over six NIL bills have already been introduced. With mid-terms approaching, the timeframe of legislation actually being enacted swiftly is an afterthought.
Yet, state laws have conferences hamstrung. For Sankey's wild thought of conference-wide rules to go into effect, every state in the SEC footprint would need to repeal its NIL legislation. The NCAA is irrelevant, nowhere to be found.
"Let me give you a hypothetical," the face of FOX college football said. "If the SEC and the Big Ten were to get in the same room and say, 'These are, through autonomy, the rules that we're going to set for ourselves and try to adhere to.' Well, if those are different than some state legislation's rules, then those schools and those other states still have to adhere to those state legislator's rules.
"So I hate it, and it was their own failure that led to this. But (putting pressure on Capitol Hill) is the only path forward."
How NIL is shifting the college football product
When Ed O'Bannon sued the NCAA in 2009, the UCLA basketball player wanted to be financially compensated for the use of his NIL rights. The case eventually grew to a class action, and the judge ruled that the NCAA's policy of barring payments violated anti-trust laws.
The last thing O'Bannon thought he was doing, however, was opening the door for more corruption. Klatt had a similar vantage point when he initially dug into NIL. What nobody forecasted was the intersection of the transfer portal and monetization of players' rights.
"When I was wrapping my head around, I viewed it as a way for an Iowa State, you know, to garner some parity," he said. "I thought it would be better to be the best player on a team rather than the 10th best player. But that was under the assumption that it was true, market-driven deals."
One moment, the NCAA was stuck in the past. Next, the one-time transfer rule and NIL were put into effect in the same academic year. The NCAA released data in January on trends from the transfer portal.
In 2021 alone, FBS football saw 7,425 undergraduate athletes enter the portal. Of those players, 50% found a new school while 7% withdrew, staying at their original institution. Another 43% are still in the portal and searching for a new home, have transferred to a non-NCAA school or left the sport entirely. 
A large part of the rise of entries was NIL driven. More talent has changed hands in college football than ever before. College coach after college coach shared stories of players being lured into the portal by cash incentives. Pitt head coach Pat Narduzzi accused USC of tampering when the Trojans landed Biletnikoff winner Jordan Addison.
With a need to add depth to the running back room this past offseason, Nick Saban went out and picked up Georgia Tech star tailback Jahmyr Gibbs. That's going add an entirely new layer to the Alabama offense defenses will need to prepare for.
And it surely will impact the Crimson Tide's success this season.
"This has exploded to a point where I can't tell you exactly if I'm gonna feel it (competitive edge because of the portal and NIL) calling a game," Klatt said. "If I'm gonna sense it until this year or in the years to come. I don't know."
Let kids be kids
Joel Klatt is excited about one aspect of realignment — College Football Playoff expansion. All the power, for better or worse, now sits with the Big Ten and SEC. If those two conferences want a certain format, then the rest of college football will have to abide.
Klatt has a plan for what the future will look like, too.
"Twelve is the right number," he said. "The reason I think 12 is the right number is because it still has to be somewhat limiting. You don't want to create a postseason that negates the regular season. And you also don't want a number that you just can just play off right there, such as eight. You want byes in order to incentivize winning your conference."
Soon, he will be back on the road. Saturdays are just around the corner. Alabama at Texas in Week 2 is less than 40 days away. He'll be adding context to whatever Gus Johnson is yelling about this time.
Klatt admits there are games when he just knows he's locked in. When he can confidently tell his partner, Johnson, what is going to happen the next snap. And then, it happens.
But he's not naive. For all the fun he will have this fall, there are plenty of pieces that need to be fixed across the sport he loves. Somewhere in the evolution of college football, overcoming adversity was lost.
"A concern of mine is that we don't allow players to focus on earning their degree, being great at football and being a kid," he said. "Unfortunately, now, we have not done a great job of creating environments where someone has to die to themselves to be a part of something bigger than themselves. Because they can just leave.
"Anyone that's ever had a career or raised a family or done anything difficult in their life knows you have to face adversity sometimes. You've got to strive to do something bigger than yourself. I hope we retain that."