Georgia commit Joenel Aguero signs NIL deal with Slate Milk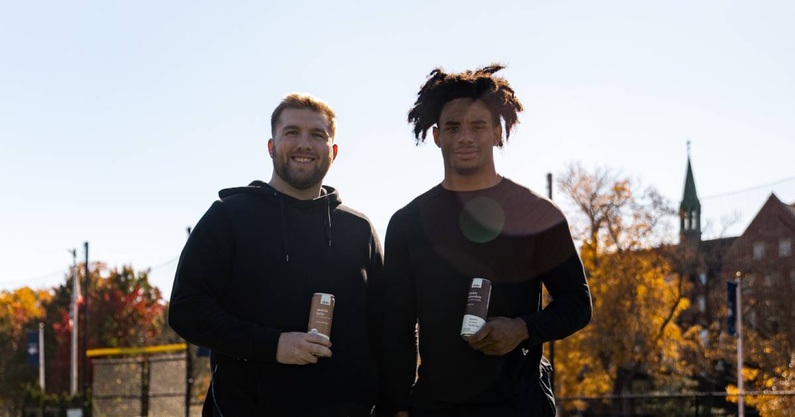 St. John's Prep safety and Georgia commit Joenel Aguero announced a partnership with Slate Milk on Sunday, as he became one of the first high school athletes in Massachusetts to sign an NIL deal. The Massachusetts Interscholastic Athletic Association (MIAA) Board of Directors announced in August that high school athletes can profit from NIL opportunities.
Aguero posted a paid promotional video for Slate Milk on his Instagram account, where he has more than 30,000 followers.
"What makes me strong? My parents. My father," Aguero said in the video. "After he got out of work, he'll always do my drills with me. Always making sure I'm good on the field. He's dedicated to me, so I just want to give all my time back to him. All eyes are on me, for real, right now."
The video is set to dramatic music. It features Aguero training at his high school and on the beach.
The agreement was signed in September. Matt Knox, the founder of Athletes Plus Management who represents Aguero, flew to Massachusetts in October, when Aguero participated in the filming of the video. One of Aguero's friends was responsible for filming.
"Day after a game, he was sore," Knox said during a Zoom interview with Aguero and On3, as he joked about Aguero performing the drills for the video. "It's a good thing they edited it."
Aguero laughed as he recalled the unexpected nature of the video shoot – his first – where he learned about the importance of audio levels and mastering the ad copy.
"It was a good experience," Aguero said. "It was funny. We laughed about it."
"If you doubted me, I'm going to try my hardest to be better," Aguero continued in the advertisement. "The more it motivates me. I'm not scared of anything. I want to go harder, you know, just prove them wrong. To get to the NFL, kept me up, helped push me through anything that I was going through… doubted. That kind of just pushes me every day. You know, you gotta be strong throughout certain situations.
"What makes you strong?"
Joenel Aguero's approach to NIL
As a senior in high school who just executed his first NIL deal, Aguero said his goal as a high schooler who's pursuing NIL opportunities is to learn how to brand himself and make connections for his future.
"This is only the beginning of this," he said. "So later on, I'll have more skills than this. I'll be more comfortable later on."
Aguero is an On3 Consensus four-star recruit who's ranked as the No. 48 prospect nationally in the 2023 recruiting class. He's one of 18 four-star recruits who are in Georgia's No. 2-ranked recruiting class.
Aguero also plays wide receiver and punt returner for St. John's Prep.
He'll likely have more NIL opportunities after he enrolls at Georgia. Knox says he tracks endorsements that athletes at Georgia or other SEC schools enter into in order to see which products or industries could be a good fit for Aguero in the future.
In the days after Aguero's first partnership went live on Instagram, there has been a novelty to his first endorsement.
"All my coaches, they crack these jokes, you know, just saying, 'Oh, OK, you got money now. OK, OK.' Whatever," Aguero said. "You know, just being funny and stuff. But I mean, it's definitely great. A good opportunity."
He hopes to have future partnerships with clothing or apparel brands. Knox said Aguero and his family hope to invest his future NIL earnings into business ventures, such as real estate.
"I like to wear a lot of clothes. I like to have a drip. You feel me?" Aguero said. "Like being dripped up, so I would like to do some sponsorships with clothing brands, just promote their clothes and stuff. Really, sneakers, shoes, anything like that."
Aguero and St. John's Prep will play in the MIAA Division I Football State Championship, also known as the Super Bowl, on Dec. 3.
Knox said he does his best to ensure any NIL opportunities for Aguero are a secondary focus to football.
"It's really just a good test for them to kind of start to see how this business works and kind of put some things in motion, while not getting too crazy about having heavy involvement because they just had a big win on Saturday," Knox said. "…He knows that playing well on the field is where your marketing is going to come off the field and especially with a big win in the state championship.
"That's kind of going to leave his legacy within Massachusetts and just looking to build on some of the projects we've done with NIL, taking that legacy, bringing that all to Georgia and then really start to expand from there."