LOOK: Arkansas golfer John Daly II, dad ink on-brand NIL agreement with major restaurant chain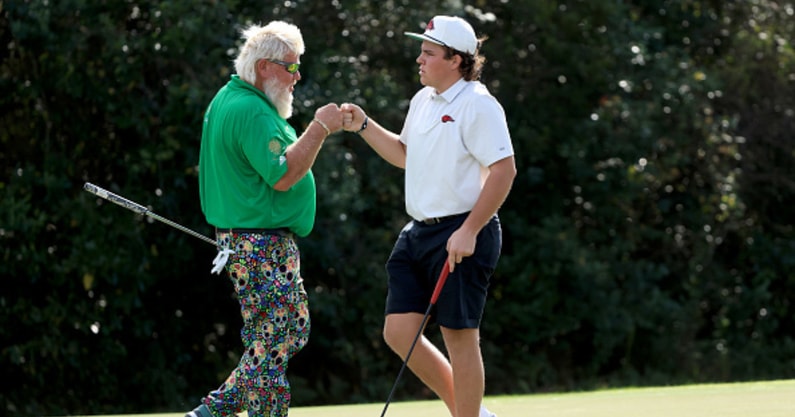 The Hooters restaurant chain got into the Name, Image and Likeness game this week, signing John Daly II, and his father, the legendary golfer John Daly, to a deal. It's the brand's first NIL agreement, according to Kristi Dosh of Forbes.
Daly played on the Arkansas golf team from 1984 to 1987 before turning pro. John Daly II is currently a freshman on the Arkansas golf team. Daly II had seven AJGA top-10 finishes from September 2020 to July 2021. Before enrolling at Arkansas, the AJGA had him ranked as the third-ranked junior in the state of Florida. In high school, he was named as a 2020 Rolex Junior All-American.
The duo paired up for a few rounds at the 2021 PNC Challenge and won with an event-record score of 27-under par for 36 holes.
John Daly made a name for himself as one of the longest drivers on the PGA Tour. Undoubtedly his most famous win was his "zero to hero" win at the 1991 PGA Championship. Another highlight of his PGA Tour career was the 1995 playoff victory over Constantino Rocca in the British Open.
In addition to winning on American soil, Daly won pro events in South Africa, Swaziland, Scotland, Germany, South Korea, Turkey and Canada.
The younger Daly grew up in Clearwater, Florida, and attended Montverde Academy. He's played in one tournament so far for the Hogs. However, if he's anything like his dad, he'll be a great brand ambassador for Hooters.
Daly Sr. was diagnosed with bladder cancer in 2020 for which he underwent chemotherapy. He revealed in December of 2021 that he's still dealing with the illness in a benign form.