Jon Seaton's Ruby Tuesday NIL deal followed 'prime struggle month'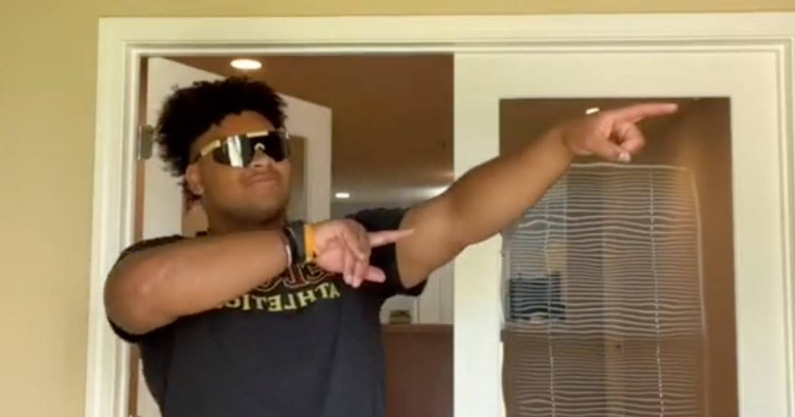 A little more than a year removed from when Elon walk-on offensive lineman turned defensive lineman Jon Seaton unintentionally lost nearly 30 pounds in a month, he recently ate 30-some ribs in one sitting, thanks to an NIL deal with the restaurant chain Ruby Tuesday.
Seaton invited six of his fellow linemen to a Ruby Tuesday franchise. However, the invitation came with a challenge.
"Hey guys, you might want to go light on breakfast and lunch today," Seaton recalled texting a group chat that included his fellow linemen. "We're hitting up Ruby Tuesday. We're going to see how many ribs we can eat tonight."
They combined to eat 204 ribs.
The best part for Seaton? He was paid to do it as part of a social media promotion for the restaurant on TikTok and Instagram.
"I didn't tell you this, Jon," Tim Curran, co-founder of the sports marketing and brand development agency Curran Media Co., which works with Seaton, said on a Zoom call with Seaton and On3. "I got two emails yesterday from the agency. Ecstatic. They're like, 'It's crushing it. He did so great. This is amazing.'"
Miscommunication leads to 'prime, prime struggle month'
Seaton lost 27 pounds in 28 days. It wasn't intentional.
Looking back, he delicately refers to the situation as an "innocent miscommunication." A now-former Elon staffer incorrectly relayed to Seaton that the university dining halls would be open after the spring semester in 2021.
"In the month of May, I couldn't feed myself while I was down here," Seaton said. "And I had no way of getting to the grocery store or anything like that. Didn't have a car. So I was living off weight room snacks and literally brown rice and beans and frozen vegetables. It was prime, prime struggle month.
"I was like 297 [pounds] when I got here for the first day and then we left the first summer session and I was 270 even … It was ridiculous."
Seaton said NIL gives walk-ons a fair shot
Seaton brings up his May 2021 diet of rice, beans and frozen vegetables to illustrate the value of NIL, even for — no, especially for — a walk-on lineman at an FCS program. He has 1.7 million TikTok followers and he was part of the first class of athletes to sign with the WWE's NIL program. He agreed to a deal to promote the popular video game Fortnite.
"To be able to find this success on TikTok while being a walk-on at a smaller school is something we haven't seen too much of," Seaton said.
"Not your quarterback at Alabama," Curran added.
Given Seaton's personal experiences — at some points having little food while also building a massive social media following — he downplays arguments against athletes' right.
"People are like, 'Yo! It's not good. It's making college athletes spoiled.' Yada, yada," he said. "No, it's not. It's allowing the walk-on who wants a fair shot to get better … If you're giving up 60 pounds in Division I anywhere on the line of scrimmage, you're screwed.
"It allows for us athletes to make a living based off of what we can do and the fact that I had a million followers on social media and couldn't put a sustainable amount of food on my table was already a problem in itself."
Jon Seaton joined TikTok during 'peak quarantine'
Like many Americans, Seaton explored TikTok in the spring of 2020.
"It was actually peak quarantine," Seaton said. "It was April of 2020, where I was like, 'Alright, well, you know, I've got a whole bunch of time sitting on my ass. I might as well make stuff more people can laugh about.'
"I was always the comedian in the friend group. I was always the one shooting jokes, everything like that. So I was like, 'Why not try to spread it to a larger audience?'"
Seaton put it simply: his goal was to tell some jokes, make people laugh and see where things went from there.
Originally, he focused on football content. His first post on TikTok was a video of his favorite play from high school, when he broke up a pass in the backfield as an interior defensive lineman.
"Felt like a DB here," he wrote in a text blurb on the video.
Then he transitioned to what he calls "big guy" content, which allowed him to reach a larger audience beyond football players and fans.
His first video that received a lot of engagement on TikTok actually came from his camera roll, rather than being an original that he filmed specifically for TikTok. It was from one of those social media challenges that goes viral every few months. He thinks it was the so-called "Zoom challenge."
Which one was the Zoom challenge, again?
"Where you're sitting there and you pretend you're in a car and somebody yanks your legs and pulls you out of frame," he said. "I did like a big guy version of that, where they just tried to pull my legs but my pants came off. That is still up there. That one was pretty funny. I posted it and like two weeks later, I woke up and it had like 30,000 views. I was like, 'The hell is this?' And then it ended up going to something crazy like 700k [views]."
Eventually, he started incorporating football content again.
One of his videos with on-screen text that reads, "Linemen on a date" has 2.4 million views. Another that reads "Rules to a Successful Big Boy Summer" sits at 3.7 million.
"It's just been able to grow and improve on its own," Seaton said. "Starting from sitting in my room, filming on my phone, where it was, to where it is now, [I'm] still essentially doing the same thing."
Seaton during negotiations: 'This is my platform'
For someone whose personal brand is based around comedy, perhaps even self-deprecation at times, Seaton holds a hardline stance when negotiating with brands.
"One of the things that will get me to not sign is for you to be like, 'We're going to make all the creative for you.' No. This is my platform," he said. "I built it before you came into the picture. I'm going to continue building it after you're gone. Most importantly, I need to protect myself from any sort of mistake a copywriter for a company can make and quite frankly at the same time, I know what works for my audience."
Seaton is clear that he is both excited and appreciative of his past partnerships but in order for it to be that — a true partnership — he says he needs to be involved in the creative process.
"If that's not being met by not providing us with the necessary creative, I don't need to your money," he said. "I'm at a point where it's no longer in desperation of, like, brown rice and frozen vegetables and everything like that. Creating the authentic partnership is going to go way father and make you way more in the long term than if I'm going to sit here and take flack from some guy in a suit who's like, 'Alright, you have to say this, this and this.' We're just not going to do it. It's pretty much as simple as that."
At Ruby Tuesday with 'everybody who I feel…closest to'
Curran said every week, the team at Curran Media Co. will contact various marketing agencies and brands to source various endorsement deals. Curran reached out to one agency to ask if the agency was working with any companies on back-to-school-type campaigns. A representative from the agency mentioned one with Ruby Tuesday and asked if Curran knew anyone who could be a fit.
He did. Jon Seaton.
The Ruby Tuesday campaign was a trial in the NIL landscape, with the restaurant chain's long-term marketing plan in mind, Curran said.
Despite Seaton having a TikTok bio that starts with, "I'm not that creative," he said that after everyone exchanged pleasantries at the start of a call with Ruby Tuesday employees, the first or second thing he said was the idea that he ultimately executed. He wanted to take his fellow linemen to one of the restaurant chain's franchises with a made-for-TikTok eating challenge.
"We walked out of there and it was like, 'Dang,'" Seaton said. "It's funny, you always watch those food challenges on TV. What they don't tell you is when you get to a certain point after eating, your vision gets a little messed up. You've got to sit there for a few minutes just to regain consciousness fully. Just like, 'Oh, gosh. I've got to drive home? Alright, well, hope this goes well.'
"While we were there it was so cool. We were literally just having a meal together, albeit a huge ass meal, but we were sitting there, chopping it up, taking some B-roll … It was just a time to go hang out with people I care about, teammates I care about. Everybody who I feel like I'm closest to on this team and it was a really good bonding experience."