Florida State's Jordan Travis, Trey Benson to host Tallahassee youth football camp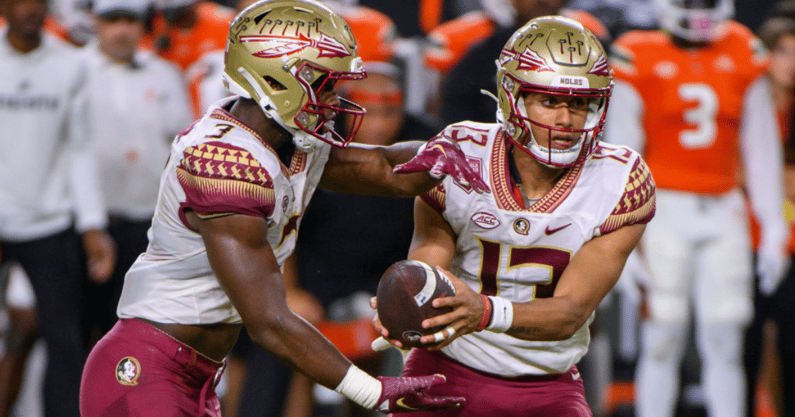 Jordan Travis and Trey Benson will be giving back to the Tallahassee community this spring.
The pair of Florida State stars have partnered with NextGen Camps to hold a youth football camp on June 10 at North Florida Christian Academy. Registration is currently open to kids between the age of six to 16 for $150.
Travis and Benson each declined to leave early for the NFL Draft, opting to return for another season with the Seminoles. Both have inked NIL deals with The Battles End, a Florida State-focused NIL collective that launched in early December. A main priority of the organization since its launch has been roster retention by ensuring athletes' NIL needs are satisfied.
This past season, the Florida State quarterback threw for 2,769 yards and 22 touchdowns, while rushing for 367 yards and another seven touchdowns. The Seminoles finished 10-3 on the season for the first time since 2016.
As a sophomore, Benson carried the ball for 990 yards and nine touchdowns, averaging 6.4 yards per carry. With Travis and Benson both returning, Florida State has added key offensive pieces
Jaheim Bell and Caziah Holmes through the Transfer Portal.
Youth camps continue to provide reliable NIL opportunities
Since the inception of NIL in July 2021, youth camps have become a popular way for athletes to monetize their publicity rights. It's an easy way to provide fans and kids access to some of their favorite players. An opportunity to give back with their college's community, camps also require a direct source of funding for athletes.
NextGen Camps has become a go-to service of sorts for athletes in the last 18 months, too. The group takes on the logistics work of the camps, from securing venues and coaches along with the other business basic necessities.
The company has partnered with a number of high-profile names, including Ohio State quarterback C.J. Stroud, Texas running back Bijan Robinson, Alabama edge rusher Will Anderson, and North Carolina guard Caleb Love. NextGen has also put on women's soccer camps with athletes at Ohio State and Kentucky.
On top of taking care of the details, the firm ensures enough staff are on site to handle the number of campers. On average, football camps draw more than 200 campers, while basketball brings in roughly 150 campers. 
"I think it's also something that's sustainable in the NIL space," NextGen founder Jacob Byrd previously told On3. "As things shift as far as rules and guidelines, we see youth sports camps as something that'll stay around for a long time."
Jordan Travis, Trey Benson On3 NIL Valuation
Each represented in NIL by Just Win Management, the pair of Florida State starters have been successful finding NIL opportunities. Travis has signed notable deals with Barstool Sports and CAMPUS, while Benson will soon be releasing trading cards.
Travis currently holds a $416,000 On3 NIL Valuation. He ranks No. 81 in the On3 NIL 100, which is the first of its kind and defacto NIL ranking of the top 100 high school and college athletes ranked by their On3 NIL Valuation. He has built up a major social media following, too, with more than 110,000 followers.
An Oregon transfer, Benson has an On3 NIL Valuation of $285,000. His evaluation sits at No. 70 in college football.
The On3 NIL Valuation is the industry's leading index that sets the standard market NIL value for high school and college athletes. A proprietary algorithm, the On3 NIL Valuation calculates an athlete's NIL value using dynamic data points targeting three primary categories: performance, influence and exposure.
About On3 NIL Valuation, Brand Value, Roster Value
While the algorithm includes deal data, it does not act as a tracker of the value of NIL deals athletes have completed to date, nor does it set an athlete's NIL valuation for their entire career.
The On3 NIL Valuation accounts for an athlete's roster value and brand value. Roster value is the value an athlete has by being a member of his or her team at his or her school, which factors into the role of NIL collectives. Brand value factors in an athlete's personal brand and the value it could bring to regional and national brands outside of the scope of NIL collectives.