K-State star Deuce Vaughn rocking Porsche Cayenne through NIL deal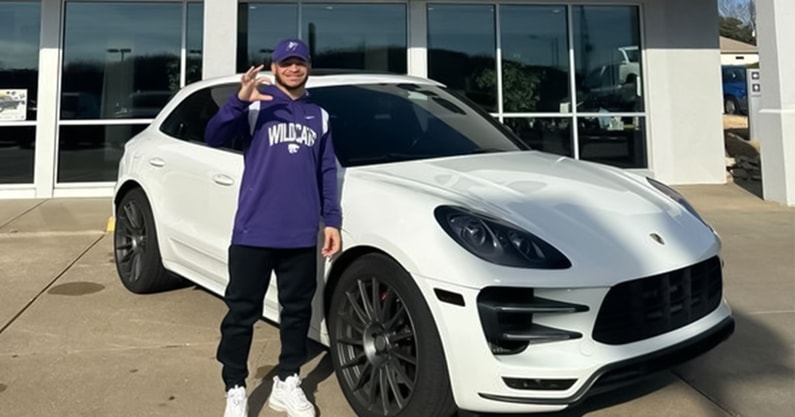 On the field, star Kansas State running back Deuce Vaughn is known for his acceleration and turning on a dime. So, it's only fitting Vaughn drives a whip through his NIL deal with Robbins Motor Company that's known for its impressive handling and powerful engine.
Vaughn originally announced his NIL partnership with Robbins Motor Company in August. At the time, he appeared in a commercial for the Manhattan car dealership promoting a purple Dodge Charger SRT Hellcat. Teammate Felix Anudike-Uzomah also appeared in the commercial, but he opted for the Dodge Ram TRX.
However, this time around, Vaughn is opting for a white Porsche Cayenne. Robbins Motor Company owner Clay Robbins told On3 that Vaughn's vehicle is used. Yet, most Cayenne models are valued well over $60,000, so it's one sweet ride.
In addition to promoting the dealership on social media, Vaughn signed several K-State helmets with his number. The dealership says they will be used as a giveaway.
Vaughn, a 2021 first-team All-American, has been an integral part of the Wildcats' run to the Big 12 championship game. He's third in the Big 12 in rushing with 1,295 yards and second in all-purpose yards with 1,643 total yards.
Deuce Vaughn has learned a lot about NIL
Deuce Vaughn has been savvy about doing NIL deals. He's only partnered with companies he can help create unique bonds with – such as his partnerships with Charlie Hustle and Cats Cans.
He's also worked hard to better understand what goes into executing a NIL deal.
"If you want to monetize or be compensated for all the hard work (and) sacrifice that you're doing, this is part of it," Vaughn said at Big 12 Media Days earlier this season. "I've learned how to read a contract. I have a marketing agent. I've learned how to talk to companies, how to get on conference calls and things like that.
"With that money comes expectations."
But he's more than lived up to them and could go down as a Wildcat legend if he helps K-State beat TCU for the Big 12 title.
Vaughn has an On3 NIL Valuation of $286,000 and an On3 Per Post Value of $594.
The On3 NIL Valuation is a proprietary algorithm that calculates the projected annual value of high school and college athletes' marketability in the NIL landscape. It incorporates both an athlete's brand value and roster value, which incorporate their respective value to third-party sponsorship opportunities and to their team. The latter helps factor in the influence of NIL collectives, which are organizations ranging from marketing agencies to nonprofit organizations that facilitate NIL opportunities.