Mercury signs Kansas football's Jalon Daniels, Lance Leipold to Rock Chalk platform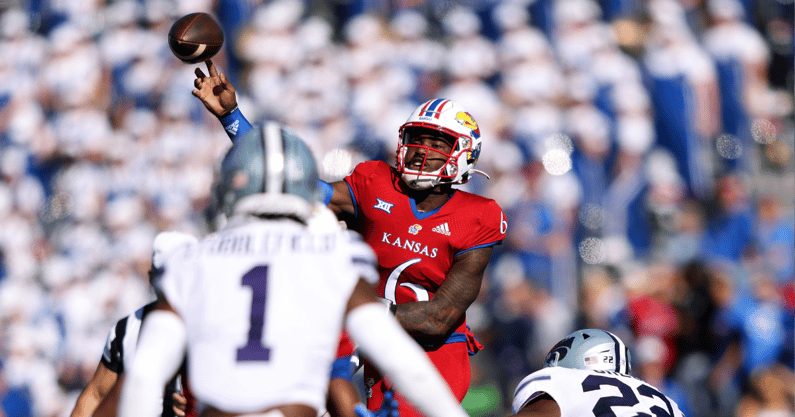 Mercury continues to add big names to its NIL roster.
A digital brand-experience company, Mercury creates exclusive digital-first platforms and communities for top collegiate brands to bring fans closer to their favorite athletes and teams. And now it is capitalizing on Kansas football's breakout season.
Head coach Lance Leipold and quarterback Jalon Daniels have signed on, along with several other members of the Jayhawk football team. As part of the deal, athletes will take part in numerous components of the company's tailored digital platform for Kansas Athletics, fittingly dubbed "Rock Chalk."
Daniels participated in his first activation on Tuesday night, hopping on a Discord with Kansas fans.
"Rock Chalk is now a go-to destination for fans of Kansas football who want exclusive content from the faces they see on Saturdays," Mercury CEO Porter Grieve said in a release. "We are thrilled to work with this group and bring KU football fans new experiences they can't get anywhere else."
Plans are in place for the team's first digital collectible to drop this Friday on the Rock Chalk platform. A spot for athletes to connect with fans, the platform launched last year. Basketball coach Bill Self and the national championship winning-team dropped limited-edition collectible items on the platform.
Fans who purchase membership passes gain access to podcast episodes, customized collectbile drops and ask-me-anything sessions with athletes.
And as part of the latest deal with Leipold, subscribers will have access to a podcast with the head coach. He recently appeared on the company's Next Up podcast with Adam Breneman, who serves as Mercury's vice president of NIL
"I enjoy working directly with athletes and teams so fans can hear and see more than just the latest game stats and highlight reels," Breneman said. "There's so much more to athletes and coaches, and we like to showcase their personalities so fans can get to know how they think about the game and their broader approach to life."