Kentucky guard CJ Fredrick signs NIL deal with Cincinnati staffing company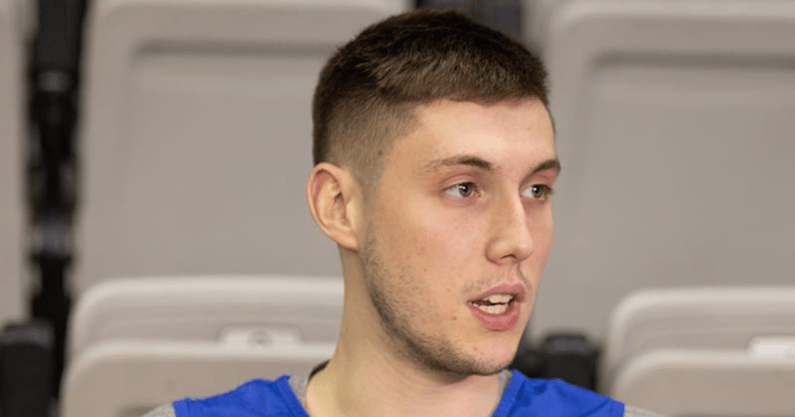 Kentucky shooting guard CJ Fredrick has agreed to a NIL deal with Riley Decker Companies, a staffing and recruiting company based out of the Cincinnati area. Frederick – who sat out all of last season for the Wildcats due to injury after spending the previous three years at Iowa – originally attended Covington Catholic High School in Northern Kentucky.
"Having strong roots in the area makes him a perfect brand ambassador for the local markets where the RDC brands have a strong presence," Riley Decker Companies said in a news release announcing the NIL deal.
The terms of the deal were not released.
Frederick's relationship with Nick Van Zile, the vice president of operations for The Job Center Staffing, was crucial in the partnership. Van Zile coached Frederick in grade school at Cardinal Pacelli School and at the Friars Club in Cincinnati.
"We are excited to have CJ represent the Riley Decker Companies' brands," Van Zile said in the news release.
"While CJ is a great basketball player, he is an even better person that comes from a great local family. He is also a great role model for those aspiring to be a student-athlete which makes this partnership a no-brainer. We are excited to support CJ's successes in the classroom and on the court."
Frederick was a local star in the Cincinnati area in high school. He led Covington Catholic to a state title and was the Kentucky player of the year in 2017-18.
CJ Fredrick feeling like old self
Last year at Kentucky, Frederick suffered a season-ending injury during pregame warm-ups at the Champions Classic at Madison Square Garden in the first game of the season. Before the injury, he was entering the season as the nation's leading returner in career 3-point field goal percentage (46.6%) with a minimum of 150 attempts. He was an honorable mention All-Big Ten pick after the 2020-2021 season at Iowa.
He is expected to play a big role for Kentucky this upcoming season.
"It's going well, especially these last couple of weeks," Frederick told On3's Kentucky Sports Report recently. "I've started to actually feel like myself again, my old self, so it's been quite a while since I've played competitive basketball. "The first couple of weeks, I was pretty down on myself, just rusty. You know, I haven't played in a while. I'm the kind of person, I expect to go out there and be great right away. But these last couple of weeks, I've been feeling really good and my body's feeling really good and I'm starting to slowly get back into a good rhythm."