Mercury's Blue Chips to release NIL-driven Kentucky volleyball collectible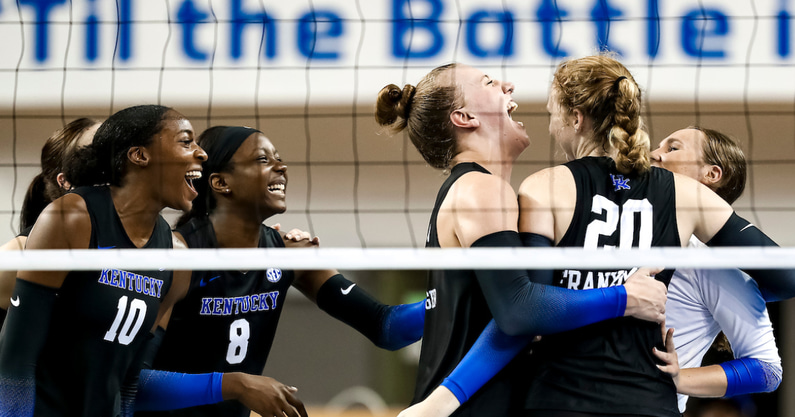 Mercury's NIL game has expanded to women's volleyball.
Blue Chips, the digital platform managed by Mercury and built to service the Kentucky community, plans to drop its first volleyball collectible this Friday. As part of the plan, every member of the team has inked an NIL deal with the company. Athlete Advantage, one of the leading NIL reps in Lexington, played a role in crafting the contracts.
This is only the latest development for Blue Chips. The platform launched back in November 2021, signing more than 50 Kentucky athletes and coaches, including quarterback Will Levis and John Calipari. Similar to Mercury's partnership with Kansas, Blue Chips jumped into the Kentucky market a year ago with a heavy presence on the basketball team.
Now it is spreading to its first female sports. Plans are in place to involve the women's basketball team this winter, too, sources told On3.
"This is an exciting day for women's sports and our fans," Kentucky's All-American middle blocker on the Azhani Tealer said in a statement. "Everyone on the team is proud of how this set of collectibles captures our spirit and intensity on the court, and we can't wait for our fans to see it."
Kentucky volleyball is currently ranked 20th in the country with a 14-6 record. The Wildcats made history in 2020, only losing two sets across five tournament matches and winning the national championship. They're just one of 11 schools who have ever won the volleyball championship.
"I am thrilled that Mercury is the first platform to host an exclusive drop for a women's athletic
team, and it certainly won't be our last," Mercury CEO Porter Grieve told On3. "The UK women's
volleyball team is a powerhouse in the SEC and nationally. We are really looking forward to this
collection."
Mercury's long-term NIL plans
Mercury strives to enable universities to create innovative digital fan experiences to make selling digital collectibles seamless and customized. For universities, it aims to simplify the process of developing a marketing strategy and design to ultimately drive fan engagement. For players, it creates an easy way to put NIL dollars in their pockets. And for fans, it enables supporters of the tradition-rich program to enhance what it means to be a fan. 
It's also a time-efficient way for athletes to monetize their NIL. They can promote these discussions and collectibles on their social media channels. Athletes don't need to worry about hustling to a photoshoot or attending an in-person event.
Mercury has expanded its footprint this fall, growing its NIL programs at Kentucky and Kansas. It recently signed Clemson, with plans to grow to Oklahoma and Villanova in the coming months.
Details on the revenue distribution model have not been disclosed. But in past deals, the company has brought on as many athletes as possible from football and basketball teams, and now women's volleyball.
"We're not going to market with everyone we see, everyone we talked to," Grieve previously told On3. "We're really focused right now on bringing to market some core iconic schools and brands and partners."