Miami punter Lou Hedley flies to Australia to complete NIL deal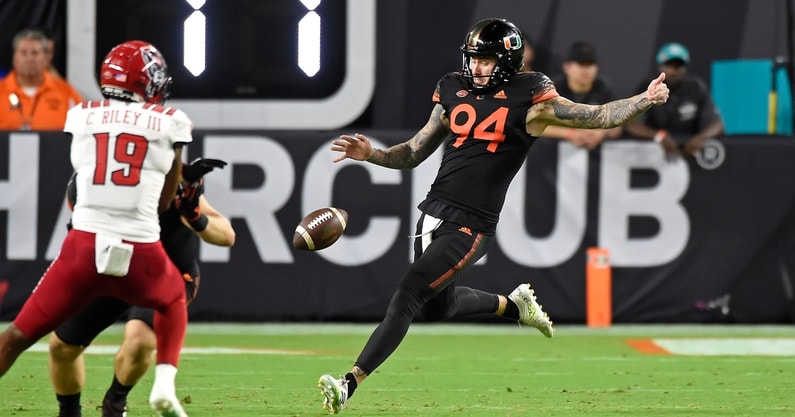 Miami punter Lou Hedley is the latest member of the Hurricanes to ink an NIL deal with John Ruiz's company Life Wallet. For this deal, however, Hedley had to return home to his native Australia.
The punter took a 37-hour flight home to Australia, where he filmed promotional content for Life Wallet in Perth. Hedley chose not to disclose the exact amount that the NIL deal was worth but did say it was in the same range as his other Miami teammates who have signed deals with Life Wallet at roughly $50,000.
Heavily tattooed, Hedley is one of the best-known punters in college football. On top of being an Australian bomber, he has a big frame at 6-foot-4. Hedley had to fly to Australia for the deal because profiting off NIL does not extend to international student-athletes or those at military academies.
"It's a pain in the backside having to fly over but it's all worth it," he told The Associated Press after a day of filming promotional spots. "I feel like I deserve to get a little bit of money, I've contributed wealth to the team (with) my name, image and likeness … so it was good to kind of get compensated for what I've been doing the last three years."
Why Lou Hedley had to fly home for his NIL deal
International student-athletes can't profit off of NIL while in the United States, given how the law is currently written. With that comes debate as to what international students can do to profit. Some feel as long as the work is done internationally, there won't be an issue. Others, however, are concerned about how that could impact the visa status of student-athletes.
These are murky waters for NIL. Depending on what school a student goes to, they're being given different answers and different regulations. Despite all the confusion, Lou Hedley remains confident.
"The work is all done here, paid for over here. As long as I'm doing all my work in Australia, I'm getting paid in Australia, paying taxes in Australia and all that stuff, it's all legal," Hedley told The Associated Press.