Miami punter Lou Hedley flies to Australia to complete NIL deal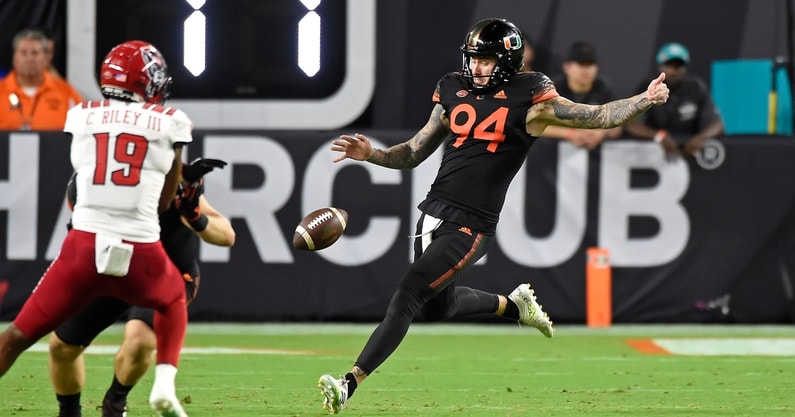 Alabama quarterback Bryce Young has a new NIL deal with New Life Art. The Heisman Trophy winner will sign a limited number of Daniel A. Moore's Crimson Connection.
This is a collection of oil paintings by the artist Daniel A. Moore, which includes Young's image. The image itself comes from the 2021 SEC Championship Game. The initial cost of a painting is $245 and the painting can come autographed at an additional $129. The original painting these prints are based on is up for sale at $70,000.
There are no details currently available regarding Bryce Young's compensation. However, it's clear Young is an incredibly valuable athlete in terms of NIL. A five-star quarterback in the Class of 2020, he's one of the biggest faces within the sport, which has helped to make him one of the most valuable student-athletes.
According to the On3 NIL Valuation, Young has a NIL value of $3.1 million. That's based on his social media presence, on-field accomplishments and access to NIL opportunities. Young is first among college football players in NIL value. He is also second in the On3 NIL 100, which ranks high school and college athletes in both football and basketball in terms of their NIL value. The only athlete who holds a higher valuation than Bryce Young is Bronny James.
What is New Life Art?
The company that Bryce Young signed with is called New Life Art. A Birmingham art company run by Daniel A. Moore, it was founded in 1979 with the goal of capturing great sports moments as artwork.
Much of their available artwork is based in the SEC. In particular, images of Alabama and the Iron Bowl are widely available throughout the website. However, Moore has worked in partnership with the MLB, NFL, NBA, USGA, PGA, the Sugar Bowl, the Outback Bowl, the Citrus Bowl, and the Liberty Bowl, as well as numerous universities