Why Nick Saban, Jimbo Fisher are at heart of Louisiana NIL debate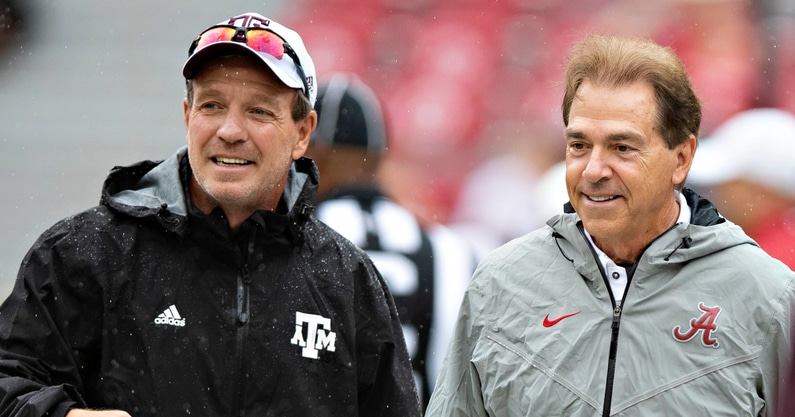 Ahead of the Memorial Day weekend, state representatives in Louisiana gathered to vote on an amendment to the Name, Image and Likeness bill they passed nearly a year ago.
The conversation and eventual vote was the byproduct of Nick Saban and Jimbo Fisher's feud that has taken the college football world by storm. While Alabama repealed its NIL law in February, allowing schools to create their own policies, Texas' legislation is less restrictive than Louisiana's.
LSU currently cannot have any contact with its students regarding NIL deals. On top of that, there are limitations on the roles of boosters in current NIL contracts with players.
This puts LSU at a distinct competitive disadvantage. Less than two years after Ed Orgeron delivered the Bayou State a national title, he was out of a job. Enter Brian Kelly. The former Notre Dame head coach left South Bend to rebuild one of college football's great powers.
For Rep. John Stefanski (R), who presented the amendments on the house floor, the last thing he wants to see is his alma mater fall behind. But with Arch Manning one of the 18 blue-chip recruits in the 2023 class produced from a Louisiana high school, Stefanski understands the importance of LSU having discussions with athletes about NIL.
"It was really at the at the encouragement of LSU," he told On3 on the decision to introduce the updates to the law.
What the state of Louisiana is grappling with what many other states are: How do they keep their college football teams competitive against these rich, blue-blood schools across the country?
"If we want LSU or any other of our universities to be able to compete (in recruiting) with Texas A&M and with Alabama and see Nick Saban upset on a regular basis on the sideline, we have to be competitive," Stefanski urged legislators last week.
Why Louisiana's NIL law is holding back LSU
The root of the concern with Louisiana's NIL legislation traces back to recruiting.
While current student-athletes can secure financial compensation, they cannot lean on the university to connect them with a business. This is because current Louisiana law bars schools, such as LSU, from linking a business with a player.
"I think it all goes back to recruiting," Mit Winter, a sports attorney at Kennyhertz Perry LLC, told On3. "Schools want to be able to tell athletes if 'Hey, if you come here, we will have all these resources we are going to provide for you on the NIL front.'

"Schools want to be able to field inquiries from businesses, and then connect those businesses with athletes. And if they're not able to facilitate those deals, then they kind of just have to stop the conversation and maybe not even tell the athlete about the inquiry."
The concerns for LSU don't just stop with Texas A&M and Alabama. Tennessee and Mississippi have also tweaked their NIL laws, allowing collectives to work with college coaches and athletic officials.
Why current legislation impacts LSU in transfer portal
This doesn't stop at recruiting, either. Current Louisiana law calls for athletes' contracts to be made public. That allows for opposing schools to look at how much potential transfer portal entries are making off NIL.
"We're at a disadvantage with schools, like you mentioned, with Alabama and Texas A&M," Stefanski said. "… To say that (recruiting) it's not being mentioned in these conversations when recruits are looking at schools is ridiculous, Ok. They may say it's not the reason the kid came here, and we didn't guarantee him anything. But it is being mentioned in those conversations. And that is a huge part of recruitment now."
"If LSU is trying to take the holier than thou kind of position and saying, 'No, we're going to, we're going to remain clean of all this and go the extra mile,' I truly believe that the results on the on the football, basketball, baseball field are going to suffer."
The university still does not have a collective in place, which could also change with this legislation. Changes to the law could open up the opportunity for officials at LSU to interact with a collective. It would prohibit "pay-for-play" payment arrangements between schools and student-athletes, though.
Role of Jimbo Fisher, Nick Saban in Louisiana NIL reform
The Louisiana State House passed Stefanski's updated NIL law in a 93-4 vote. It has been sent back to the Louisiana State Senate. If passed, the law will land on Gov. John Bel Edwards' desk.
Alabama and Texas A&M are two of LSU's chief rivals. That's not a secret. And it's not a surprise the schools dominated the NIL debate.
Stefanski openly mentioned Saban and Fisher when urging for the reform.
"We had a huge debate between two big college football coaches on this very issue," he said. "Where one coach thought they were doing just that and the other coach is saying no we didn't. … It's completely a gray area."
Later in the discussion, one of his colleagues openly questioned Texas A&M's NIL practices.
"What's going on right now is A&M is setting up dummy corporations, isn't that right?" Rep. Tanner Magee quipped.
The competitiveness to win in the fall is now being fought in states across the country as they rush to reform NIL laws.
"The SEC is arguably the most competitive football conference with the most diehard fans in the country," said Dan Greene, a NIL expert and associate attorney at Newman & Lickstein in Syracuse, New York. "Many of those diehards are now state lawmakers in that territory. They have realized that they have to do whatever they can to keep their football programs competitive, which means making necessary changes to their respective NIL laws."