LSU QB Jayden Daniels' NIL deal allows him to star in 'augmented reality poster'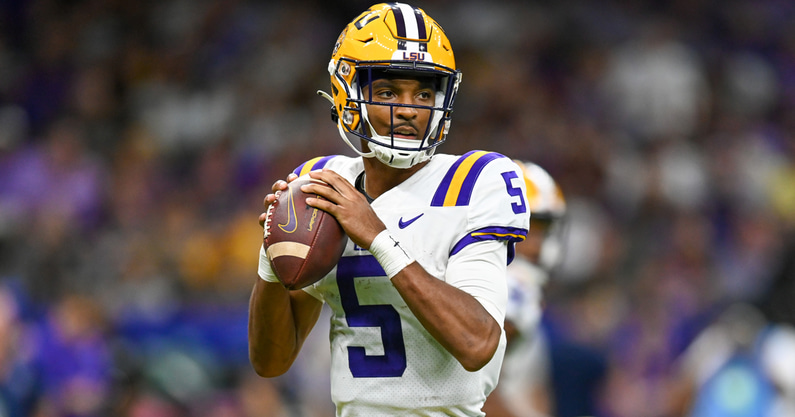 LSU quarterback Jayden Daniels has a new NIL partnership that allows fans to purchase an officially licensed "augmented reality poster" that he's featured in.
Daniels' NIL deal is with The Athletic Connection. The company is selling 18×24 inch posters that feature Daniels decked out in his LSU uniform with a purple and gold background. The poster purchase also comes with an augmented reality feature in The Athletic Connection app. Inside the app, fans that purchase the poster can watch highlights of Daniels. The poster sells for $25.
Through two games since his arrival at LSU from Arizona State, Daniels has thrown for 346 yards and five touchdowns. Against Southern this past Saturday, Daniels was 10 of 11 for 137 yards and three touchdowns. Last season at ASU, he completed 65% of his passes and threw for 2,380 yards and 10 touchdowns. Daniels' transfer to Baton Rouge was one of the top headlines during college football's offseason.
Jayden Daniels has 260K On3 NIL Valuation
The terms of Daniels' deal were not released. However, Brent Pitarro with The Athletic Collection said, "players make more money from our posters than they do from a jersey sale." The company's website says 10% of profits from poster sales are also donated back to the local community of the college.
Jayden Daniels currently has an On3 NIL Valuation of $263,000. The On3 NIL Valuation is the industry's leading index that sets the standard market NIL value
Last week, Florida State receiver Ontaria Wilson and The Athletic Collection collaborated to launch a poster of his one-handed touchdown catch against LSU.
The Athletic Collection also has posters for sale from LSU softballer Taylor Pleasants, basketball player Adam Miller and gymnast Kiya Johnson, baseball player Brayden Jober, women's basketball player Flau'Jae Johnson and many others.
The company also has partnered with student-athletes from Utah, Clemson, UCLA, Mississippi State, Auburn, Michigan State, Oklahoma State, Alabama, Texas, Tennessee, Ole Miss, Nebraska, TCU, Texas Tech, Baylor, Oklahoma and Florida.