LSU All-America LB Harold Perkins inks NIL deal with John Deere dealer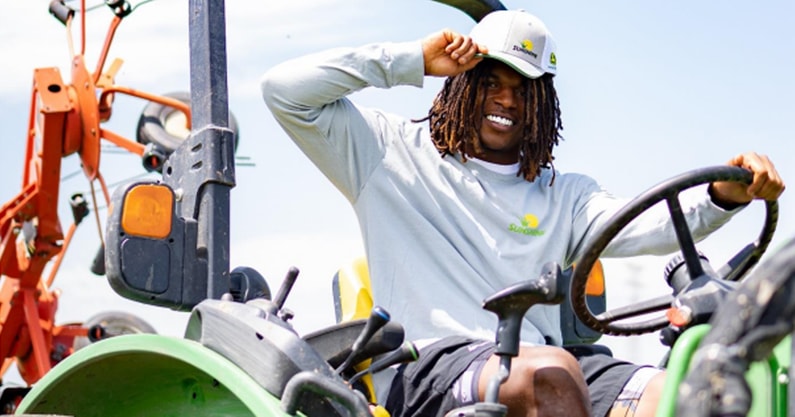 Harold Perkins – the former On3 Five-Star Plus+ recruit that earned freshman All-America honors at LSU – has signed a NIL deal with Sunshine Quality Solutions, a 17-location John Deere dealer located throughout Louisiana.
Perkins played high school football at Cypress (Texas) Cy Park in the Houston area, but he is originally from Louisiana. Perkins said he was happy to partner with Sunshine Quality Solutions because of the strong local ties with the state. The partnership with the local John Deere dealer is dubbed "The Best Player in the Field" campaign.
"As a New Orleans native, I'm excited to be partnering with Sunshine Quality, a company that does so much for the community in the state of Louisiana," Perkins said in a news release.
Grace Vest, the marketing manager at Sunshine, said the NIL deal with Perkins was ideal for the company.
"Harold Perkins is the real deal and getting one of the best players from Louisiana on the best and biggest equipment in the state only makes sense," Vest said in the release. "You need the best equipment in either field, and Perkins ties in perfectly.
"Not only is he getting to learn about our John Deere equipment. But he is also getting to learn more about agriculture and how important it is in the state of Louisiana."
Harold Perkins only getting better for LSU
After his stellar freshman season, Perkins is already being tabbed as one of the top 10 linebackers in college football. He finished the 2022 season with 72 tackles, 13 tackles for a loss, 7.5 sacks, four forced fumbles, an interception and three pass breakups.
LSU coach Brian Kelly raved about Perkins' improvement throughout spring practices.
"We've put him in a position now where I think we kind of drew some things up on the sand for him last year just to utilize, a young player that is so gifted," Kelly said. "And now he is in a structured situation relative to playing a particular position, the Will linebacker position. But we can do a lot of things with him. I think his growth, relative to a football player, recognizing what we can do now? With a guy that is going to be playing that position? It's going to be fun. It's going to be exciting."
Perkins' On3 NIL Valuation
Harold Perkins has a $613,000 On3 NIL Valuation, which ranks No. 47 in college football. The valuation also ranks No. 72 in the On3 NIL 100, which is the first of its kind and defacto NIL ranking of the top 100 high school and college athletes ranked by their On3 NIL Valuation.
The On3 NIL Valuation is the industry's leading index that sets the standard market NIL value for high school and college athletes. A proprietary algorithm, the On3 NIL Valuation calculates an athlete's NIL value using dynamic data points targeting three primary categories: performance, influence and exposure.
About On3 NIL Valuation, Brand Value, Roster Value
While the algorithm includes deal data, it does not act as a tracker of the value of NIL deals athletes have completed to date, nor does it set an athlete's NIL valuation for their entire career. The On3 NIL Valuation calculates the optimized NIL opportunity for athletes relative to the overall NIL market and projects out to as long as 12 months into the future.