LSU's Angel Reese's On3 NIL Valuation surpasses $1 million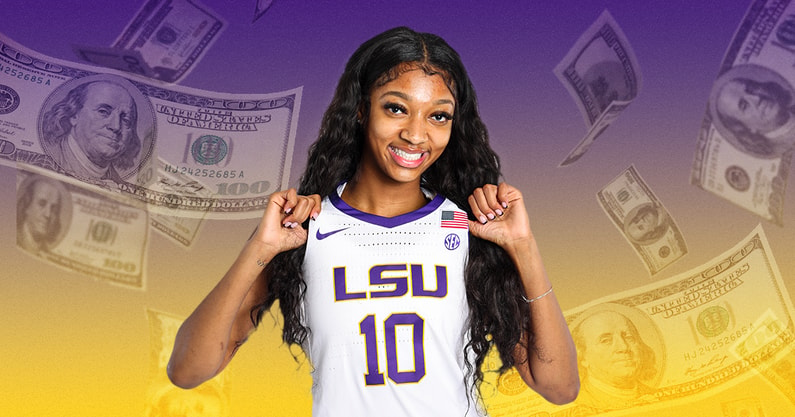 Angel Reese has become a celebrity in less than 10 days.
In a time where she can easily profit off her name, image and likeness paired with an unparalleled number of eyeballs on the women's basketball game, Reese has made the most of her moment. Maybe no college athlete has ever been able to capitalize the way the LSU basketball player has.
Through it all, her On3 NIL Valuation has taken off. After spiking more than $480,000 following LSU's national title last week, her valuation has now surpassed $1 million. Reese's social following has more than tripled to 3.6 million since the Final Four.
Entering March Madness, the former Maryland transfer had a $371,000 On3 NIL Valuation. Her valuation now is $1.3 million, which is the top-ranked women's basketball valuation. Reese also ranks No. 13 in the On3 NIL 100, which is the first of its kind and defacto NIL ranking of the top 100 high school and college athletes ranked by their On3 NIL Valuation.
She is one of just 23 college student-athletes to have a valuation in the seven figures.
The rise in her profile is a mix of the LSU star's persona and established brand.
Reese's celebration aimed at Iowa's Caitlin Clark in the final seconds of the national championship game turned into a national story. She was unabashedly herself when First Lady Jill Biden talked about inviting the Hawkeyes to the White House along with LSU.
Reese has worked closely with her agent, Jeanine Ogbonnaya, to monetize her NIL. She joined her teammates at Raising Cane's as part of an NIL deal, serving LSU students during the lunch hour. Along with Flau'jae Johnson, the duo has released limited edition jerseys through Campus Ink. She spent also spent part of Saturday at an appearance at Dick's Sporting Goods in Baton Rouge. Leaf Trading Cards signed her as well, releasing an autographed card.
It's really just a starting point, though. Only a sophomore, she'll be back with the Tigers for at least another season before leaving for the WNBA. A sneaker deal could be in the works. A source also told On3 that Reese is expected to announce a partnership in the coming days with one of the biggest spenders in the NIL space.
Angel Reese has been on Good Morning America and made a stop at TikTok headquarters in New York City. She met up with DJ Khaled and hosted a watch-along for Bleacher Report for the WNBA draft.
Although she now has well over 17 NIL deals now, Reese is one of the top players in her sport. A first-team All-American this past season, she finished the year averaging a double-double with 23 points and 15.4 rebounds.
About the On3 NIL Valuation
The On3 NIL Valuation is the industry's leading index that sets the standard market NIL value for high school and college athletes. A proprietary algorithm, the On3 NIL Valuation calculates an athlete's NIL value using dynamic data points targeting three primary categories: performance, influence and exposure.
About On3 NIL Valuation, Brand Value, Roster Value
While the algorithm includes deal data, it does not act as a tracker of the value of NIL deals athletes have completed to date, nor does it set an athlete's NIL valuation for their entire career. The On3 NIL Valuation calculates the optimized NIL opportunity for athletes relative to the overall NIL market and projects out to as long as 12 months into the future.
The On3 NIL Valuation accounts for an athlete's roster value and brand value. Roster value is the value an athlete has by being a member of his or her team at his or her school, which factors into the role of NIL collectives. Brand value factors in an athlete's personal brand and the value it could bring to regional and national brands outside of the scope of NIL collectives.
The On3 NIL Valuation is publicly available. Performance, Influence, and Exposure ratings along with the athlete's personal Brand Value Index and Roster Value Index are available only to the athlete in the "Athlete Verified" private dashboard on the On3 Athlete Network.