March Madness heroes will have fame – and, presumably, NIL opportunities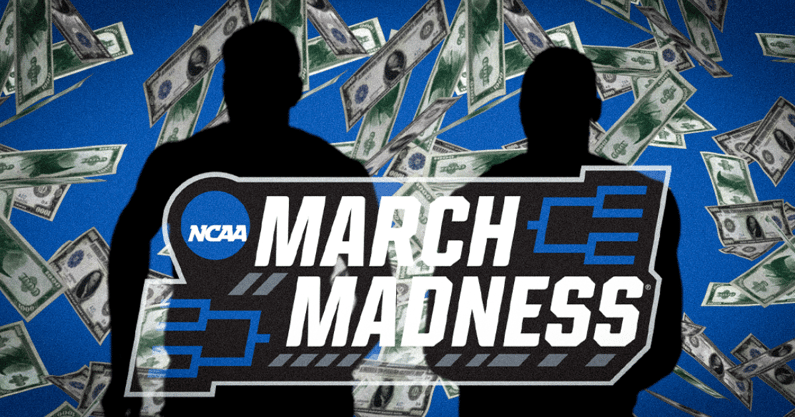 Consider all the March Madness buzzer-beaters etched in your memories. Christian Laettner sinking a foul-line jumper against Kentucky. Valpo's Bryce Drew executing the "Pacer" play against Ole Miss. Kris Jenkins winning the national title for Villanova against North Carolina. Gonzaga's Jalen Suggs' banking in a near-halfcourt shot to edge UCLA in a national semifinal. Lorenzo Charles' dunk against Houston that gave NC State the championship.
Great shots. Wrong eras. 
Unlike buzzer-beating heroes of today, none of those players could monetize their brands after authoring indelible moments that continue to live on in montages on CBS and Turner Sports. As the NCAA tournament begins this week, the potential for so-called "One Shining Moment NIL stars" could be enormous, offering select athletes an array of financial opportunities.
"It will open doors tremendously," Peter Schoenthal, CEO of Athliance, told On3. "When we talk about NIL, it's the right to profit off your marketability and publicity. And when you hit a shot heard around the country, with all eyes on you, it absolutely impacts your marketability. So being prepared for this opportunity can really be a life-changing situation for an athlete."
Mit Winter, a Kansas City-based sports attorney with Kennyhertz Perry, echoed that sentiment, telling On3 that the potential is "huge, especially if it's in a later-round game. Think about how many times highlights of a big buzzer-beater are shown on TV and social media during the tournament. Seeing the highlights over and over makes the relevant player well-known among the general public, and it will also inevitably increase the player's social media following. Brands that are looking for a timely advertising campaign can use that sudden notoriety to their advantage."
During last year's NCAA tournament, the first of the NIL era, players capitalized on impressive and unlikely runs in March Madness, but the men's event lacked a true game-winning buzzer-beater to establish an NIL benchmark. The closest we saw was when No. 13 seed Chattanooga's Malachi Smith's potential game-winner bounced off the rim in the final seconds against No. 4 seed Illinois.
Still, the men's and women's tournaments saw several notable achievements on the NIL front. That included Gonzaga star Drew Timme's pre-tournament signing with Dollar Shave Club and an entire hallway wall at the Mall of America in Minneapolis bearing the face of UConn women's star Paige Bueckers in a Gatorade advertisement. St. Peter's guard Doug Edert famously secured a deal with Buffalo Wild Wings during the Peacocks'  improbable Elite Eight run. Kansas and North Carolina players cashed in after reaching the national title game. In fact, NIL dollars – more than a half-million of them – was one of the reasons UNC's Armando Bacot returned this season.
But making a memorable buzzer-beater is different than being the face of a team that makes a sustained deep run through March. It is a singular moment, one that now goes viral before players even begin their postgame locker room celebration. Circumstances, of course, also matter, said Dale Hutcherson, a Memphis-area attorney who specializes in sports and trademark law. A game-winner to reach the Round of 32 may yield "solid" NIL opportunities, he said, whereas a buzzer-beater to earn a Final Four berth could pay dividends long after the player's college career ends. 
To that point, Hutcherson said, the tournament brings "huge trademark opportunities, which have the potential to turn into massive earning potential on a short-term and long-term basis." A perfect example is when Bueckers filed a trademark for "Paige Buckets."
In local markets, a player who hits a game-winner can instantly earn legend status. In addition to never having to pay for an adult beverage again in the college town, that player could have a host of local NIL opportunities. Think autograph signings, camps and deals with local businesses, Winter said. 
One former player striving to help athletes monetize their March Madness success is Jerome Williams, a Georgetown player in the 1990s. He has founded IP Famba, a company that secures intellectual property for athletes through the use of NFTs to create a digital portfolio of their athletic journey. Among other benefits, it aims to utilize an athlete's following to help them profit from their brand, capture important moments through NFTs and share content seamlessly on various platforms. 
To illustrate why his company is needed, Williams said that if you watch any tournament game, you can see Grant Hill and Laettner talking in a commercial about their famous play in 1992 against Kentucky. But, Williams noted, the actual shot, broadcast on CBS, is not shown because the players don't have the rights to it. If a player who makes a game-winning shot has an IP Famba account, he said, the "sky is the limit" financially because the player is "going to get 90% of his cut of that play if it is captured outside of a network."
The long-term value of the image of a memorable shot could be substantial. It could live on with posters and trading cards or for Instagram ads for companies, said Schoenthal, adding, "Everyone is going to want that shot. Everyone is going to want that shot to make money off of it. Now the beauty of it is college athletes can make money off of it."
But capitalizing on newfound fame from a game-winner may be easier said than done. CBS/Turner Sports and the NCAA would own footage of the shot, Winter said, so if a player or brand wanted to use the footage, they would have to pay to license it.
There are myriad other challenges now for on-court game-winning heroes, including trying to review contracts and potential activations while also focusing on practice and being a full-time student. 
Tom McMillen, the former University of Maryland All-American who is now CEO of LEAD1 Association, which represents athletic directors from all FBS schools, has told On3 that schools need to be mindful of not being too proactive in helping male athletes with deals or else they risk Title IX issues. He recommended that the NCAA enlist an ombudsman on retainer. He also suggested it provide a hotline as a NIL educational service for athletes so, once they are offered deals, they aren't flailing in various directions for information and guidance.
All would be wise moves during March Madness because unlike the buzzer-beating legends of past tournaments, these players will have ample opportunity to cash in. 
"Certainly these kids need some representation," McMillen said. "There is going to be a lot of 15 minutes of fame."