MarketPryce teams with UCLA women's basketball team to spark NIL deals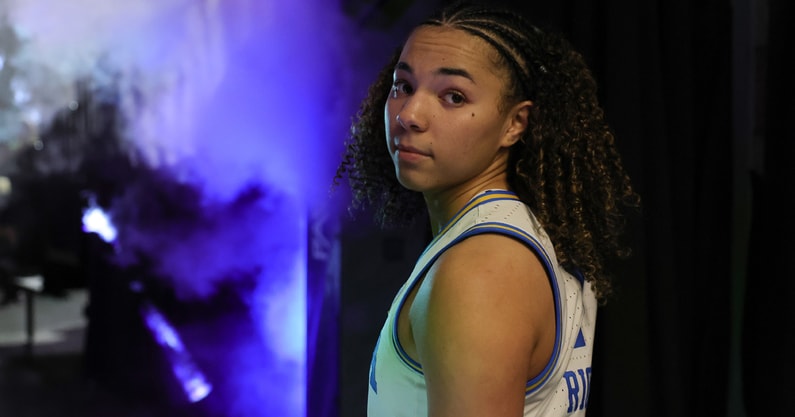 MarketPryce has reached an "NIL partnership" with the UCLA women's basketball team that will support the nationally ranked squad ahead of March Madness.
The NIL agreement includes 12 student-athletes from the Bruins, who are ranked No. 17 in the country and were runners-up at the recent Pac-12 Conference tournament. The deal also features All-Pac 12 selection Charisma Osborne and Pac-12 All-Freshman Team members Londynn Jones and Kiki Rice.
Michael Ehrlich, head of athlete engagement for MarketPryce, told On3 the company onboarded the Bruins with an all-team TikTok competition that compensated the winning team. With a 25-9 record, the Bruins have been projected as a four-seed in the upcoming NCAA Women's Basketball Tournament.
What is MarketPryce?
MarketPryce is an online marketplace that helps student-athletes facilitate marketing deals.
In addition to connections with brands, the UCLA women's basketball roster has access to MarketPryce+. MarketPryce+ is an educational platform featuring NIL best practices for creating authentic and engaging social media content. It also helps athletes with writing strong brand pitches, building their personal narratives and maximizing value for themselves.
"Partnering with such a storied program as UCLA women's basketball is an incredible honor and opportunity for us," Ehrlich told On3. "The combination of an amazingly engaged athletic department and coaching staff, prolific student-athletes with such unique stories, set against the backdrop of the high-profile market of Los Angeles, is a formula for NIL success that we are ready to bring to life.
"The culture that Coach Cori (Close) has built with her program is inspiring. She's putting her full support behind resources like MarketPryce to set her players up for success off the court in new and innovative ways. We have already hit the ground running with the Bruins and look forward to helping them capitalize on hopefully a long run in the NCAA Tournament."
UCLA is the second university partnership MarketPryce announced in 2023. Earlier this year, the company revealed its university partnership with the Arizona women's basketball and softball teams. MarketPryce also has a partnership with Florida State-focused collective Rising Spear.
UCLA stars have big On3 Valuations
Senior Charisma Osborne was a first-team All-Pac 12 pick, and freshmen Londynn Jones and Kiki Rice earned league All-Freshman honors for the 2022-23 campaign.
Osborne leads the Bruins in scoring (15.3 points per game), rebounding (5.9), minutes played and steals. She recorded five double-doubles during the 2022-23 campaign, and was a two-time Pac-12 Player of the Week. Osborne also became the 15th Bruin in UCLA women's basketball history to reach 1,600 career points.
Jones, a former top-25 recruit, finished the regular season with the highest 3-point field goal percentage on the team at 37% and shot a team-best 88.2% from the free-throw line. Jones ranked third in the Pac-12 during conference play in 3-point percentage and fourth in free throw percentage.
Rice – who arrived at UCLA as one of the nation's most highly decorated high school basketball players – was second on the team in scoring (11.3), assists (2.9), steals (1.4) and minutes played. She also averaged 4.7 rebounds per game. She was also third in the conference in points scored (335) among first-year players and 22nd in the Pac-12 among all players.
Rice has an On3 NIL Valuation of $53,000, which puts her at No. 21 in the On3 College Women's Basketball NIL Rank. She made national headlines in October when she became Jordan Brand's first NIL athlete. Rice also has NIL deals with Dove and HighlightHER, and she's represented by Wasserman.
Jones has an On3 NIL Valuation of $12,000, which puts her just outside of the top 100 in the On3 College Women's Basketball NIL Ranking. She has a solid list of deals, including with In The Lab+. She's represented by Kool Vibes Sports.
Others on the team also have very solid On3 NIL Valuations, including Gabriela Jaquez at $22,000, Brynn Masikewich at $15,200 and Camryn Brown at $13,000. Brown has done a deal with PUMA in the past, while Jaquez has deals with Fortnite and Tricolor Holdings on her resume.
About the On3 NIL Valuation
The On3 NIL Valuation is the industry's leading index that sets the standard market NIL value for high school and college athletes. A proprietary algorithm, the On3 NIL Valuation calculates an athlete's NIL value using dynamic data points targeting three primary categories: performance, influence and exposure.
About On3 NIL Valuation, Brand Value, Roster Value
While the algorithm includes deal data, it does not act as a tracker of the value of NIL deals athletes have completed to date, nor does it set an athlete's NIL valuation for their entire career.
The On3 NIL Valuation accounts for an athlete's roster value and brand value. Roster value is the value an athlete has by being a member of his or her team at his or her school, which factors into the role of NIL collectives. Brand value factors in an athlete's personal brand and the value it could bring to regional and national brands outside of the scope of NIL collectives.
The On3 NIL Valuation is publicly available. Performance, Influence, and Exposure ratings along with the athlete's personal Brand Value Index and Roster Value Index are available only to the athlete in the "Athlete Verified" private dashboard on the On3 Athlete Network.