Marvin Harrison Jr. partners with Ronald McDonald House through Cohesion Foundation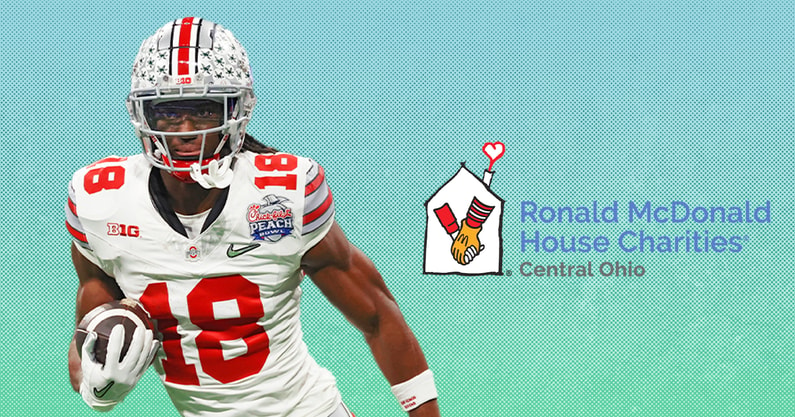 Marvin Harrison Jr. will be one of the most recognizable names in college football in the fall.
When combining his breakout year with the Ohio State brand and the fact his father is an NFL Hall of Famer, he will have plenty of potential opportunities for his publicity rights. He gets to make the decision on how to use them.
The receiver has signed with the Ohio State-aligned NIL collective Cohesion Foundation. Through the partnership with the collective, he has partnered with the Ronald McDonald House Charities of Central Ohio. The nationwide charity provides essential services to families whose children are facing medical challenges.
With more than 330,000 social media followers, Harrison will immediately help draw attention to the nonprofit. Since athletes were allowed to monetize their NIL rights in the summer of 2021, many have used them to amplify charities in their college communities.
"We get attention, but somebody that's a superstar like Marvin — people want to know what he's doing. So absolutely, he brings more attention," Ronald McDonald House Charities of Central Ohio executive director Dee Anders told On3 in a phone interview Tuesday.
Harrison already made his first stop by the house recently, spending time with families and kids. The charity provides a variety of options to local families. The nonprofit's house gives families a place to stay across the street from Nationwide Children's Hospital, while it also has a pediatric clinic on wheels.
Anders said the partnership with the Ohio State star will extend through the college football season. She did not rule out the possibility of Harrison bringing a group over to a game this fall.
"He was here a few weeks ago, spent some time with some kids," she said. "People were really excited. It just brought the mood of the whole house up. Not only the families and the kids but even the staff. It was fun to see someone like Marvin Harrison Jr. in the building and paying attention."
Partnership with Cohesion
Harrison finished the 2022 season as a finalist for the Biletnikoff Award. The receiver had 77 catches for 1,263 yards and 14 touchdowns. He jolted himself in the air to make an acrobatic touchdown catch against Michigan State. Harrison somehow contorted his body near the sideline against Indiana to get a foot inbounds on another impressive catch.
Cohesion Foundation launched in April 2022 as a registered 501(c)(3) and it accepts donations that are tax-deductible. Each athlete that signs with the collective is expected to do work for a local charity. Backed by Ohio State athletic director Gene Smith in December, Cohesion Foundation is an official sponsor of the Buckeyes via an exclusive agreement with LEARFIELD's Ohio State Sports Properties.
The collective has signed nearly 50 athletes to date, ranging from Ohio State's football to women's basketball to cheerleading programs. Ronald McDonald is one of Cohesion's charitable partners, along with more than 12 other nonprofits in the central Ohio community.
"A lot of people have their thoughts on NIL, but I think it gives these athletes an opportunity to get out in their community and be exposed to things that they normally wouldn't be," Anders said. "They're seeing people face challenges they've never seen before. It gives them an opportunity to make a difference."
Marvin Harrison Jr.'s On3 NIL Valuation
The Ohio State wide receiver has a $1.3 million On3 NIL Valuation, which ranks No. 7 among college football players. His valuation also ranks No. 12 in the On3 NIL 100, which is the first of its kind and defacto NIL ranking of the top 100 high school and college athletes ranked by their On3 NIL Valuation.
He announced his first brand marketing deal earlier this month with the the world's first robotic quarterback.
The On3 NIL Valuation is the industry's leading index that sets the standard market NIL value for high school and college athletes. A proprietary algorithm, the On3 NIL Valuation calculates an athlete's NIL value using dynamic data points targeting three primary categories: performance, influence and exposure.
The On3 NIL Valuation is publicly available. Ratings along with the athlete's personal Brand Value Index and Roster Value Index are available only to the athlete in the "Athlete Verified" private dashboard on the On3 Athlete Network.