Matt Leinart, Caleb Williams launch NFT site to help athletes lift NIL value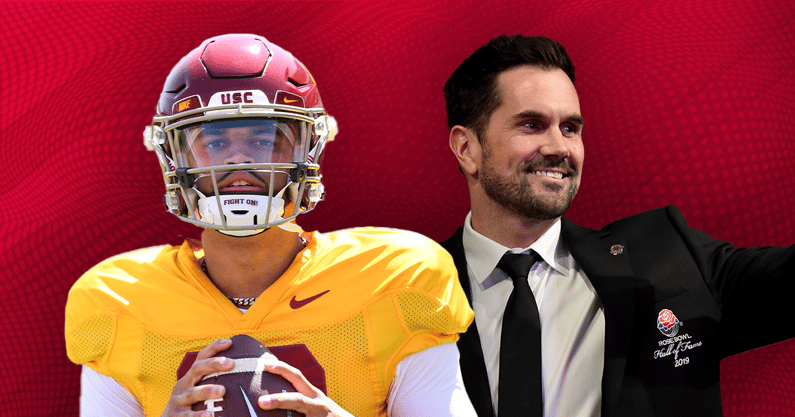 Former USC great Matt Leinart is partnering with current Trojans' quarterback Caleb Williams to launch Hall of GOATs, an NFT platform for amateur athletes to build their personal brands and boost their NIL value through digital collectibles.
According to a news release, the venture from Leinart – the 2004 Heisman Trophy winner at USC – and Williams – a 2021 freshman All-American who transferred this offseason to the Trojans – offers male and female amateur athletes across all schools, sports and levels the opportunity to tell their unique stories, build their digital communities and engage directly with their fans.
A non-fungible token is a digital asset that represents real-world objects like art, music, in-game items and videos. They are bought and sold online, frequently with cryptocurrency.
Although they've been around since 2014, NFTs are gaining notice now because they are becoming an increasingly popular way to buy and sell digital artwork. More broadly, NFT sales totaled $25 billion last year. It comes one year after seeing only $95 million in sales in 2020, according to data collector DappRadar.
More and more student-athletes are turning to NFTs as a creative way to make money off their Name, Image and Likeness.
"There is a new generation of athlete today that has the power and ownership potential of their future on and off the field," said Leinart, who is also a two-time national champion and a member of the College Football Hall of Fame. "Hall of GOATs' mission is to empower collegiate and high school athletes to further take control of their own brands and build a legacy that extends well beyond the playing field."
NFT platform will work to increase athletes' NIL potential
The Hall of GOATs platform launches Monday with an early access pass followed by an exclusive NFT collection featuring Williams.
Hall of GOATs said it will work directly with its athlete partners. It will partner to build personal brand strategy and execution of digital collectibles that "highlight the athletes' original stories, personal interests and passions, epic performances, charitable organizations, rivalry games, NIL partnerships and brand collaborations, among other key moments on and off the field of play."
"I've been trying to figure out how to get into the digital collectible and NFT space for some time now," Williams said. "But not until I joined the Hall of GOATs team have I seen a platform that helps amateur athletes, in particular, build their brands, tell their stories and set them up for long-term success. It's always been my goal to do something that could help my teammates and other athletes in this new space of college sports."
In the release Hall of GOATs said it will be different than other NFT sites because its mission is to help "amateur athletes maximize their NIL opportunity."
"The team has partnered with best-in-class providers to offer high-quality merchandise design and production, gaming and streaming activations, brand collaborations and a roadmap for Metaverse integration," the release said.
"Athletes on the Hall of GOATs platform have the opportunity to work with an experienced roster of digital branding leaders to authentically tell their unique stories across all consumer touchpoints. Hall of GOATs is building a roster of male and female athletes across a variety of collegiate and high school sports with more partner announcements coming soon."
Beyond the athlete NFT collections, Hall of GOATs' offerings for holders include limited-edition merchandise drops, autographed memorabilia, tickets to tailgate events, and exclusive conversations with athlete partners, among other benefits.
Caleb Williams has strong NIL brand
This isn't the first time Williams has ventured into NIL partnerships. Recently at the USC spring game, officially licensed and branded Caleb Williams gear was on sale inside the Los Angeles Coliseum.
Williams has also partnered with brands such as Beats by Dre, Fanatics and Hawkins Way Capital. He also launched an Alkaline water brand and even became a part-owner of a modern men's grooming company.
Between success on the field and his more than 168,000 followers on social media, Caleb Williams has an On3 NIL Valuation of $383,000.