Mercury signs Clemson defense's 'Avengers' to NIL deal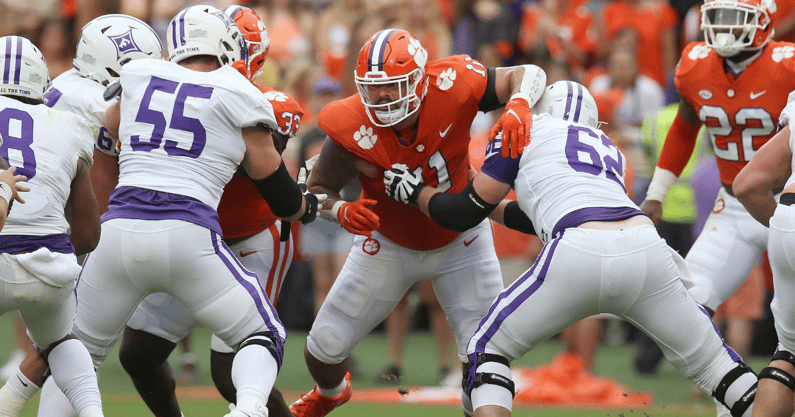 Mercury has signed its first batch of athletes to NIL deals at Clemson.
The digital brand experience company recently announced a partnership with the institution. Now it has signed the eight players from Clemson's defense to an NIL partnership. KJ Henry, Xavier Thomas, Bryan Bresee, Tyler Davis, Myles Murphy, Ruke Orhorhoro and Justin Mascoll have all signed on.
Nicknamed the "Avengers," a reference to the Marvel's superhero films, every athlete has signed a deal that will run through the remainder of the season. The athletes will appear in digital collectible drops on the clemsontigers.io platform. They've also signed on to be auctioned off for experiences with fans, will be part of the Discord chat and appear in Mercury's Next Up podcast.
The Clemson defenders join a growing list of athletes to sign with Mercury. Since mid-September, Kentucky quarterback Will Levis, Kansas quarterback Jalon Daniels and UCF quarterback John Rhys Plumlee have all inked NIL deals with the company.
"We operate as a squad, and we wanted to partner with a team that can bring the Avengers crew to life in a special way," Clemson defensive end K.J. Henry said in a statement. "The Mercury team knows what we're about, and we can't wait for our first exclusive drop and the fun ways we"ll be interacting with the Clemson community."
Mercury plans to drop the first digital collectible featuring the "Avengers" in the next few weeks. Clemson fans can purchase membership passes for $25 for the year.
Clemson is currently 7-0 and 5-0 in ACC play. The Tigers are currently allowing just 82.7 yards per game on the ground and ranks 30th in the nation in total defense. No. 14 Syracuse travels to Death Valley this weekend.
"The big guys in the trenches set the tone for the rest of the defense," said Adam Breneman, who hosts Mercury's podcast. "The Avengers have shown up in a big way already this season."
What Mercury partnership with Clemson means for players
Mercury strives to enable universities to create innovative digital fan experiences to make selling digital collectibles seamless and customized. For universities, it aims to simplify the process of developing a marketing strategy and design to ultimately drive fan engagement. For players, it creates an easy way to put NIL dollars in their pockets. And for fans, it enables supporters of the tradition-rich program to enhance what it means to be a fan. 
It's also a time-efficient way for athletes to monetize their NIL. They can promote these discussions and collectibles on their social media channels. Athletes don't need to worry about hustling to a photoshoot or attending an in-person event. 
Details on the revenue distribution model have yet to be disclosed. But in past deals, the company has brought on as many athletes as possible from football and basketball teams. 
"We're not going to market with everyone we see, everyone we talked to," Mercury CEO Porter Grieve previously told On3. "We're really focused right now on bringing to market some core iconic schools and brands and partners."