Miami's Tyler Van Dyke, Destiny Harden sign NIL deals with The Dan Le Batard Show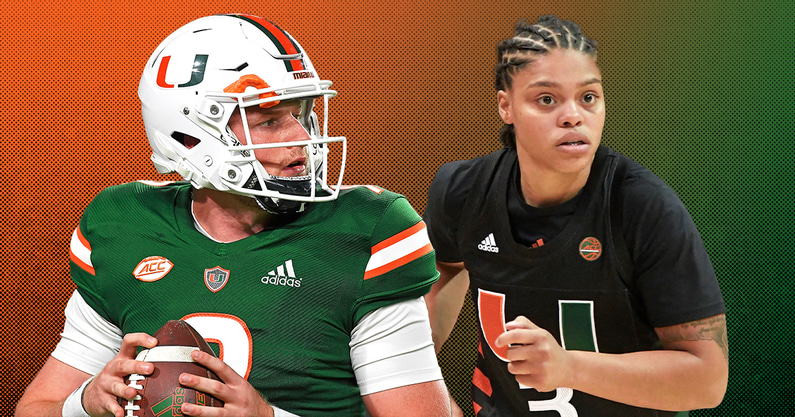 The Dan Le Batard Show – one of the most listened to sports radio shows and podcasts around – has deep Miami ties. Their studio is at the Clevelander Hotel in Miami Beach. So, it only makes sense that they didn't have to venture too far from their oceanside location to strike their first NIL deals.
Dan Le Batard said Monday morning his show struck NIL deals with Miami Hurricanes quarterback Tyler Van Dyke and star women's basketball player Destiny Harden. The terms of the deal were not revealed. It's also not entirely clear what NIL responsibilities Van Dyke and Harden will officially have – other than having a lot of fun.
"I know the deals are done, compliance has approved," show executive producer Mike Ryan said during Monday morning's show. "We're all signed and good to go. Huge announcement – the Le Batard Show has signed NIL deals with two star University of Miami athletes. Destiny Harden on the women's hoop side. She destroyed Louisville during the ACC Tournament last year. Ripped out their heart. And Tyler Van Dyke, star quarterback. Tyler Van Dimes. They are our first NIL athletes."
Ryan said as part of their NIL deals, Harden and Van Dyke must show up at the Battle Court Cesta Cyclones game on Sept. 30.
The Cesta Cyclones are one of four professional jai-alai squads in Miami. The Cyclones were purchased in March by Chris Cote, a longtime producer of theDan Le Batard Show. As the winner of the recent Battle Court Championship, the Cyclones had to donate $50,000 to charity.
"We decided NIL was charity," Ryan said during the announcement.
Jokingly, Le Batard said both Van Dyke and Harden should tell the show to "keep our money in exchange for not having to go do that."
This is not the first time that a nationally known media entity has executed a NIL deal. Barstool Sports has done apparel deals with student-athletes throughout the country. However, some schools, including Louisville, have told student-athletes that they must cease NIL involvement with Barstool.
Tyler Van Dyke has strong On3 NIL Valuation
Tyler Van Dyke has one of the top NIL values in all of college sports.
Van Dyke currently has an On3 NIL Valuation of $761,000. The On3 NIL Valuation is the industry's leading index that sets the standard market NIL value for high school and college athletes. The On3 NIL Valuation calculates the optimized NIL opportunity for athletes relative to the overall NIL market and projects out to as long as 12 months into the future.
Van Dyke is also ranked No. 39 in the On3 NIL 100. He's also No. 25 in the On3 College Football NIL Rank. The On3 NIL 100 is the first of its kind and the defacto NIL ranking of the top 100 high school and college athletes ranked by market valuation.
Destiny Harden on 2022 ACC All-Tournament Team
Destiny Harden grabbed national attention this spring. She scored the final 15 points and the game-winning buzzer-beater basket against Louisville in the ACC Tournament quarterfinals. She also ranks second in Miami women's basketball history for the most points in an ACC Tournament game at 27.
The Chicago native played her first two seasons at West Virginia.