Miami inquiry could set direction for NCAA's NIL enforcement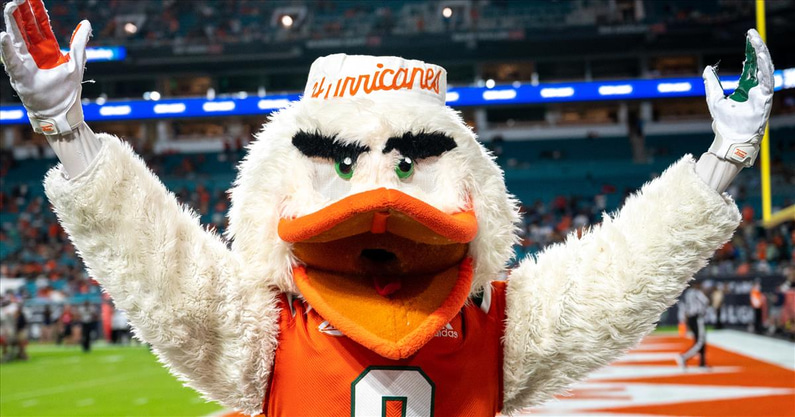 In the rapidly evolving world of NIL, the NCAA is just now beginning to catch up in an attempt to provide some regulatory oversight over what has quickly turned into a wild west of sorts in college athletics.
Last week, Sports Illustrated's Ross Dellenger reported the NCAA has opened an inquiry into the University of Miami, sending enforcement staff to Coral Gables, Fla., to begin conducting interviews. One of their chief points of interest is billionaire Miami booster John Ruiz, who has funded NIL deals for more than 100 athletes.
The NCAA's basic question: Is how these NIL deals are being created and offered within the scope of how the organization wants NIL to function?
Drilled down further, the organization noted in early May that boosters or booster-backed collectives are prohibited from associating with or inducing high school prospects and college transfers via NIL.
In at least one notable instance — Miami welcomed Kansas State basketball transfer Nijel Pack as he earned a reported $800,000 NIL deal — there are questions about whether Ruiz and/or the Hurricanes sidestepped those guidelines. The NCAA has noted it is "not focused" on athlete eligibility, seeming to prefer instead to push and prod with enforcement in ways that might encourage programs to adjust their practices going forward.
What could make Miami's situation a potential example?
"I think if they find anything that's an inducement, and maybe it could be the Nigel situation," Dellenger explained Wednesday on the most recent episode of the College Football Enquirer podcast with Yahoo! Sports' Dan Wetzel. "Clearly Ruiz was involved in the recruiting of him and some others. So if they find out there was something offered before he committed, signed, whatever, and there was like early contact then I guess that could be viewed as an inducement and they could make Miami disassociate from Ruiz, basically. And fine the university.
"However, what's going to follow if that does happen is Ruiz is going to sue them. It would just go to court and you'd have to prove there was an inducement. It can look like an inducement, smell like an inducement, but can you prove that it really is an inducement? Because these boosters like Ruiz, I mean they are smart businessmen like you mentioned. I mean he's got a team of lawyers, man. He's got a lot of lawyers working on this and they're dotting the Is and Ts, they've got all this documentation of quid pro quo and following state law. So it seems like an inducement, but can you prove that? And that's going to be difficult."
It's one thing to simply say schools need to ensure their boosters aren't providing inducements to recruits and transfers; enforcement is another.
There aren't necessarily clear lines on when these NIL deals can be agreed to, either in writing or verbally. That was something Wetzel and Dellenger pointed out, which could make the NCAA's job bringing about any enforcement actions more difficult.
"To me the bigger thing is like the coordination," Wetzel said. "Miami would have had to offer a scholarship to Nigel Pack before Ruiz does anything. Because the one thing is like, you can sit there and say, 'Hey, I'm going to offer $800 grand for this recruit,' and the coach can say, 'I don't want that guy.' I mean it's not like they just got Luka Doncic to free enroll in school or something. I mean this is a guy from K-State who's all right.
"Now I have no idea, so I'm not suggesting there was. But that's the thing I think will get someone down the line and they should try to enforce. Because this would be the dumbest criminal stuff, like I sent a text to him saying, 'Hey, we're really interested in this kid.' I don't think Jim Larranaga did that and I don't think even if he wanted to or wanted to send some smoke signal… but at some point you have to wonder who are we recruiting? Because, yes, you can maybe pick out the Top 20 guys in football or basketball, but at various points it's like, 'Which quarterback do we want? Which guy is our priority?' And when you're getting down to three-star guys how would you ever know unless there's… are you just reading it off a message board and hoping that the Rivals recruiting guy for your favorite team is correct?"
That seems unlikely, at best.
Dellenger was quick to highlight that just speaking to key people in the NIL space he believes there is almost certainly collaboration between coaches and major boosters and/or collectives.
"There's got to be. There's a line of communication there," he said. "I remember talking to the University of Florida, big booster: Hugh Hathcock. Big millionaire and he's already donated like, I don't know, a few million dollars to their collective. And he just outwardly on the record said it to me, 'We raised the money for the coaches to spend,' was his quote. And that's illegal. That's supposed to be illegal. That's supposed to be against the rules. … It's not legal in Florida I don't believe. Or not yet, but they're doing it anyway."
And therein lies another challenge for the NCAA. While the organization has its ideal standards — which they're in the process of trying to clarify and codify via enforcement — each state has its own set of NIL legislation.
While it's currently impermissible for universities or coaches to orchestrate NIL deals in the state of Florida, it's not elsewhere. On Wednesday, the state of Louisiana signed into law a bill allowing schools and their boosters to compensate student-athletes via NIL, becoming the latest in a handful of states to adopt such legislation.
In the absence of uniform government policy, then, it's left to the NCAA to try to set the tone. Wetzel believes it should start at coordination and collaboration by looking into whether there was any between boosters like Ruiz and coaches like Larranaga.
"I would say that is something that the NCAA should try to enforce," Wetzel said. "My guess is they'll net very, very few cases that way. But a review of the coaches texts, I think that's fair. 
"It's like posting the speed limit. At least you post the speed limit and every once in a while you give a guy a ticket, maybe it does a little bit there. I don't know what else you can get there, but I think this is clearly lending to some kind of battle, and I think Ruiz would love to have that."