Michael Mayer, Cameron Latu headline NIL partnership with Levi, TEU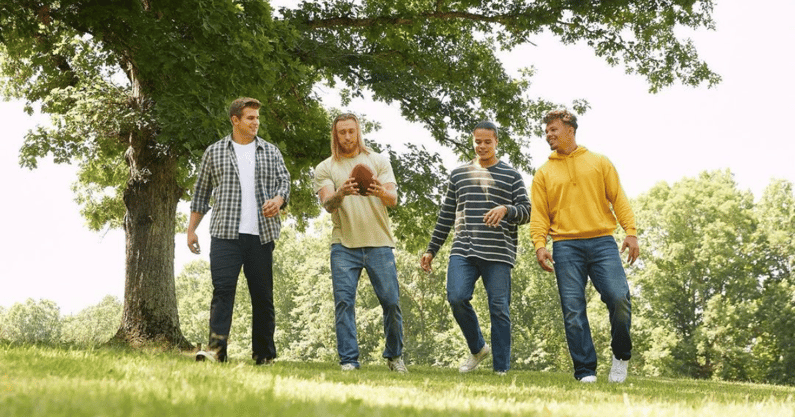 Tight End University and Levi are setting the future stars of the NFL up for success. The two announced the first annual TEU freshman class on Thursday afternoon, which included three current college football tight ends.
Notre Dame's Michael Mayer, Alabama's Cameron Latu and Michigan's Erick All appeared in an Instagram partnership for the denim jean company alongside NFL star George Kittle.
On top of the NIL deal for the three, Levi sponsored the players to attend last month's second-annual TEU summit in Nashville at Vanderbilt. Founded by Kittle, Travis Kelce and Greg Olsen, the organization welcomed over 80 NFL players to this year's camp.
Welcoming Mayer, Latu and All to the NFL retreat is one indication of the success the trio could have this year. All three landed on Friday's John Mackey Award watch list.
"Thanks to Levi's for bringing out three of the best Tight Ends in college football for a few days of education at TEU. Stay tuned for more content from Levi's and the class," TEU posted on Instagram.
Mayer is coming off a season that saw him lead all Fighting Irish receivers with 71 catches and finished tied for first on the team with seven touchdowns. His 840 receiving yards was the fourth-highest total among tight ends in the FBS last season, too.
A Big Ten honorable mention in 2021, All caught 38 passes for 437 yards with two touchdowns. He helped lead Michigan to its first conference title since 2004, too. In the Wolverines' College Football Playoff game against Georgia, the tight end led his team with four catches for 63 yards.
Latu made history last year as he racked up eight touchdown catches, breaking the Alabama single-season record for touchdowns by a tight end. Without its two top receivers in the national championship game, he emerged as Bryce Young's top target. Latu finished the night with 102 yards and one touchdown across five catches.
Breaking down On3 NIL Valuation for Mayer, Latu, All
Of the trio, Michael Mayer holds the highest On3 NIL Valuation. The 6-foot-4, 232-pounder tight end holds an evaluation of $573,000, which places him at No. 41 in the NIL 100. With a total of 37k social media followers, Mayer has a per post value of $653. He's also seen major growth in the last 14 weeks of $416k — a 264% jump.
All's $171,000 On3 NIL Valuation comes in at No. 199 on the On3 NIL college football rankings. He previously inked a deal with Walcott Denistry through Michigan's Champions Circle collective. Thanks to 23k social media followers, he has a per-post valuation of $653.
While Latu had a breakout season last fall, he comes in with an On3 NIL Valuation of $46,000. He has a strong social media following however, which bumps his per post value to $524.
The On3 NIL Valuation valuation system is the industry's leading index that sets the standard market NIL value for high school and college-level athletes. A proprietary algorithm, the valuation does not act as a tracker of the value of NIL deals an athlete has completed to date. This evaluation signifies an athlete's value at a specific moment in time.
The evaluation is based off of three pieces: An athlete's performance on the field, how large their social media following is and what exposure the athlete has dependent on their school and position.