Valiant Management launches Michigan fan platform Wolverine+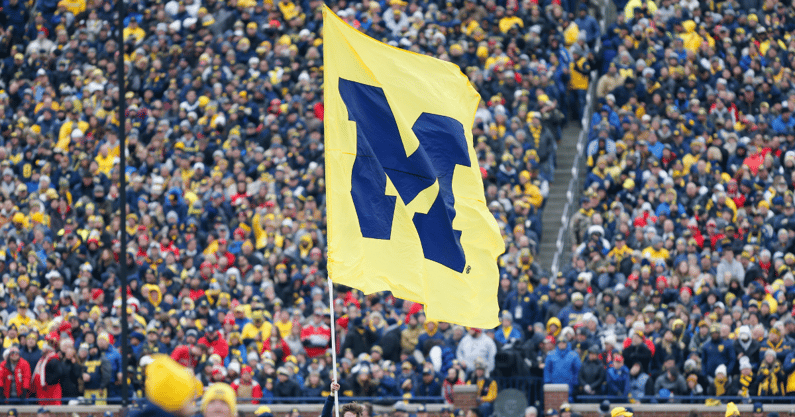 REVEL Moments and Valiant Management Group have partnered to create Wolverine+, a platform for Michigan athletes to cash in on their NIL.
Wolverine+ has launched as a subscription-based platform where subscribers will have access to exclusive content and interactive experiences with Michigan athletes. All of the revenue will be funneled back to the athletes. The monthly subscription fee starts at $7.
Michigan football will be the first team to use the new Wolverine+ platform. As part of the launch, the Wolverines will host a live discussion and interactive question-and-answer on Oct. 10 with several team captains. A new episode will drop each week through the remainder of the season.
The long-term plan for the platform is for additional Michigan men's and women's athletic programs to be added.
"This is the first platform that I have seen which authentically supports student-athletes and allows us to really connect with our fans to share who we are underneath the helmet," Michigan quarterback Cade McNamara said in a statement. "I had a chance to use the platform this summer and it was an incredible experience and so well executed."
Run by former Michigan player Jared Wangler, Valiant is a sports marketing firm that has secured countless NIL deals for athletes. Valiant and Wangler also helped launch the Champions Circle collective. Starting with a focus on football, the collective has support from prominent boosters. The program's goal is to provide dedicated annual funds to athletes for NIL-related activities.
With the connections in place with athletes across Ann Arbor, Wolverine+ will not have a problem creating content for fans. REVEL Moments is founded by Michigan alumni, and connects athletes with fans through technology.

"REVEL Moments' mission is to deliver powerful, human connections between athletes and fans," REVEL CEO Dean Brody said in a release. "To be entrusted with bringing the passionate fans and dedicated student-athletes of the University of Michigan together is an incredible honor. We can't wait to get started."
Michigan's approach to NIL
Michigan head coach Jim Harbaugh has been passionate in his stance on NIL. The head coach has continued to state the Wolverines will provide a "transformational" experience for student-athletes in Ann Arbor.
That does not include violating NCAA policy on NIL. Coaches have told story after story of players trying to bargain for more money in the Transfer Portal. Harbaugh is adamant that athletes deserve NIL opportunities. But Michigan will not be paying athletes for their commitment.
"I believe players should have a share in the revenues and I think that's something that's really possible at Michigan," Harbaugh told On3 at Big Ten media days. "I think that's where we're headed."
Wolverine+ will align with Michigan's NIL strategy, proving opportunities to turn a profit. Team members who promote the platform will also share equally in the profits generated.
Wolverine+ can challenge Ann Arbor NIL Club
YOKE NIL clubs have popped up all over the country. Raising money through donations, funds are distributed back to athletes. Around 40 of these organizations have launched around the country, all at Division I football programs.
Michigan's Ann Arbor NIL Club has been successful, raising more than $30,000. But since YOKE is the third-party service provider, it does take a piece of the cut. The platform fee has decreased from 25% to 18% as the company's scale has grown.
Wolverine+ provides a similar structure to the Ann Arbor NIL Club. But with a team in place on campus and a commitment to not take a portion of the cash, the platform has the opportunity to dip into the same pool of fans who have donated to the YOKE-powered club. Signing the football team is only a starting point for Wolverine+.
"We are thrilled to bring the best fan engagement technology in the country to the University of Michigan," Wangler said. "What excites our team the most about Wolverine+ is providing a platform for meaningful conversations between current student-athletes, fans, and successful University of Michigan alumni. We believe these conversations have the potential to inspire viewers to be the Leaders and Best in their daily lives.
"Additionally, Wolverine+ is an effective avenue for a wider cross-section of fans and alumni to financially support student-athletes in this new era of collegiate athletics."