Mike Brey on transfer portal, NIL: 'Shut up and adjust'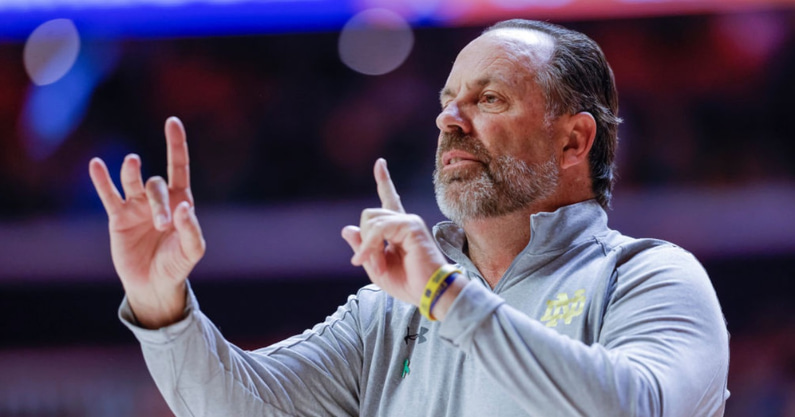 The NIL and transfer portal eras in college athletics have brought a variety of opinions. One important voice weighed in Tuesday — and he had a message for coaches and college leaders.
During the ACC spring meetings on Tuesday, Notre Dame coach Mike Brey shared a poignant response about his approach to the portal and NIL, which have become polarizing topics across college sports. He called on people to adapt to the changing landscape instead of talking about making changes.
"I told a lot of young coaches when we were on the road in April, I said, 'We got to stop complaining,'" Brey said, via the Charlotte News and Observer's Andrew Carter. "Like, this is the world we're in. Last time I checked, [we] make pretty good money. So everybody should shut up and adjust. You know, that's just the world we're in now.
"And, you know, I'm not in it as long as the Josh Pastners and some of these young guys. So, good luck to y'all — I'll be back in five years to see what's up. Just remember, man, we had it pretty good here. And it's a great job. It's high-risk, high-reward, but we all know what we signed up for."
Monday, the NCAA unveiled clarified guidance about NIL and boosters' roles in recruiting. But the question has come up about how that will be enforced, and Brey didn't mince words about how that could go.
"They're talking a big game," Brey said. "But they always have talked a big game about that."
Brey's comments come after SEC Network host Paul Finebaum said the NCAA's enforcement division is down. Finebaum is in lockstep with Brey about how the NCAA will — or won't — enforce the new guidance.
"I spoke to someone the other day in reference to the NCAA and they said the NCAA enforcement division is down to about 15 to 20 people," Finebaum said on McElroy and Cubelic in the Morning. "So if your enforcement division is down considerably, how in the world are you going to make an example out of anyone? … A lot of sound and fury signifying nothing. You will not see anybody cracked down upon because there is no one up there to crack down on anybody else."