Mississippi State LB Jett Johnson to donate NIL funds to police athletic league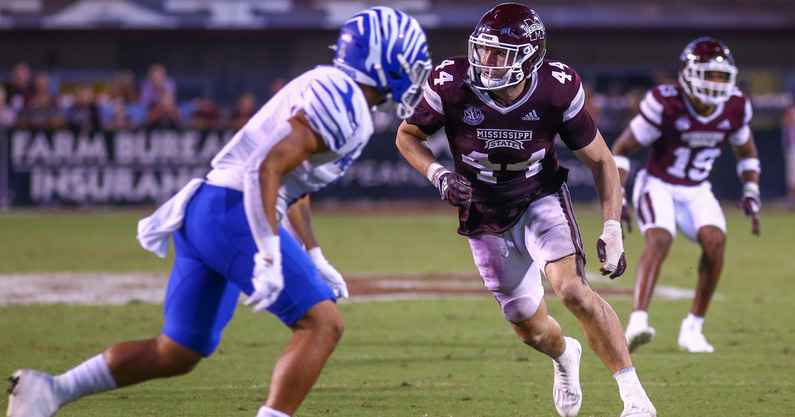 Mississippi State linebacker Jett Johnson announced a new NIL partnership with Juva Juice in Starkville, Mississippi. And as part of the new deal announced on Wednesday, Johnson requested the company donate money for use of his NIL to the Tupelo Police Athletic League.
Johnson, a first-team preseason All-SEC pick, is originally from Tupelo. According to Juva Juice, it was important for him to give back to the community.
"When we offered this deal to Jett, he asked the monetary portion of it go to the Tupelo Police Athletic League," Juva Juice said in a social media post announcing the deal. "What a guy! He is one of the most generous and humble individuals you will ever meet. Make sure to cheer on #44 every Saturday!"
Juva Juice said it will send TPAL $20 for every assisted tackle, $25 for every solo tackle, $50 for sacks and $100 for an interception or fumble recovery. The location will also be running a "44 Special" deal each week, paying homage to Johnson who wears No. 44 for the Bulldogs.
Through two games this season, Johnson has 12 solo stops and eight assists. In 2021, he racked up 37 solo tackles, 49 assists, two fumble recoveries and one interception.
The TPAL's mission is to bridge relationships between local youth and the Tupelo Police Department based on positive experiences.
Jett Johnson continues NIL trend of giving back
More and more student-athletes like Jett Johnson are using their NIL for good. For example, nine offensive linemen signed a NIL partnership with Illinois-focused collective Illini Guardians to fight hunger throughout the region. Plus, Michigan quarterback J.J. McCarthy is using his NIL deal with The M Den to raise money for his JJ For The Kids charity.
And other collectives — such as Hoosiers For Good, 901 Fund and Cohesion Foundation, have a heavy focus on supporting local charities throughout their communities.
Jett Johnson currently has an On3 NIL Valuation of $39,000. The On3 NIL Valuation is the industry's leading index that sets the standard market NIL value for high school and college athletes. The On3 NIL Valuation calculates the optimized NIL opportunity for athletes relative to the overall NIL market and projects out to as long as 12 months into the future.