NCAA's attempt to nix pay-for-play NIL deals not a 'significant step forward'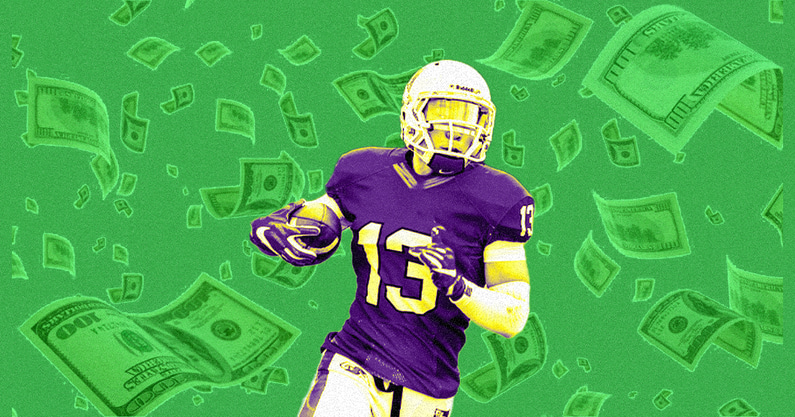 The NCAA I Division I Board of Directors issued guidance aimed at limiting the impact of boosters who are using NIL ventures to lure top high-school recruits and target players in the transfer portal.
These Name, Image and Likeness opportunities are largely coming from collectives. Collectives pool funds from boosters and businesses to help facilitate NIL deals for athletes. Collectives and NIL have become lightning rods in college athletics over the past few weeks.
Coaches and NCAA leaders say NIL disguises "pay-for-play" deals choreographed by collectives. They say groups are using money to persuade recruits before they sign binding letters of intent. Per NCAA rules, boosters are not allowed to pay players directly or be part of the recruiting process.
"NIL has a lot to do with where players go," Ole Miss coach Lane Kiffin said. "To not think that is crazy. There are schools with no shot to recruit certain players. If a class has an average of $25 million, that's $1 million a person. In NFL free agency, players go to the most money. They're going to go where they get paid most. You've legalized paying players."
It's gotten so out of whack insiders say NIL has created a multimillion-dollar market for blue-chip quarterbacks. Furthermore, there are reports of an $8 million NIL deal between a school's collective and a five-star recruit. It's widely believed Tennessee commitment Nico Iamaleava is the five-star recruit behind the deal.
On3 talked with coaches, collective operators and legal experts about the guidance and whether it will eliminate pay-for-play deals dominating the recruiting trail. Most applauded the attempt by the NCAA to remedy the situation. But many pointed out there still are major questions about enforcement and legal challenges. And several NIL experts said the guidance failed to clarify anything at all.
What's in NIL guidance?
The Division I Board of Directors attempted to clear up NIL guidelines by saying existing bylaws prohibit boosters from being involved in the recruitment of prospective student-athletes or enrolled student-athletes who might be considering transferring. 
"The Division I Board of Directors took a significant first step to address some of the challenges and improper behaviors that exist in the name, image and likeness environment that may violate our long-established recruiting rules," Georgia president Jere Morehead, the board chair, said in a statement. "While the NCAA may pursue the most outrageous violations that were clearly contrary to the interim policy adopted last summer, our focus is on the future.
"The new guidance establishes a common set of expectations for the Division I institutions moving forward, and the board expects all Division I institutions to follow our recruiting rules and operate within these reasonable expectations."
The new guidance also addressed prior violations after college leaders proposed retroactive punishments "or else" last week.
"For violations that occurred prior to May 9, 2022, the board directed the enforcement staff to review the facts of individual cases but to pursue only those actions that clearly are contrary to the published interim policy, including the most severe violations of recruiting rules or payment for athletics performance," the guidance read. "Schools are reminded of their obligation to report any potential violations through the traditional self-reporting process."
Experts say guidance won't silence NIL pay-for-play critics
Darren Heitner, a lawyer with Heitner Legal and a NIL advocate who helped craft Florida's law, said he didn't view the guidance as a significant step.
"The NCAA already had NIL rules," he said. "It just didn't enforce them. Any enforcement will likely be met with legal challenges. It's supposed to be guidance, but it doesn't really say anything outside of classifying collectives as boosters and indicating that violations prior to May 9 will be ignored unless they clearly violated NCAA's policy."
Sports attorney David McGriff agreed with Heitner.
"I don't think this guidance is enough to silence the vocal critics of collectives because it doesn't appear to provide much clarity," McGriff told On3. "Simply saying collectives 'could' fall under the definition of boosters still leaves room for interpretation. Also, does a prohibition on the booster from recruiting necessarily prevent a collective from merely offering a prospective student a NIL opportunity? I thought that the NCAA was considering draft language that went as far as a 'no contact' rule. That didn't seem to make it into the final guidelines. Ultimately that could be problematic in terms of enforcement.
"I really see this as a going-forward measure. I'd be surprised if any deals already consummated will result in a major NCAA violation."
Big Ten coach: 'This is it? Where's the crackdown?'
Lane Kiffin isn't the only one that's begged the NCAA to do something to fix pay-for-play NIL deals impacting the recruiting trail. Others, like USC coach Lincoln Riley and Penn State coach James Franklin, have been outspoken about how deals with high school athletes have changed recruiting.
Many coaches On3 talked with leading up to the guidance release had high hopes it would be a solution that ended pay-for-play. Yet, many in the coaching community were greatly disappointed when they read the NCAA release.
"This is it," asked a Big Ten recruiting coordinator. "We were led to believe this would be a transformative clarification and that there would be big news. Where's the crackdown?"
An SEC assistant said he supports the emphasis on eliminating the connection between collectives and high-school recruits. He also appreciated that the NCAA greenlit enforcement. But he also said it didn't move the ball forward enough to stop those that want to still bend the rules.
"Disappointed is an understatement," the SEC coach said. "I had such high hopes that we'd be able to get back to a level playing field. But again the NCAA failed to get it right."
Can NIL guidelines be enforced? What about past violations?
The guidance says for violations that occurred prior to May 9, 2022, the board directed its enforcement staff to review the facts of individual cases but to pursue only those actions that "clearly are contrary to the published interim policy, including the most severe violations of recruiting rules or payment for athletics performance."
A Power 5 athletic director told Sports Illustrated's Ross Dellenger last week the NCAA enforcement staff has to be "ready to go" and immediately investigate any potential violations "hard and fast." For the players that have received some of those NIL offers prior to signing with a school, Sports Illustrated's Pat Forde said they will have to "spill the beans" with a mandate for cooperation in the investigation.
But insiders wonder how leaders will investigate and sanction schools, let alone compel student-athletes to talk with the NCAA enforcement staff ill-prepared for a full-scale national inquiry. Furthermore, a former NCAA enforcement officer told On3 that the staff has around 15 members. Even with a quick ramp-up in staffing, it's unclear if anything can actually be done.
"All bark and no bite," the former enforcement officer said.
What about legal challenges?
In many ways, the genie might already be out of the bottle with NIL.
Given the Supreme Court's unanimous ruling against the NCAA, last summer in the Alston case – which argued the NCAA's rules on education-related compensation was unfair and violate federal antitrust law – legal experts say the organization could face challenges from collectives and even athletes themselves.
"The NCAA and college sports leaders hoped that NIL would be innocent – social media postings, a few hundred or thousand dollars here and there," said Andrew Brandt, a former NFL executive and now a professor of practice and executive director of the Moorad Center for the Study of Sports Law at Villanova Law School. "That was naïve. Boosters/Collectives/Directives. Primarily to recruit and retain the best players. Hard to see it being contained.
"The moment the NCAA threw up their hands about NIL – in fear of antitrust lawsuits – was the moment the toothpaste was out of the tube. Good luck getting it back in."
Heitner doesn't anticipate lawsuits arising from the guidelines alone – especially since they've been on the books for a while. But he can see some individuals or entities perceived to be harmed as a result of the guidelines decide to act.
"The case(s) will likely revolve around whether there is an anti-competitive effect that trumps any pro-competitive basis for the rules," he said. "I have seen many people claim that there is no way the NCAA will win such a legal battle and – while I do believe it will be a real challenge for the NCAA – I do not believe that it is as cut-and-dry as others figure. A major challenge will be the lack of data from either side to show that the restriction is reasonable or not. I could see this playing out in the courts for years."
Welcome to the Wild West
What's clear is that it's still not clear what's going to happen with NIL in the near future. Whether it's enforcement or legal challenges, experts say, like everything else in college sports, it's going to take some time to determine the results of this guidance.
"Potentially years," Heitner said.
However, a Big 12 recruiter was more to the point.
"It's going to be the Wild West," he said. "And it's going to be that way for a long time. Nothing changed if I'm reading this right. We know the NCAA isn't very good at investigating recruiting violations. The NCAA essentially said it's status quo time."