NextGen to host 'April Madness' camps with basketball stars thanks to NIL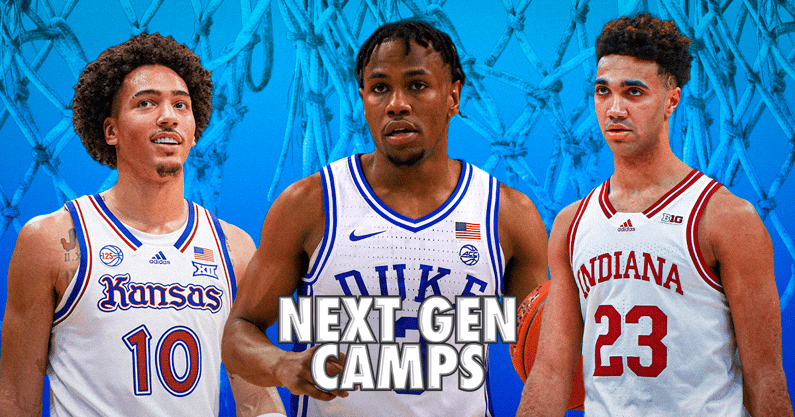 NextGen Camps is making sure college basketball players are still cashing in when March Madness is over.
One of the go-to companies for athletes to who want to leverage their NIL rights with local camps has set dates for its "April Madness" basketball schedule. While the NCAA tournament started this week, a number of athletes will be giving back to the youth in their college communities next month.
Each camp is aimed for the 6 to 16 age range and costs $150. Athletes will receive a portion of the profits since they are using their publicity rights to promote the camp. Fans get to be around some of their favorite players, taking pictures and autographs while also landing a T-shirt.
The events are taking place in a specific two week window after the Big Dance and before NBA draft activity ramps up.
"It has been months in the making," NextGen founder Jacob Byrd told On3 in a phone interview on Wednesday. "We've had camps lined up before the season started. With Trayce Jackson-Davis and his previous camp back in January, we sold out. Within two weeks we had 400 kids. I'm sure we could get to 1,000 kids, there's just not a facility big enough to host that.
"You know, just the spirit of fanbases and how much players mean to their community is huge. It's awesome to provide campers the ability to rub shoulders with athletes playing at the top level."
Here is the full slate of camps:
Youth camps continue to provide reliable NIL opportunities
Since the inception of NIL in July 2021, youth camps have become a popular way for athletes to monetize their publicity rights. It's an easy way to provide fans and kids access to some of their favorite players. Plus, an opportunity to give back to their college's community while creating a direct source of deal funding.
NextGen takes on the logistic work of camps, from securing venues and coaches along with the other business basic necessities.
The company has partnered with a number of high-profile names, including Ohio State quarterback C.J. Stroud, Texas running back Bijan Robinson, Alabama edge rusher Will Anderson, and North Carolina guard Caleb Love.
Florida State's Jordan Travis and Trey Benson are hosting a camp in June. NextGen has also put on women's soccer camps with athletes at Ohio State and Kentucky.
On top of taking care of the details, the firm ensures enough staff are on site to handle the number of campers. On average, football camps draw more than 200 campers, while basketball brings in roughly 150 campers. 
Byrd used to run tennis camps, which gave him the infrastructure and confidence to run the NIL model. The profit split with the athlete depends on the number of kids who attend the camps.