NextGen Camps, high-profile college athletes put on youth camps through NIL partnerships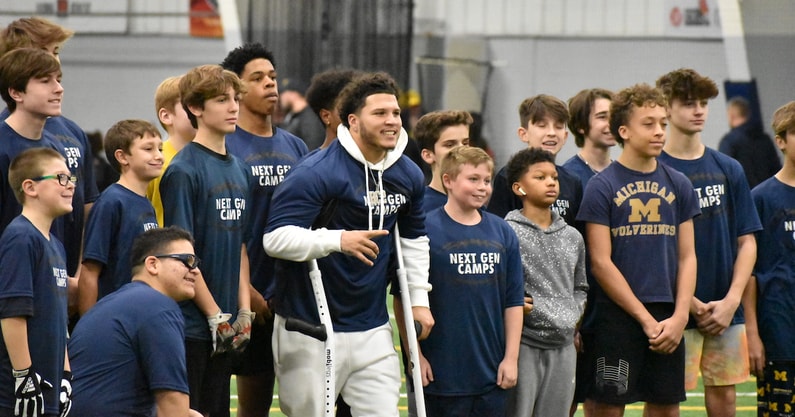 After countless footballs and pieces of apparel had been autographed and the 250-plus campers (and their parents) got to meet Michigan running back Blake Corum, he took to his crutches and made his way around to each station of drilling football players. 
The groups momentarily paused their work to gather around Corum for a few photos as he came into their orbit. Any number of kids asked for fist bumps, high-fives or words of wisdom. Corum obliged, a knee injury the only thing standing between him and joining in on the football drills. Instead, he cajoled and coached while watching on.
"Go get better! Go get better!" Corum said, urging on a group of campers hustling back to their station, offering high-fives as they ran past.
Thus was Corum's role last Saturday as he and teammates partnered with NextGen Camps, signing NIL deals to take part in the youth football camp. The group of Wolverines are just the latest in a growing portfolio of athletes that NextGen has partnered with, including Ohio State quarterback C.J. Stroud, Texas running back Bijan Robinson, Alabama edge rusher Will Anderson, and North Carolina guard Caleb Love, all with the goal of providing a valuable experience for kids in those players' respective areas. NextGen has also partnered with athletes on the Ohio State and Kentucky women's soccer teams to put on camps.
The camps cost $150 with the money going to cover expenses for NextGen to put them on and pay staff, along with paying out NIL deals for athletes. The specific terms of the deals are not disclosed.
NextGen employs founder Jacob Byrd — who got started with NextGen by partnering with Ohio State tight end Cade Stover (who hails from the same hometown) to put on a Nike camp — and one other full-time employee, plus a number of part-time staffers, he said. The firm takes on the logistics work of setting up the camps, from securing venues and coaches, along with basic business necessities.
The athletes, on top of their sporting expertise, are high-visibility brand partners for NextGen. It's a partnership that Byrd finds globally beneficial.
"The benefits of it are it provides the college athletes an opportunity to give back in their community, which is positive for their brand," Byrd said. "It's also positive for the university's brand to have their star football players working young campers in the area."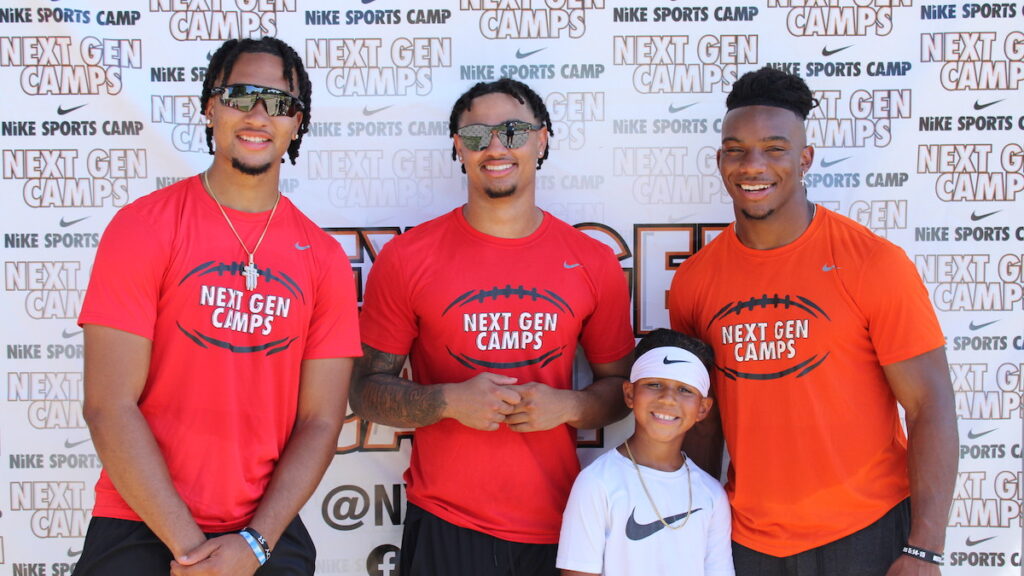 Byrd also sees youth sports camps as a sustainable business in the shifting NIL landscape as new rules are written, enacted and enforced. It exists outside of the sphere of recruiting, the transfer portal and NIL collectives. 
"I think it's also something that's sustainable in the NIL space. As things shift as far as rules and guidelines, we see youth sports camps as something that'll stay around for a long time," Byrd said.
Simply, it's a youth sports camp business using NIL deals to bring prominent college athletes into the fold for a day. And it's an effective draw. 
At the camp with Corum on Saturday in the Detroit suburbs, campers came from as far as the west side of the state. In total, there were more than 250 kids in attendance. On average, the football camps draw more than 200 campers, according to Byrd. Basketball is closer to 150 campers. 
The crowd on Saturday was enough to pack a pair of indoor practice fields — kids under age 9 on the small field, 9 and up on the big field. And this all came without two of Corum's teammates arriving late due to a practice conflict. As of Saturday, the Wolverines were just two weeks out from a College Football Playoff semifinal game against TCU. 
And after the camp with Corum, another trio of Wolverines — Donovan Edwards, Colston Loveland and Will Johnson — are hosting a football camp on in January in Ann Arbor via a partnership with NextGen.
But ask Corum, and he'll tell you he was going to make it happen one way or another.
"It's more doable than the regular season," Corum said. "But it didn't matter if it was during the regular season, two weeks before the playoff. I was going to find a way. Whether that meant a Sunday, whatever — off day. I was going to find a way to come out here and give back to the youth. Meet some kids, inspire them. This is what I love to do."
Byrd, who extolled the athletes for the attention and time they put in, does acknowledge that NIL can grease the wheels a little bit. 
"We had a camp for Will Anderson the week before the Iron Bowl," Byrd said. "Without NIL, that would've never happened."
Byrd added it's not the sole or even main reason a player opts to do the camps, as Corum attested to. Regardless, the end result — athletes providing some time and, hopefully, inspiration for local kids — is worth it. 
"They're all just so phenomenal with the kids and when they come to these camps, it's not just for an NIL agreement," Byrd said. "They take it very seriously, giving back to the kids and really do an excellent job."