Nick Saban promotes uniformity in NIL, says Alabama players made $3 million in 2021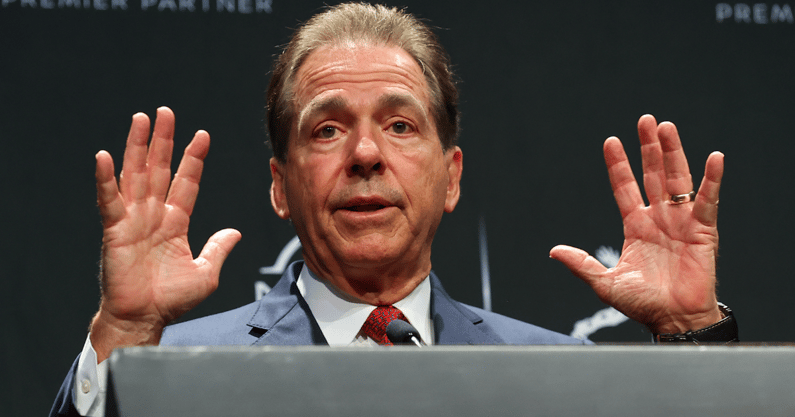 Alabama head coach Nick Saban stood at the podium Tuesday morning at SEC Media Days. One of the biggest topics he discussed was NIL and how it has impacted both college football and his program down in Tuscaloosa. It's changed the way we look at college athletics and, overall, Saban sees the positive impact it has had.
Based on his numbers, the Crimson Tide have had no problem raking in the dough with NIL. Nick Saban said the Alabama football team totaled over three million dollars off of NIL deals last season.
"I don't dislike name, image and likeness. I'm all for the players. I want players to do well. Our players did extremely well last year. They made over three million in name, image and likeness so I'm all for the players being able to do as well as they can and use their (NIL) to create value for themselves," said Saban. "We have a great brand at Alabama so players (are) going to be enhanced because of the value that our brand can help them create…(NIL) is not an issue for us at Alabama."
These new rules in the NCAA haven't come without controversy, though. The issues surrounding it stem from an imbalance it creates. It separates programs who can help pay and the ones who can't. Overall, Saban is like most in college athletics who want basic regulations to keep the playing field level.
"There's got to be some uniformity and protocol of how name, image and likeness is implemented. I think there's probably a couple of factors that are important in that," Saban said. "How does this impact competitive balance in college athletics? Is there transparency to maintain fairness across the board in terms of college athletics?…How does this impact recruiting? On the recruiting trail right now, there's a lot of people using this as inducements to go to their schools by making promises."
For Nick Saban, it keeps coming back to the competitive balance in college football. While the Crimson Tide remain at the top each and every season, this imbalance could cause some schools to fall by the wayside. While he supports NIL, he doesn't want it to create even more of a gap from the top to the bottom.
"That is what can create a competitive balance issue between the haves and have nots. We're one of the haves so don't think that what I'm saying is a concern that we have in Alabama. Everybody in college football cannot do these things relative to how they raise money in a collective and how they distribute money to players. How do we place guidelines around this so that we can maintain competitive balance? I think that's important to college football (and) to fans."