NIL collective plans to support USC football against school's wishes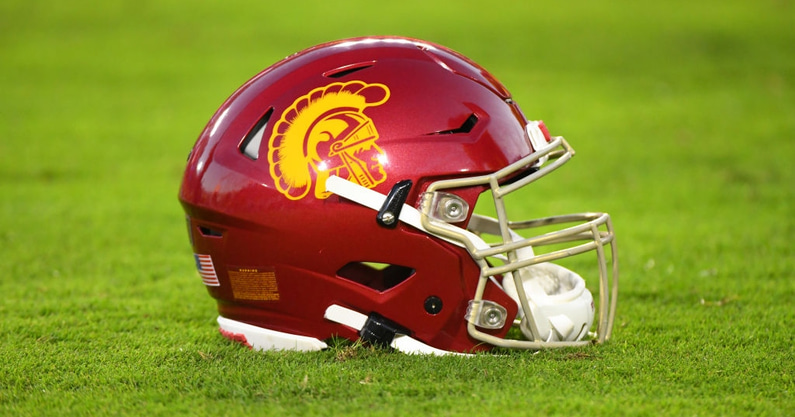 A new donor-run NIL collective is going to support USC athletes, with their goal being to provide a "base salary" to all USC football players. The collective, named Student Body Right, is planning to set up their NIL fund independently against the wishes of USC.
"A donor-run NIL collective is coming to USC football," detailed the Los Angeles Times' Ryan Kartje. "'Student Body Right' is planning to provide 'the equivalent of a base salary' to every Trojan football player … and it's planning to do so against the school's wishes."
Comparing USC's NIL collectives
The report goes on to state that USC launched their BLVD LLC collective in June specifically to prevent the rise of outside-party collectives like Student Body Right. The school is reportedly concerned that third-party NIL collectives could raise scrutiny on the entire recruiting process.
A co-founder of Student Body Right, Dale Rech, outlined some of the plans for the new collective, including that they were filing for status as a 501c3 charitable organization — as opposed to being an LLC like BLVD.
BLVD was begun in June as a partnership with Stay Doubted as a third-party NIL option for its student-athletes. The idea was to keep Trojans players in-house as they pursued their NIL opportunities. The company operates as an agency and media company exclusively for USC athletes to help them find business partnerships.
Mike Jones, CEO of Stay Doubted, believes that BLVD is "looking at eight-figures-plus annually" in private donations, according to Kartje's report. The fundraising goal for BLVD is currently set at $75 million by 2026, according to a donor presentation viewed by the Los Angeles Times.
USC director of athletics, Mike Bohn, provided an inside look at their use of NIL support resources like BLVD when the school announced the collective.
"We believe every student-athlete should have access to NIL support resources and currently only about 3% of our student-athletes have engaged professional service providers. We are thrilled to be able to meet this need and make these resources available through a qualified and reputable third party for our student-athletes should they wish to take advantage," said Bohn of BLVD's beginning.