Could NIL deals keep borderline NBA draft prospects in school?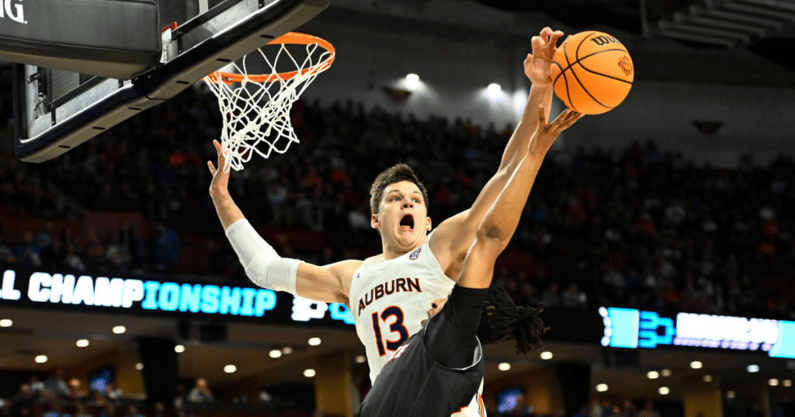 For more than a quarter-century, talented college basketball players have been forgoing their eligibility and electing to enter the NBA draft early – and there's basically nothing anybody could do to sway them to remain on campus another season.
But a new variable enters the equation this spring, one that is expected to weigh heavily in the decisions of borderline NBA prospects. While fringe prospects may have one foot out the door, some ambitious donor-led collectives are poised to keep them in school with potential NIL deals totaling $500,000 per year, industry sources say.
The price tag to keep a borderline second-round draft prospect in school another year could start at a half-million dollars. Expect some players to seriously consider sticking around another year because of this NIL potential.
"Only because of collectives," Blake Lawrence, the CEO and co-founder of Opendorse, told On3.
Fringe prospects aren't going to stay in school because they're getting a bunch of dollars from substantial jersey sales or big-brand deals because those types of deals won't be available to them.
"They would stay in school because they might get a half-million dollars over the next 12 months to stay and be a part of some appearances in the local community," Lawrence said.
"Those are real numbers. I'm being very open with you: If you're borderline, staying in school could be a half-million-dollar payday."
The NIL dollars that school-specific collectives, which pool funds from boosters and businesses to create NIL activities for athletes, can offer players won't affect the NBA draft decisions of expected lottery picks such as Auburn's Jabari Smith, Duke's Paolo Banchero, Gonzaga's Chet Holmgren and Memphis' Jalen Duren. And it's unclear which collectives are planning to target which players for deals.
But for some players – Gonzaga's Julian Strawther, Auburn's Walker Kessler, Tennessee's Santiago Vescovi (testing waters) and South Dakota State's Baylor Scheierman (testing waters), to name a few – the decision to stay or go may not be clear-cut. Speaking in general about the topic, Mit Winter, a Kansas City-based sports attorney, said there likely will be some players who either don't declare for the draft or who withdraw their name from it because of NIL deals offered by collectives.
"There is talk in the NIL [and] college athletics world about collectives specifically crafting deals to keep certain players in school," Winter told On3. "I think some players that are borderline draft prospects will decide to take that guaranteed money instead of taking their chances with the draft. This will add another area of intrigue around the draft's withdrawal deadline."
Should players accept these NIL deals?
Just because some players could accept the collective deals, Winter noted, ignores the question of whether they should. Deals designed to keep a player at a specific school violate the NCAA's NIL rules as well as some state NIL laws and school policies. A player who signs a deal like this to remain in school, he said, is rolling the dice on later being declared ineligible by his school or the NCAA. That could, in theory, hurt the player's draft stock if he's not eligible to play another college season.
There remains great uncertainty surrounding how, if at all, schools and the NCAA will handle these types of deals being offered by collectives. But Winter added, "I wouldn't want to be the player who becomes the test case for whether they are deemed inducements."
Peter Schoenthal, CEO of Athliance, expects NIL to have a discernible impact on college basketball, which he said for so long had been decimated by the one-and-done era. He said you're going to see athletes realize, " 'Wait a minute, instead of going pro and playing overseas, or going pro and maybe not even getting drafted, why don't I come back for another year, develop my game and I can make some NIL money, and I can become a better player.' You're still going to have elite players [turn pro], but maybe with NIL we'll see more players come back, which means the game will be better, we'll have a better product and it could save college basketball."
A few borderline prospects returning to school for NIL dollars is unlikely to have a consequential effect on the broad state of the game, which remains hugely popular in March but has lost much of the mainstream appeal it once held throughout each winter. Mike Aresco, the AAC commissioner who while at CBS Sports played an integral role in the CBS Sports-Turner partnership more than a decade ago, said college basketball ratings began to dip around 2000 largely because of stars skipping college altogether, yet viewership numbers have since stabilized. 
Lure of NBA is so strong
But educated opinions even differ on whether NIL potential will sway any fringe prospects, many of whom have had their sights set on a pro career since they began crisscrossing the country as teens on the shoe company-sponsored AAU circuit. 
Mike Tranghese, the former longtime Big East commissioner, said he doesn't think NIL will have any effect on keeping more players in school for another year. To underscore his point, he referenced the latest LeBron James commercial, which depicts a teenage James – one of the most celebrated high school prospects in history – talking to the 37-year-old, 2022 James about playing in the NBA.
"Kids grow up and they want to play in the league – that's what kids want," Tranghese told On3. "The only problem is too many kids aren't good enough to play in the league, and they leave early and then have to deal with the reality of not making it."
Players leaving college early – 356 declared as early entrants last year, with 217 keeping their names in the draft – have long wreaked havoc with the continuity of programs. Billy Packer, the longtime CBS analyst, marveled at even more striking changes impacting college basketball in recent years, telling On3, "I admire the coaches that have been able to go through everything from the way it used to be building a team to the one-and-done era to now the transfer portal and Name, Image and Likeness. It is just not a healthy situation. But that's where it is, so don't bitch about it. If you think you're going to coach, you'd better understand this is the way it is, and that is how you're going to have to build a program."
But now, with donor-driven collectives flexing their financial muscle, some schools at least have a chance to keep borderline NBA prospects in school another year.